We're taking your sofa knowledge to the next level with this easy guide, to help you find the perfect one for your space.


Chesterfield
This 19th century English design features tight tailoring, a high back, rolled arms and tufting. In leather, it's clubby and masculine. Done in a bright wool, it's neo-traditional. In linen, it's elegant and refined. (Whichever material you choose, make it a solid.) Love the piece but don't know where it would fit in your room plan? Arrange your furniture like a pro with these simple tips.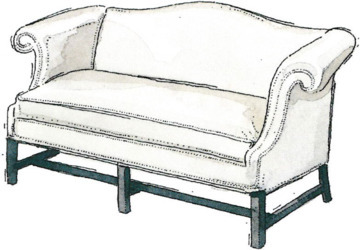 Camelback
Dating back to the 18th-century British designer Thomas Chippendale, this piece has an old-world sophistication but also looks surprisingly modern in a solid linen fabric. Hand-me-downs can be updated with a tailored slipcover. The perfect opportunity to utilize your creativity!

Slipper
Streamlined and unfussy, like an elongated slipper chair, this option is made more for entertaining than lounging. Usually lean and open, it does well in small spaces. Perfect if you turn a spare room into the ultimate dressing room, voila!


Tuxedo
A signature of society decorator Billy Baldwin, this sofa is luxurious yet decidedly no-frills. A straight profile (the arms and back are the same height) give it a more masculine feel. Works in any room, modern or traditional. This style of couch would fit perfectly into a modern home like architect Will Meyers, who designed a fantastic modern home for his family.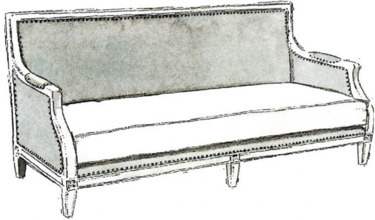 French Settee
Often seen in a Louis XIV style, this regal option is delicate, formal, and architectural. The exposed carved-wood frame provides a structured contrast in a room of heavily upholstered pieces.
For more French Deco inspiration, take a look at Laura Vinroot Poole's home.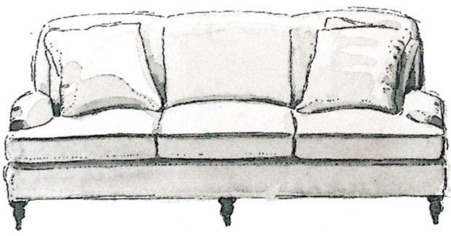 English Three-seater
Rumpled, yet aristocratic, this British country-house staple has soft, deep cushions and low arms that make it ideal for TV watching. If your comfort zone has room for a little drama, check out this room's glamorous decadence.


Sectional
Casual, with a '70's lounginess. Good for establishing a sitting area in a loft. Minimizes the need for other seating. A version with legs cuts the bulkiness. Just add a coffee table for the perfect entertaining area.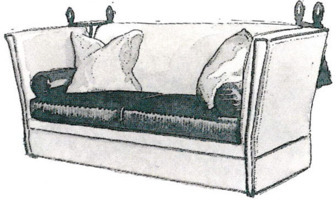 Knole
This style is named after a grand house of King Henry VIII. Super-classic and formal, but very cozy and sheltering. Hinged sides untie and drop flat so you can lie down.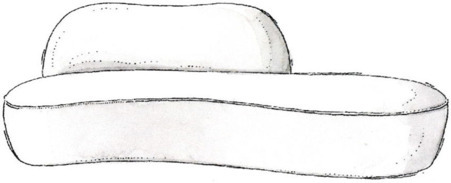 Modern
More sculpture than sofa (this one is a mid-century design by Vladimir Kagan). This piece can float in the middle of a room. To break up the modernity, add a more traditional light fixture to balance the room.
See more on DOMINO.COM:
10 Things Every Guest Room Needs
A 6,000-Square-Foot Modern Home Makeover
A Cozy and Chic Designer NYC Apartment
13 Ways to Decorate with Cozy Textiles
Unbelievable New Uses for a Bookshelf