For this Manhattan restaurateur, a move downtown meant having the chance to create a space all her own--without the help of an interior designer. Trusting her instincts, while keeping the needs of her children front and center, Ali Cayne embarks on a journey of renovation and self-exploration.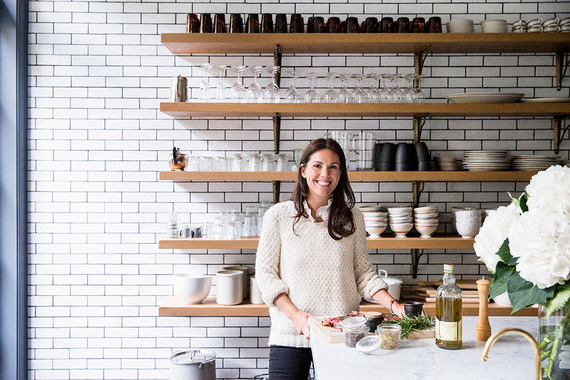 photographs by Brittany Ambridge text by Brittany S. Chevalier interior design by Ali Cayne
Ali Cayne--founder of New York City's Haven's Kitchen, a restaurant, event space, and cooking school specializing in seasonal, sustainable food--never does anything by halves. Not when it comes to running her restaurant or raising her five children, and not when it came to renovating her new West Village townhouse. Last year, to close the gap between her family and professional lives, and to lessen her carbon footprint, Cayne decided to move downtown. "Commuting back and forth from the Upper East Side, I realized I was missing important things at home or at work, and I wanted to integrate those two pieces of my life," she says. "Plus, I really love the West Village." Although it had "amazing bones," her new house required considerable efforts to transform it into the warm, inviting Manhattan home it is today. Working alongside her architect, Cayne selected everything--each finish, paint color, and piece of furniture--without the help of an interior decorator. "I don't have a background in design," she says, "but I do know what I like."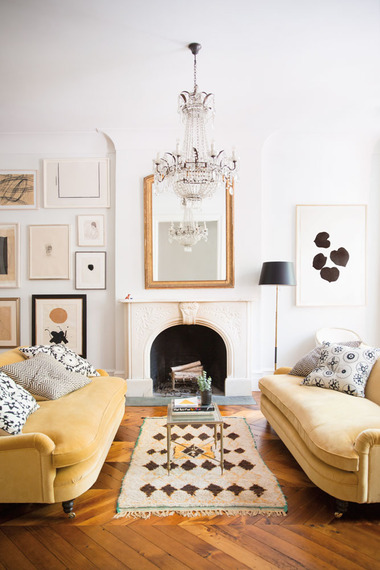 A soothing palette of neutrals and gold tempers the old-world grandeur of Ali Cayne's Greenwich Village townhouse.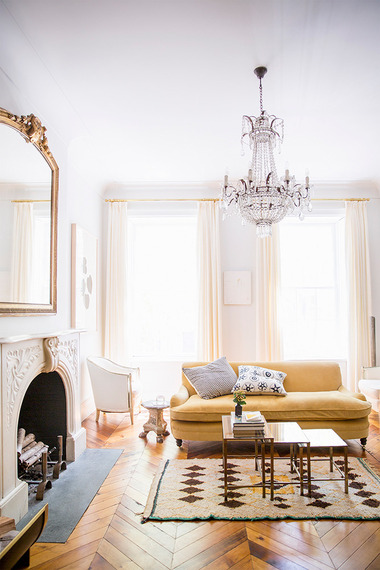 When Cayne began this project last fall, she knew exactly what she wanted, from the low George Smith sofas and the open kitchen shelving to the finish of the flooring. "I had a leg of a stool from my old house that I literally walked around with for days because it was exactly the floor color I wanted," she says. The one missing piece that she sought out for months--until a snowy day at a Paris flea market--was a chandelier for the living room. After hours of searching the stalls, she finally spotted a fixture hidden around a corner. "For a while, I'd felt so close to finding the right one," she says. "But when I found this chandelier, I realized I'd never even been close. This one is perfect."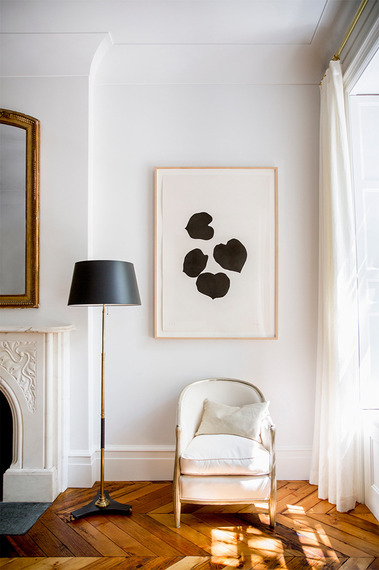 An Ellsworth Kelly canvas adds graphic definition to a quiet corner of the living room.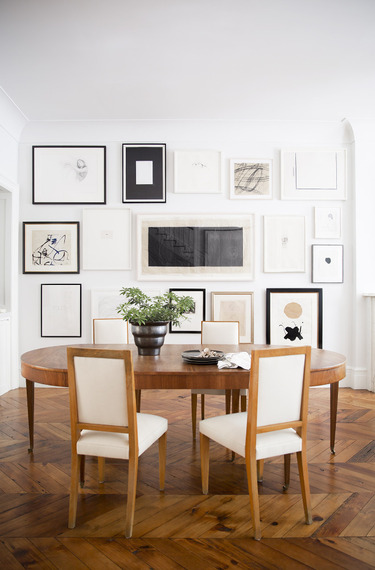 "I always love black and white with a splash of color," says Cayne, "whether it's green herbs on a table or a vase filled with pink peonies."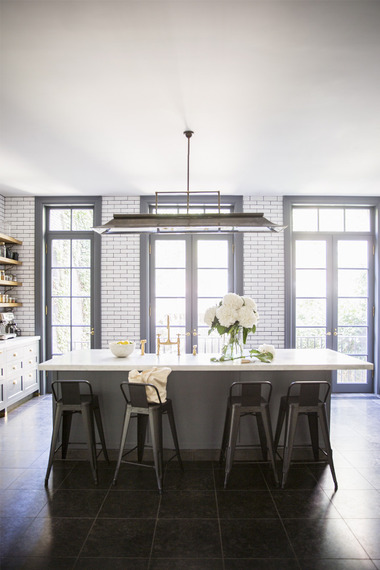 The focal point of the home's first floor, Cayne's kitchen opens onto a spacious back garden. "The whole idea behind this house is to feed and nourish people," she says of the gathering place.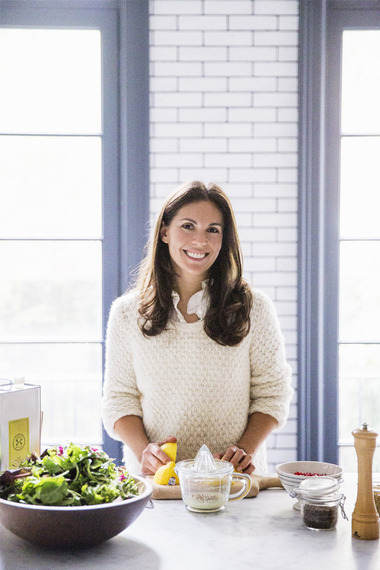 "I like to pretend I'm a line cook when my kids are sitting on the stools and I'm cooking," says Cayne.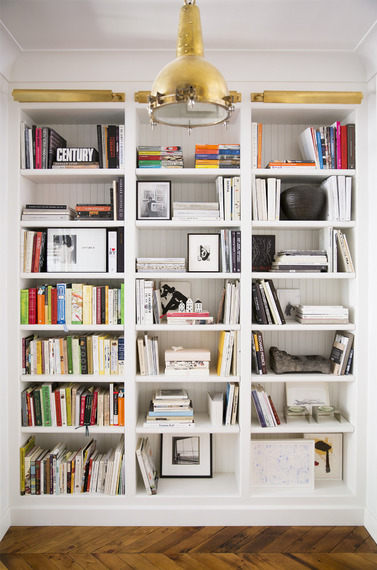 Cayne's lovely bookshelf.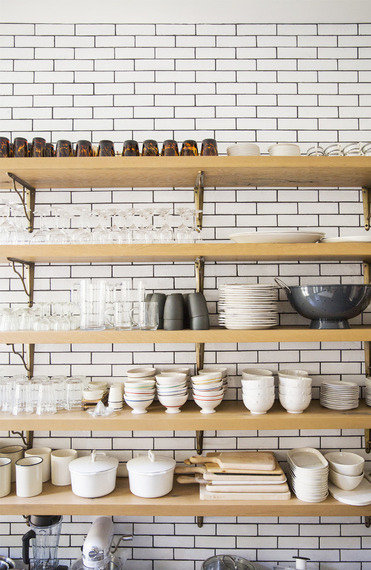 Open shelving helps maintain an attractive and well-organized kitchen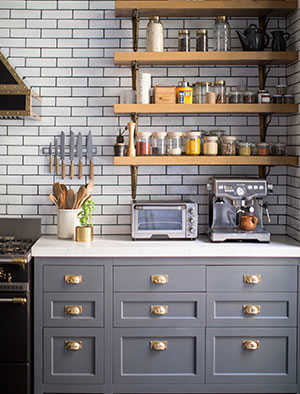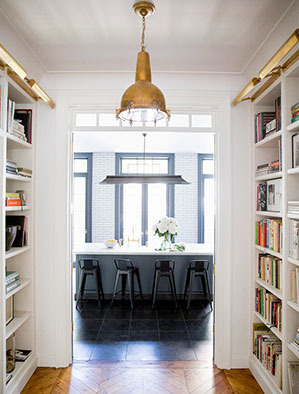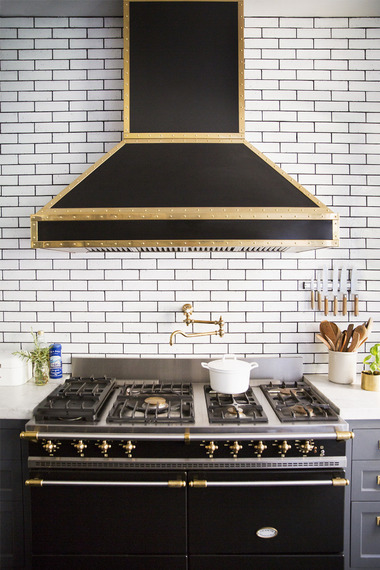 Cayne prefers fixtures made of brass, rather than chrome, for their muted luster.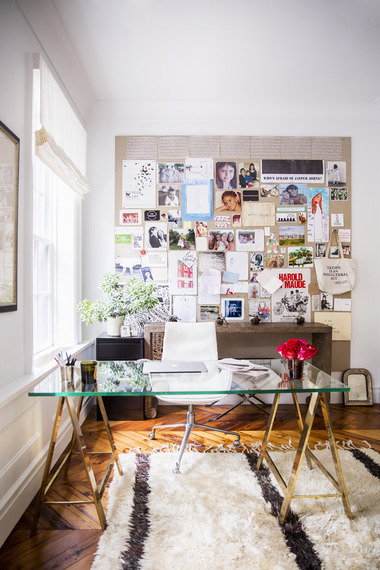 An oversize inspiration board serves as a homemade installation.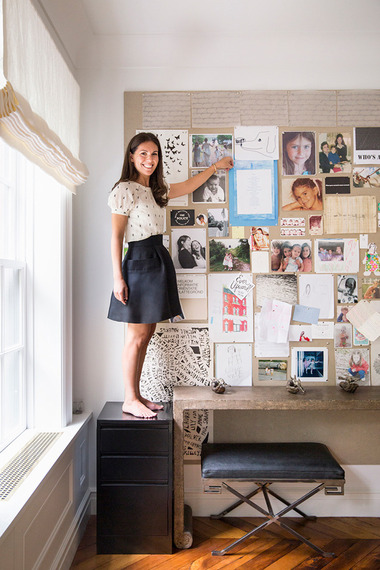 Cayne's inspiration board showcases cherished family photos, letters and drawings from her children, and a collection of favorite quotations.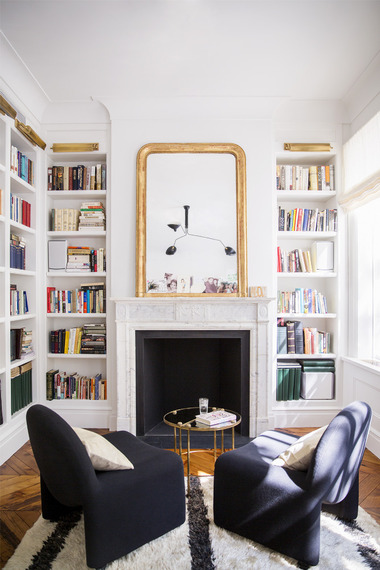 Cayne's work space blends styles (a Louis XVI mirror, a Moroccan rug, a pair of sleek black chairs) to create an atmosphere of eclectic comfort.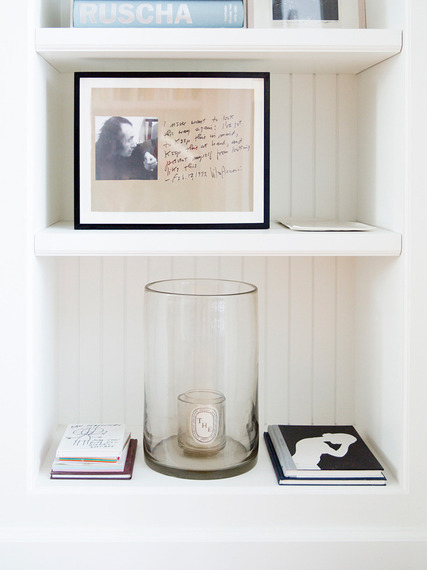 Shelves house vignettes composed of Cayne's favorite books and artworks.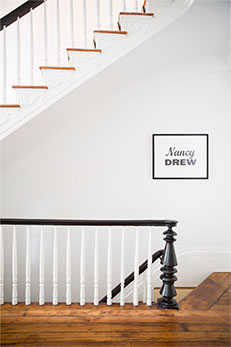 A lively assortment of modern art brings warmth and personality to the home.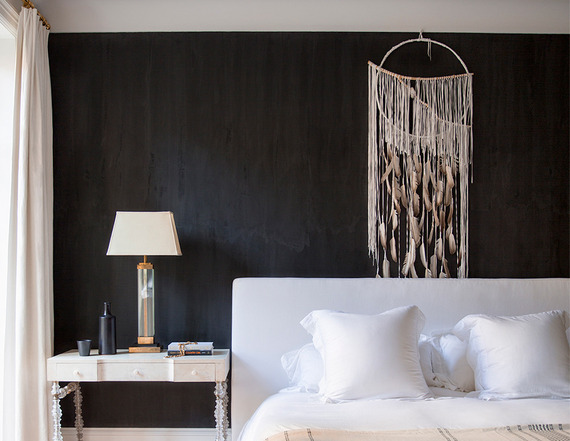 When it came time to choose a color for her bedroom, Cayne surprised herself. "I never thought I'd cover my walls in black Venetian plaster, but with my big white bed, it's not severe at all."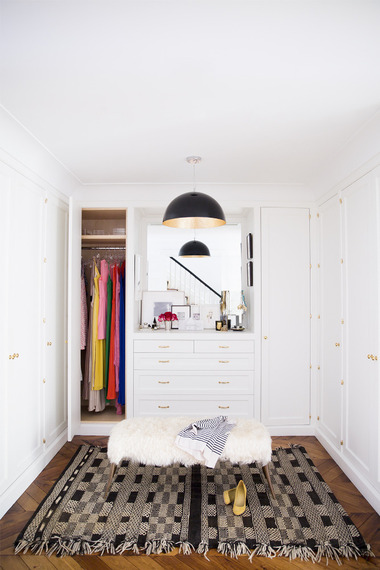 "I love block prints and vivid Indian and Moroccan interiors," says Cayne, who used a woven Moroccan rug to give pared-down personality to her dressing room.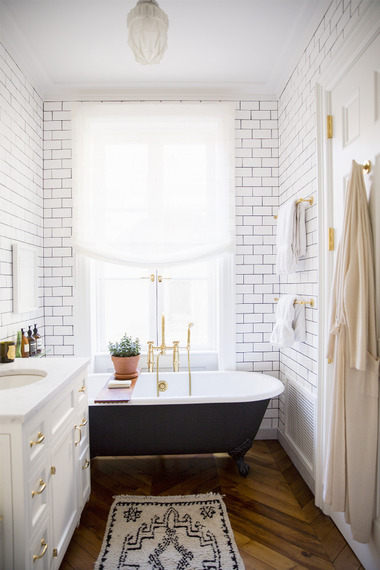 Natural wood and terra-cotta accents warm up the bathroom's cool palette.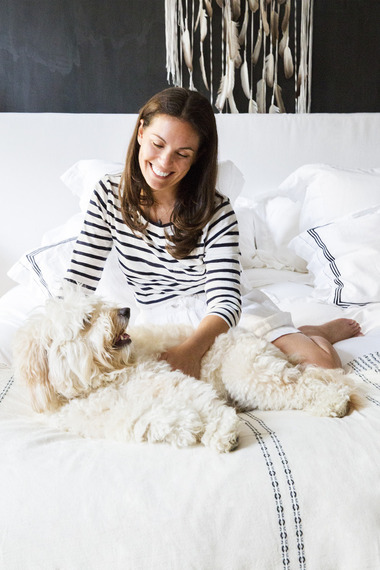 Cayne refers to her Goldendoodle, Ivy, as her sixth child.

Cayne's West Village townhouse.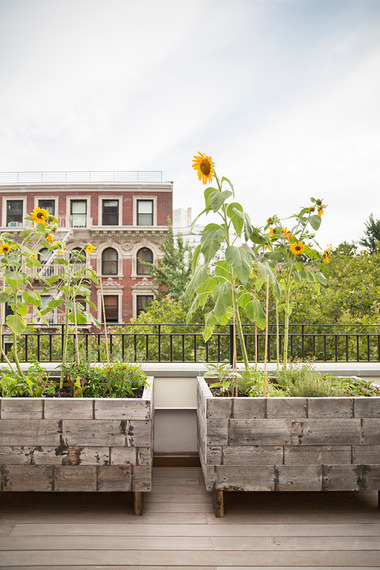 Cayne grows lettuce, berries, and sunflowers in her rooftop garden.
SEE MORE ON DOMINO.COM:
13 DIY Projects To Do This Spring
Inside an Urban Oasis
A Stunning LA Home Tour
A Houseful Of Style In 200-Square-Feet