Designer Jeremiah Brent brought the warmth of Morocco's sun-bleached shoreline to his client's Malibu condo.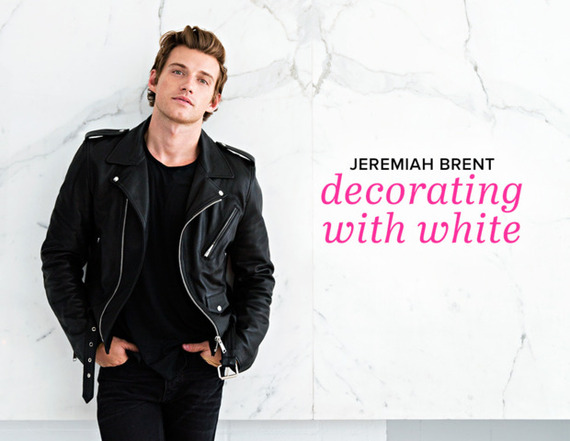 photography by BRITTANY AMBRIDGE
When Jeremiah Brent first stepped into his clients' Malibu, California, condo, he fell in love with its 180-degree ocean view. Inspired by the home's surroundings, he imagined transforming the outmoded three-bedroom apartment into an airy oasis with clean lines and a cool, neutral palette. But the space, constructed in the 1950s, hadn't been renovated since the '70s. "It desperately needed to be deconstructed and reconstructed," he explains, "so that it could seem as open and happy as its new inhabitants."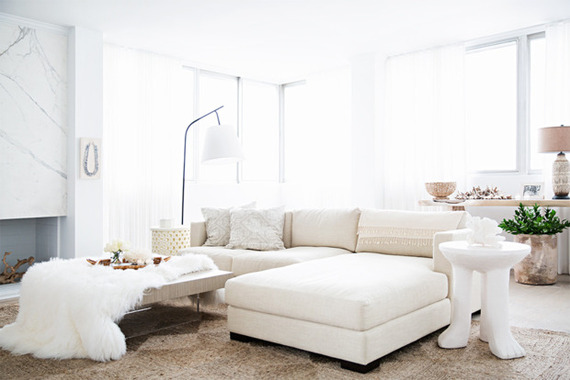 photography by BRITTANY AMBRIDGE
playful sophistication
Paying homage to the couple's passion for travel and their craving for simplicity, Brent devised a whitewashed, "coastal Moroccan" theme for their interiors. "It became about finding pieces, such as bone-inlay tables, that connected with Morocco," he says. "They make the space appear worldly." Working principally with neutrals allowed the designer the freedom to play with textures and fabrics in a way that he might not ordinarily have considered, such as the layering of a Tibetan throw over the living area's coffee table. "The juxtaposition of rough and soft feels subtle and possesses a certain laid-back sophistication," he explains.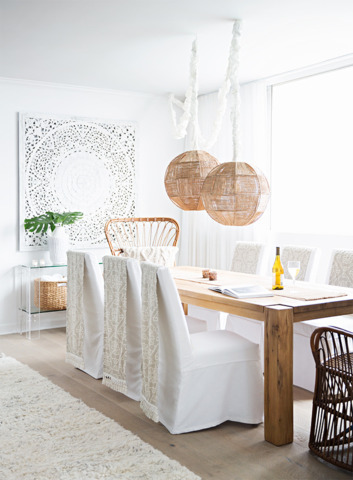 photography by BRITTANY AMBRIDGE
Much of the dining area's decor was either discovered in or inspired by Morocco, including the reticulated wall hanging that serves as the room's focal point. "It adds great texture," Brent says, "and it looked amazing after we painted it white."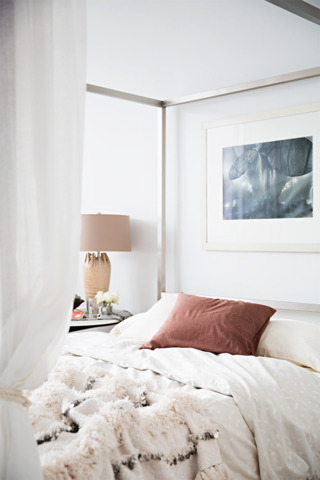 photography by BRITTANY AMBRIDGE
Rock the casbah! Brent brought drama to the bedroom's palette simply by draping linen over this modern four-poster.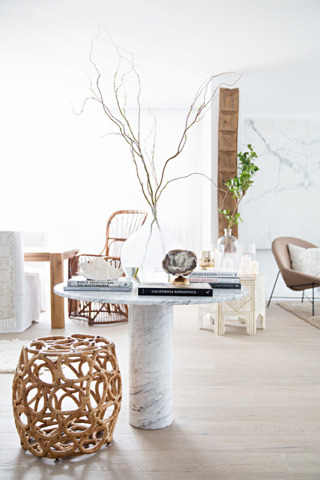 photography by BRITTANY AMBRIDGE
Though a big fan of seeking out cost-effective design options, Brent also believes in investing in certain key pieces. "The floating table between the entryway and the dining room was an important splurge," he says. "Design should feel curated. And, when combined with less-pricey accessories, the vintage marble table made the space feel assembled and luxe."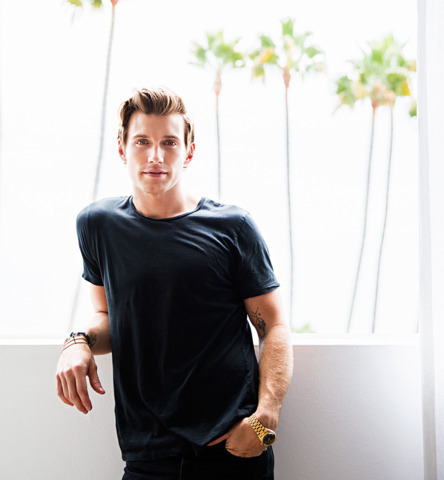 photography by BRITTANY AMBRIDGE
"It's a marathon and not a sprint. Take the time to invest in your space." --Jeremiah Brent
See more on DOMINO.COM :
Best Gifts Under $50
10 Things Every Guest Room Needs
Fresh Christmas Decorating Ideas
Children's Gift Guide