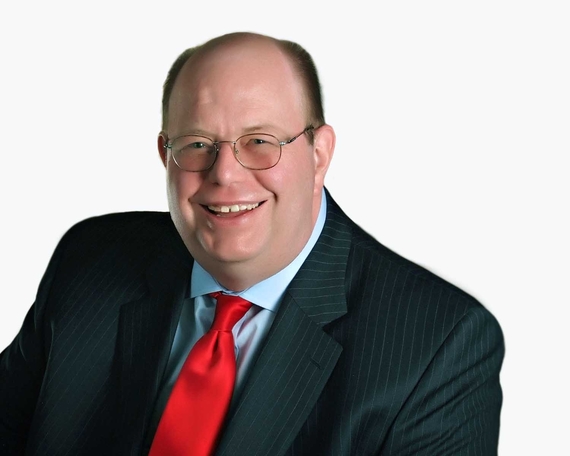 "There is no reason to be suffering from anything right now if you have access to this guy right here...I literally can't talk highly enough about how much I think you are really doing good stuff in the world." -- Jack Canfield, multiple New York Times number one best-selling author of Chicken Soup for the Soul, talking about Dr. Jim Roach, M.D. of Midway, Kentucky
"It must've been wild angels, wild angels
Watching over you and me
Wild angels, wild angels
Baby, what else could it be?"
-Martina McBride
It could have been a wild angel that connected me to Dr. Jim Roach, M.D., but that angel came in the form of a (then) 82-year-old journalist named Al Smith.
Al is one of the greatest living Kentuckians, but I thought in November 2009 that he was hitting the finish line. He did not look good at all. Al spends his winters in Sarasota, Florida. When he came back to Lexington in April 2010, he was in high spirits and invited me to lunch at the Bangkok House, which is at the bottom of a steep flight of steps near the University of Kentucky campus. It wasn't until we started to leave that I noticed that Al was basically skipping up the long flight of steps.
When I asked him what caused the turnaround, he credited Dr. Jim and the regime of supplements, vitamins and diet changes that Dr. Jim recommended.
Al turned 88 in January. I saw him two weeks ago and he looks great. He is still writing, influencing public issues and maintaining a busy schedule. After I saw what Dr. Jim did for Al, I became one of Dr. Jim's patients and his friend.
Now I am Dr. Jim's publisher. Dr. Jim's first book is God's House Calls: Finding God Through My Patients. I am Chairman of RRP International Publishing and we are releasing the book on March 31.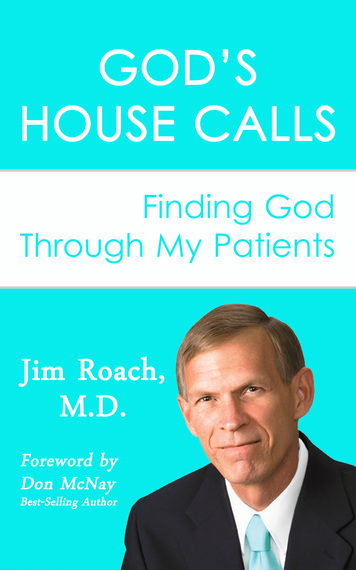 As Jack Canfield noted, Dr. Jim is one of the nation's leaders in a concept called Integrative Medicine.
Jim combines his medical school education and decades of daily practice as a family doctor with an approach that combines a variety of concepts. It is all designed to help a person live a longer and healthier life. Dr. Roach and his team at the Midway Center for Integrated Medicine will often spend a couple of hours with a patient. Seeing how many medical corporations are forcing their doctors to practice like they are on a time clock, Dr. Jim is a refreshing change from the medical experience that many people endure. He is as far away from the "seven minutes and prescribe the latest pills" style as you can get.
Dr. Jim and his team get to know their patients on a deep and personal level. Located in genteel horse country, The Midway Center is a glimpse of what the practice of medicine was like in the days of small town doctors and house calls, but Midway has all the latest research and cutting edge technology at their fingertips. Dr. Jim is all over the United States, doing lectures, going to high powered conferences and interacting with the biggest experts in the Integrative Medicine field.
I suspected that Dr. Jim was a hard working perfectionist when I was solely his patient and friend, but now as his publisher, I can assure that you he uses those traits in every aspect of his life.
I contacted Jim when I was in a desperate mode to find a way to have weight loss surgery. I weighed 377 pounds and knew that I had to make a dramatic move. Dr. Roach is not one to push patients into surgery, but recognized I was a unique case. I'll tell more of my story in a book called Project 199: My Business Plan to Lose 175 Pounds, but Jim was instrumental in getting me to the right surgeon, Dr. Derek Weiss, for a successful operation. I just turned 56, 71 pounds lighter since November, and I'm in the best health of my adult life.
When he was helping me, Dr. Jim mentioned he was writing a book. As a publisher, I assumed Jim was writing a book about his work in Integrative Medicine and immediately became interested.
Thus, I was taken aback when he said that his book was about spiritual stories that his patients and others have shared with him. I might have been more taken aback if I had not had my own story, one that I had only shared with a handful of people.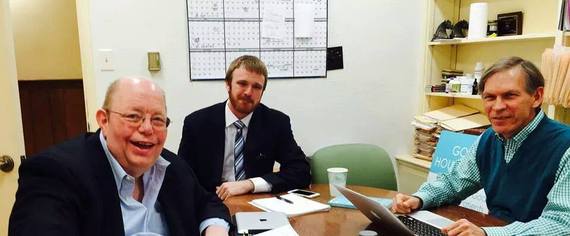 "If only you believe like I believe, we'd get by
If only you believe in miracles, so would I"
-Jefferson Starship
On Saturday February 27, 1993, my father was terminally ill with prostate cancer in Cincinnati and I was in my apartment in Lexington, Kentucky, getting ready to go to a University of Kentucky versus Auburn basketball game that afternoon.
About 9 a.m., my telephone started making a strange kind of ring. My answering machine normally went to recording mode on four rings, but this "call" rang several times more before I could get to the phone and pick it up. I heard a voice on the other end, which sounded a little like my father, like he was standing at the other end of a tunnel yelling, "Don! Don! I need you, I need you."
Then there was a click.
I frantically started calling his home and the phone kept ringing and ringing. After about 20 minutes or so, my frazzled stepmother picked up the phone, told me that my dad's heart had stopped earlier and they were waiting for the ambulance.
Dad couldn't have called me. He probably was not actually alive. They paddled him back to life and brought him to the emergency room at Christ Hospital in Cincinnati.
The "call" gave me a chance to ditch the basketball game and drive as fast as I could to the hospital in Cincinnati. When I got there, a number of family members and friends were there and a moment later, they wheeled Dad in on a gurney. He gave me a thumbs up, like former Reagan Press Secretary Jim Brady did after he was shot, and they took him back into another room. He died a few minutes later as they got my stepmother and I to agree to end artificial measures to keep him alive. No funeral mass site had been selected or a funeral home. I made all those arrangements while his body sat there cold, in the same room with me.
When Dad became sick, I started praying constantly and he started praying as well. I went back to church for the first time in a decade. As death approached, he really wanted to connect back to the Catholic Church that he had left decades earlier. A bishop who was a friend of mine and then a local priest walked through the complicated process of rejoining the church and receiving sacraments. He did it. A few weeks before he died, the local priest walked Dad through confession, last rites, communion and all the other things so that Dad could have a funeral mass and be buried in the Catholic Church.
My father had been a bookie and well-known professional gambler. As Billy Joel would say, he ran with "a dangerous crowd, they ain't too pretty, they ain't too proud." He also befriended some of the most important leaders and sports stars in Cincinnati. His funeral mass had about 400 people attend and it was painfully obvious that 390 had never been in a church before. The crowd ranged from Mafia chiefs to police chiefs, but they sent Dad on his trip to heaven, even if some are going to need a lot of prayers and repentance to get there themselves someday.
I spent years trying to find a scientific or "logical" explanation for the "call" from Dad. We carefully checked the phone records, but there was no record of a call and there was no physical way he could have made a phone call at that moment. I am certain that no traditional phone call took place.
Yet I received one of the most important calls of my life anyway.
Without the "call," I would have gone to the basketball game and in those days before mobile devices, it would have been many hours after the death before I found out. I wouldn't have seen him that last time, I would not have been there for the decision on the life support, and I would not have been there to arrange for the funeral and funeral mass.
Dad needed me and it was obvious that he used a voice from beyond, rather than AT&T, to get in touch.
Thus, I take it seriously when someone tells the type of stories that Dr. Jim discusses in this book. Something supernatural happened to me. I'm not a weekly churchgoer or a religious leader. What happened was very real and there is no explanation, short of a spiritual one, as to what happened in my life.
Dr. Jim is doing us a great service; he is getting these incidents into the public forum in an unvarnished and unabashed way.
I understand why patients told Dr. Jim and probably never told anyone else. Jim is a man of ramrod integrity, but also very easy to connect with (He is Dr. Jim, not Dr. Roach). He earns the respect that comes from his lifetime of medical practice and community service. His patients have the rare opportunity to have a conversation with a family doctor that lasts longer than a minute. He is a question asker and a researcher, not someone dictating orders. People trust him with their deepest secrets. He has a quiet confidence that allows you to want to open up and talk.
I've written several books (two are bestsellers specifically about my father) and written hundreds of newspaper columns, but never wrote about the "call" from my dad. I'm normally one who will speak out about everything, but this is a topic that seemed a little sensitive.
It sounded a little crazy and weird.
Dr. Roach gave me the courage to "put my story out on the street," as I have today.
As Dr. Jim has often quoted Lily Tomlin, "When people talk to God, they call it prayer. When God talks to you, they call it schizophrenia."
After reading God's House Calls, I know that if I am crazy, there are a lot of other crazy people with me.
Dr. Jim has done a great service by getting people to put our experiences out in the open. And finding out that hundreds (probably thousands) of others have their own unique story to tell.
God's House Calls will be the beginning of a snowball of people having the courage to share experiences like those in the book. We learn a lot from Jim's patients, but we really learn a lot from Dr. Jim.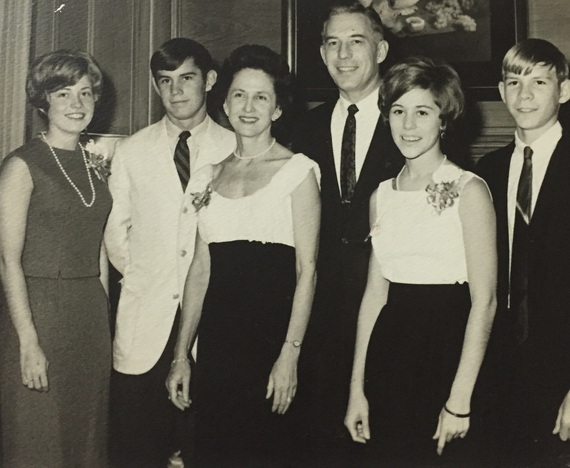 "Well, I won't back down
No, I won't back down
You can stand me up at the gates of hell
But I won't back down"
-Tom Petty (and a later hit by Johnny Cash.)
It would have been easy for Dr. Jim to have skipped this book or written another book instead. He is a well-respected physician. He's built a tremendous medical practice and has the sense of grace and manners of someone who grew up in horse country with a family that owned a famous and successful horse farm. His late father Ben and his late brother Tom, along with famed horse breeder William Farrish, bred the 1999 Kentucky Derby winner Charismatic at their well-known Parrish Hill Farm. Charismatic won the Preakness and ran third after breaking his leg at his Triple Crown attempt at the Belmont. The farm also bred Princess Rooney, a winner at the Kentucky Oaks and in the inaugural Breeders Cup.
Jim has a strong devotion to his wife and two children. He and Dee Dee were married on July 3, 1976 and work together every day at the Midway Center. To see them, you would think they are still on their honeymoon, and they have a love and devotion to be admired. Both of his children are excellent people and have successful careers. His son James is a meritorious attorney in Ohio and his daughter Liz has been a speechwriter and assistant to Kentucky Governor Steve Beshear.
Jim learned about more than horses from his family. He learned the art of giving back. His father, Dr. Ben Roach, was the founder of the Markey Cancer Center at the University of the Kentucky, one of the top cancer centers in the region. Jim also learned from his family to do good deeds quietly. Although there is a building as part of the Markey Center named for Dr. Ben Roach, the center is not. Jim's mother, a civic activist extraordinaire, was killed in a car crash on New Year's Eve several years ago, as she was delivering baskets of food to poor people and drove off an icy and snowy road. Jim was one of the first advocates of a statewide smoking ban in Kentucky and an early leader in Habitat for Humanity in Kentucky.
One of Dr. Jim's great heroes was Millard Fuller, the founder of Habitat for Humanity. He took a simple idea and a focused message and built an organization that made a huge impact on the world.
I could see Jim doing something as big as Habitat. He has the same type of drive, commitment and passion that Mr. Fuller had. Also, he has the ability to focus the organization on the mission and not on the leader.
As a person, I deeply admire Dr. Jim. As a publisher, I was quite concerned. His low-key, self-effacing, "don't brag on yourself" philosophy that is so ingrained in who he is also makes it hard to sell books. I've written several best-selling books, but I am always aware that people like Paris Hilton and reality show stars have sold far more books than I have. Taking off your clothes or doing something outlandish seems to be the best way to draw attention to a book.
My odds of getting Dr. Roach to take his clothes off in public were very slim. I wasn't going to go there.
Then it hit me that Dr. Jim has two things going for him. One is that he views this book as an act of evangelism, rather than an opportunity to talk about himself. Jim sees the book as a calling and a cause, and books are the way to get his message out.
Secondly, Dr. Jim is a rebel. A quiet, self-effacing rebel who grew up on a horse farm and studied at Duke University, like his father and brother did, but a rebel nonetheless.
It would have been easy for Dr. Jim to keep rolling along, handing out pills and practicing the same kind of medicine that most family care doctors do. See a lot of patients, hand out a lot of prescription drugs. Instead, Dr. Jim created an entirely new medical model. He promotes healthy living, vitamins and supplements over prescription medicines. He focuses on breaking edge information and seems to be doing research and studies on the latest trends 24 hours a day. Not many doctors schedule two and a half hour visits with their patients or test for allergies and ailments that no one ever heard of or thought about. Jim does.
Dr. Jim, spawned from the most conventional of backgrounds, is an unconventional man. He took a lot of cheap shots from the traditional medical community when he changed his practice to one that works exceptionally well. He took on unpopular causes, like trying to implement a statewide smoking ban in a tobacco state like Kentucky, long before anyone dreamed that would be possible.
Thus, his speaking out and writing God's House Calls doesn't surprise me. He has put together an exceptional book based around firm belief and vision. He will go all-out to get people interested in what he has to say. Negative reviews won't bother him and may push him to work harder. He has a mission and he is going to fulfill it.
As the song says, "he won't back down."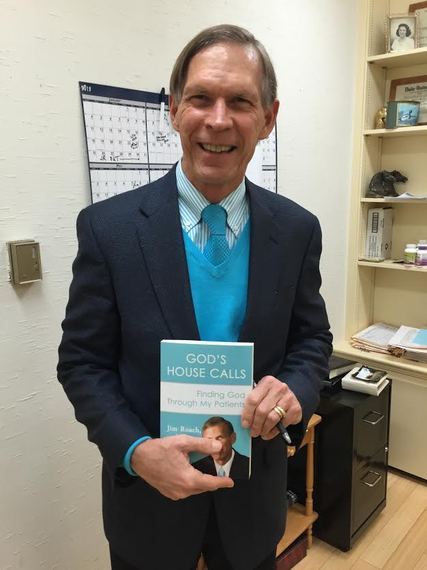 "Everyone wants to go to heaven, but no one wants to die."
-Joe Louis
My dad liked to reference the Joe Louis quote frequently, but he used it in reference to people who want rewards without working for them.
Dr. Jim has a slightly different take.
The world of medical science and spirituality are mutually exclusive to most people, but not to Dr. Jim Roach. Jim's job is to save, prolong and enhance lives, but he also understands how being at peace spiritually is part of a holistic or integrative medical approach. Jim is a doctor, not a minister, but having God's House Calls as a reference will allow us to go through life, focus on loving others and not fear death.
We call Dr. Jim America's Healer. Dr. Jim's healing is more than throwing the latest pill at a problem. It's focusing the total experience on happiness and good health.
In this life and the next one too.
It's a fascinating book from a fascinating man. I'm lucky to be a part of it.
Don McNay is a best-selling author, former syndicated columnist and the Chairman of the Board for RRP International Publishing and Digital Media based in Richmond and Lexington Ky.
http://www.themidwaycenter.com/
http://www.rrpinternational.org/
http://www.mcnayconsulting.com/