I have always been a people-person. As a young man, I spent a few months working as an engineer until I realized it wasn't for me -- I needed to interact with others. So I switched to sales and later started my own business. Back then, I loved to ride motorcycles, dance, sing and play guitar.
I always enjoyed helping out at my church, but I really got started in 1976 when my friend Larry nudged me toward volunteering with the Special Olympics, where I served as a "hugger" at the end of the race and congratulated the finishers. Through this experience, I met a young man with Downs Syndrome named Patrick. We remained friends until he passed away three years later. I've never forgotten his spirit and smile.
One of my favorite memories during this time was at the Missouri State Special Olympics Game in 1977. I was standing at the finish of the 100 yard dash waiting to congratulate the competitors. During the race, one of the girls toward the back of the pack fell down. Instead of continuing on toward the finish line, the other competitors immediately stopped running and went back to help her up. Then, they joined hands and finished the race together. In my mind, that is how it is supposed to work for all of us.
Life changed dramatically in 1980, when I was diagnosed with ALS, or "Lou Gehrig's disease," at the age of 37. The doctors told me that my life expectancy was only three to five years. Instead of retreating from life, I challenged the disease by throwing myself into volunteering even more. It was no longer just a passion; it gave me the strength to get out of bed each morning.
One day, a friend asked me to help out at a large walk for March of Dimes. I was already familiar with March of Dimes because as a small child I had collected dimes to help a neighbor with polio who needed an iron lung. I had always remembered the feeling of knowing that I was helping our neighbor breathe.
Now as an adult, my first job with March of Dimes was to help with a large race called "Walkamerica." I followed the last participant on the 17 mile route and kept everyone aware of the race's progress using my radio -- they even gave me a title -- Tail End Charlie. After that, I was hooked on volunteering for March of Dimes.
I've always been a Harley-Davidson lover. The March of Dimes "Bikers for Babies" event combined two of my passions -- a love for motorcycles and a love for helping children. So I signed up to help and 19 years later I'm still at it volunteering for the Kansas City chapter, serving as chairman and volunteer coordinator for an event that attracts thousands of motorcycle riders. From my bedroom office I connect with 700+ people on my email list, typing with the single finger that can still do so to engage volunteers in another year's effort.
Together, we have made this event the #1 charity ride in the nation, helping to raise $6.8 million for March of Dimes.
I have many charities and causes I'm passionate about but March of Dimes is the one I believe deals in MIRACLES. When you see a tiny premature baby weighing less than two pounds hooked up to tubes and wires, not having had the opportunity to feel the loving embrace from their parents, and then you watch them progressively get better until they're standing right in front of you as a healthy seven-year-old child, to me, this is why we are here. Among my greatest moments are when I receive a hug from Maggie, Melanie, Tucker, Leighton, Emerson or any of the other wonderful children who are alive partially by our efforts. The hug and thank you from parents and children is worth all the hours I devote to March of Dimes.
Although the obvious challenges of volunteering are time and money, the more immediate challenge I face daily is my diagnosis of ALS. I never expected to celebrate my 70th birthday this past January. I always refer to the years after my diagnosis as my "good life." I lose a bit more of my abilities almost daily, but it has taught me that when you lose one thing, you just get to work figuring out another way to do the task.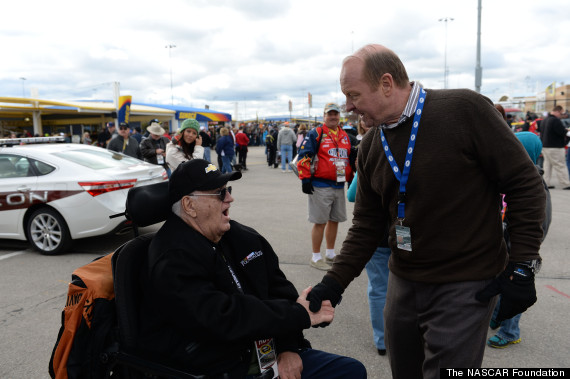 Don Post at VIP Experience Day at the Kansas Speedway
I remember watching my first NASCAR race on a black and white TV and wondering if I would ever have the opportunity to see that in person. I had the chance to attend the Hollywood Casino 400 race at Kansas Speedway in October, and was struck breathless when I first saw the infield. I will always remember that moment. When I was nominated as a finalist for The NASCAR Foundation's Betty Jane France Humanitarian Award, I was shocked and humbled.
If I were to win, the award money would be donated to the March of Dimes in hopes of giving more children a chance at a good life. I have seen first-hand how medical advances have saved thousands of babies' lives. It would be a lot easier to lie in bed and be waited on because of my ALS, but when I see those babies I know all my petty pains and hardships are worth it. It's all about the babies.
This blog post is part of a series produced by The Huffington Post and the NASCAR Foundation, in conjunction with the latter's Betty Jane France Humanitarian Award. HuffPost will feature a blog by each one of the four finalists on consecutive days, and each will appear on HuffPost Live that day. To see all the posts in the series, visit here. For more information about the Betty Jane France Humanitarian Award -- and to vote for the winner -- visit here.