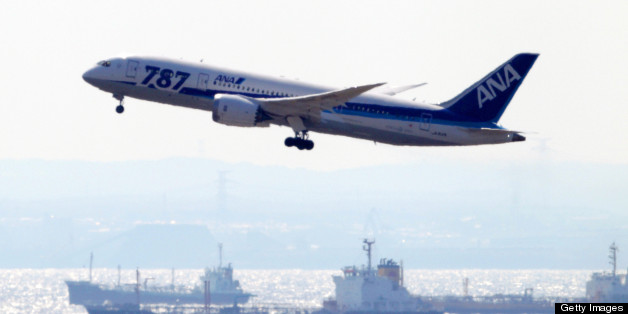 The Boeing Dreamliner 787 will resume flights at the end of this month after being grounded by the FAA in January when the plane's lithium-ion battery caught fire. Regulators and Boeing are still investigating the source of the problem, looking for a fix and hoping to get the newly designed planes back in the air.
It seems one of the causes may have been outsourcing and the case is a cautionary tale for government agencies that see outsourcing as a solution to their problems. The new airplane experienced delays, cost overruns and service failures -- the same things that governments face when they contract out services.
Following the merger with McDonnell Douglas in 1997, Boeing decided to adopt a new manufacturing model to distribute risk among subcontractors that would be given responsibility for designing and manufacturing some of the new plane's major components. The Dreamliner was Boeing's pioneering new attempt with the new regime: "More than 70 percent of the jets' individual components were outsourced to some 900 subcontractors all over the world."
According to New Yorker reporter James Surowiecki, "The more complex a supply chain, the more chances there are for something to go wrong, and Boeing had far less control than it would have if more of the operation had been in-house."
The outsourced production did go wrong, resulting in the Dreamliner's rollout being delayed for three years and coming in billions of dollars over budget. All of which increased the pressure to finalize the design and get production underway.
Los Angeles Times columnist Michael Hiltzik in 2011 described the practical day-to-day problems of Boeing's outsourced production.
a. It made production more complex and cumbersome:
Some of the pieces manufactured by far-flung suppliers didn't fit together. Some subcontractors couldn't meet their output quotas, creating huge production logjams when critical parts weren't available in the necessary sequence.
b. They outsourced planning:
Rather than follow its old model of providing parts subcontractors with detailed blueprints created at home, Boeing gave suppliers less detailed specifications and required them to create their own blueprints.
c. They lost management and supervisorial control:
Some then farmed out their engineering to their own subcontractors. That further reduced Boeing's ability to supervise design and manufacture. At least one major supplier didn't even have an engineering department when it won its contract. Boeing executives now they didn't recognize that sending so much work abroad would demand more intensive management from the home plant, not less.
d. It cost more:
"We gave work to people that had never really done this kind of technology before, and then we didn't provide the oversight that was necessary," Jim Albaugh, the company's commercial aviation chief, told business students at Seattle University last month. "In hindsight, we spent a lot more money in trying to recover than we ever would have spent if we tried to keep many of the key technologies closer to Boeing."
The outsourced manufacturing model is complicating the investigation of the Dreamliner's failed power system. Investigators have to deal with a complicated network of global companies and technologies just to figure out how the Dreamliners' power system was supposed to work in the first place, much less how it ended up broken. The auxiliary power unit alone contains parts from Japan's GS Yuasa Corporation, France's Thales Group and North Carolina-based UTC Aerospace Systems, a subsidiary of Connecticut's United Technologies.
Policy makers across the country often say they want to run governments more like a business. The Dreamliners that are still on the ground should tell them something about what that really means: there's no substitute for good management and strong oversight to deliver quality services at reasonable costs.