In honor of Mother's Day, there is an upcoming concert at the 92nd Street Y that looks truly interesting and unique.
Sharon Azrieli Perez, a Juilliard trained opera singer who has performed with the Canadian Opera Company among others and is a Cantor, will perform "Song My Mother Taught Me." This concert includes the U. S. premiere of Israeli songs arranged by the composers Kurt Weill, Arthur Honegger, Stefan Volpe, Aaron Copland and Paul Dessau.
I couldn't imagine why it had taken this long for there to be a U. S. premiere of these songs, so I contacted Ms. Azrieli to ask her how this had come about:
Hans Nathan was a young German musicologist living in the Jewish community of Berlin which had been sequestered by the German government soon after the ascendency of the Nazis to power in 1933.

The Keren Kayemeth started a a nationalistic music project, in the early 1930s, to try to get Jews to immigrate to Palestine, and Nathan started it in Berlin, and continued it after his immigration to Boston around 1938. Then, he abandoned the project, at first because of the war -- for some 45 years!

Apparently, 20 manuscripts never made it from New York to the Jewish National and University Library in Jerusalem; because of the war.

The original songs themselves were written by early Israeli pioneers. They were printed on postcards which people could buy to support Israel (then called Palestine). Apparently the composers worked completely independently of one another, and did not see each other's compositions. It is unclear why these "arrangements" have never been performed before, they are a treasure trove. Not clear how he could have kept them hidden!

The composers that I am singing in the concert are Kurt Weill, Arthur Honegger, Stefan Volpe, Aaron Copland, and Paul Dessau, but others that I should sing in the future are: Darius Milhaud, Ernst Toch, and Erich Sternberg. The songs were brought to my attention by Neil Levin of the Milken Archives and I hope to record them which I would love to do as part of their series on the American Jewish experience.
"I grew up listening to Joan Baez," she recounted. "I sang in the shower, I heard music in my head, I developed a passion for singing, and after graduating from Vassar and studying illustration at Parsons School of Design, I studied with Ellen Faull, who taught at Juilliard. This is what inspired me to train there and led to my career singing opera."
But it was working as a Cantor for a synagogue in Montreal that inspired Ms. Azrieli to pursue further studies at the Universite de Montreal. She wrote her doctoral thesis on the Jewish cantorial themes that she found in the operas of Giuseppe Verdi. Among many examples, she found similarities between Violetta's aria from Verdi's "La Traviata," Addio del passato, and the ladino, or Sephardic folk song Adio Querida; both of which she will sing on Sunday.
The program designed by Ms. Azrieli is united by a Jewish theme. It includes works by Jewish composers, operatic arias that evoke Jewish subjects, as well as Jewish folksong arrangements.
"It's unusual; elevating Jewish folk song to art song, but this has become my passion and I am thrilled to present this program in New York for the first time."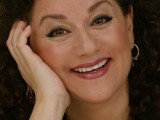 For tickets and further information go here.
www.sharonazrieli.com
Visit me at: www.donnafish.com