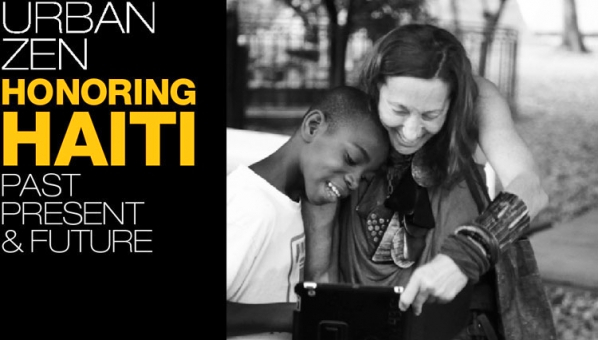 It's hard to believe it's been two years. When the earthquake struck Haiti, it had a ripple effect that changed countless lives, including mine.
Since the earthquake, there has been a great deal of coverage devoted to Haiti, not all of it positive. I believe there is an alternate story that isn't being captured. My Haiti, the Haiti that I have come to know and love, is home to such resilience, such creativity, such impassioned people. I believe that where there is creativity, there is hope. Hope is all over Haiti. Hope is Haiti.
My story in Haiti began immediately following the earthquake when Urban Zen collaborated with music executive Andre Harrell, Mary J. Blige, Steve Stoute, and Andre Balazs to galvanize a community in response to Haiti's immediate need for relief. We created the Hope, Help & Relief Haiti mission to bring together a conscious community of leaders in music, fashion, film, finance and art to become agents of change for the renewal of Haiti.
I first traveled to Haiti with Joey Adler, founder of the OneXOne Foundation, and Greg Milne from the Clinton Global Initiative. We went to Haiti because we wanted to help, to give, to do what we could. But, what I stumbled upon once I arrived there was a surprising narrative. Haiti is a story of extraordinary beauty, incredible creativity and palpable hope. With every trip since then, this has only become more and more apparent. It is inspiring every time. I am a woman who has always loved traveling and exploring the world. Every time I visit Haiti, it's like I am seeing the world through a child's eyes. The wonder of what is possible tells the story of triumphant humanity. This is why I want everyone to experience it... not just to be inspired by the potential of Haiti, but also to remember the potential of our collective humanity.
As humans, we applaud the stories of those who have fallen down and then have the courage and strength to get back up -- this is Haiti, a country getting back up. It's evident in the extraordinary artisan communities that I've had the privilege of working with. I have seen artisans transform horn, tobacco leaves, cardboard, stone, metal and wood into objects of desire. I think about artists like Philippe Dodard whose response to the earthquake was to push forward with beauty, with creative expression. I have witnessed powerful like-minded collaborations that have been extremely effective. I am blown away by the progress of the Clinton Global Initiative, J/P HRO, the Stiller Foundation, the Apparent Project, WeAdvance, OnexOne, GiveLove... and so many others.
Haiti has served as a catalyst in my life... propelling me forward, challenging me to create, collaborate and communicate with greater vision. In everything I do, I always consider the past, present and future and the mind/body/spirit connection. In this regard, Haiti has truly been the backdrop for something magical; it encompasses every passion I have. It is a model for philanthropy and commerce. It is mind-blowing to think about what can be done for healthcare, education and culture. I stand in awe of what has already been done, particularly when I consider our Urban Zen Integrative Therapists who are now working in Haiti's NPH Saint Damien Hospital; this was a huge dream of mine that is now a reality. In fact, I am so inspired by the experiences I've had in Haiti that I can't compartmentalize. Haiti connects of all the dots for me -- from the artisans we work with through Urban Zen's Haiti Artisan Project , to the Donna Karan ad campaign we shot with Russell James and Adriana Lima, to the work we're doing with Former President Bill Clinton, to the patients and loved ones were working with at St. Damien's, to the remarkable progress of President Martelly and his team -- together we are creating community of like-minded people that really see the bigger picture.
In many ways, I've discovered a new purpose, to be an ambassador -- a cheerleader -- for this country. When I think about the irrevocable ways in which my life has changed, the ways I've grown, the new parts of myself I've discovered, I can't help but wish the same for others. The passion and soul of the Haitian people capture the heart and I speak the truth when I say that my heart belongs to Haiti.
This story of Haiti is, truly, in its infancy. This is just the beginning. Two years ago, today, devastation struck. It was a gut-wrenching and pivotal moment. But, it was also a moment pregnant with abundant potential. We are only seeing the beginnings of this potential, and I promise you, there is infinite possibility on the horizon for Haiti. There is much to celebrate.
I invite you to explore our Hope, Help & Rebuild Haiti mission at the Urban Zen Foundation. For me, this is an on-going journey and one that welcomes you to be a part of it. Join me.