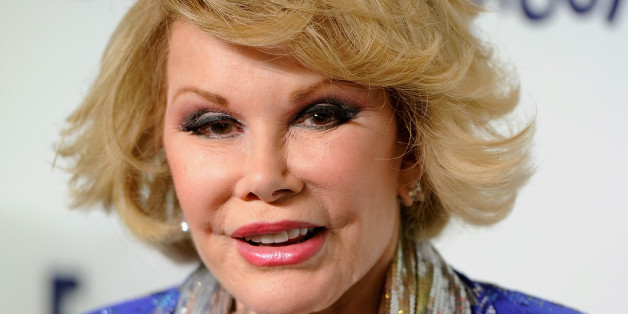 Yes, as it's been widely reported, Joan Rivers loved to make people laugh.
But she had another love that was even stronger: the roles she relished the most as mother and grandmother.
She combined these loves when she said, "My grandson calls me Grammy and sometimes calls me Nana New Face."
Joan Rivers wasn't alone. In 1980, there were 40 million grandparents. By 2020, this number will double to 80 million. That's 160 million grandparent hands ready to hold, love, spoil and pass on values to a new generation. And that doesn't include the grand aunts, uncles and friends who receive incredible pleasure from being the other caring adults in young people's lives.
As we celebrate Grandparents Day, let's make it something more than a superficial holiday. Let's make it a grand day for action.
What can you do? You can Do Something Grand and connect with children and youth in your family and your neighborhood. Here are some ideas:
Take a tour of your town, either in person or virtually.
Take your grandchild or young friend on a tour. How has your neighborhood changed over the years? Visit the buildings where decisions are made like the state capital or city hall. Discuss what it means to be an active citizen. Considering 73% of grandparents say voting is a value they want to pass on to future generations, use this as an avenue to help convey why it's important.
Volunteer together.
A teenager once said to me, "I started volunteering when I was six months old and now I drive myself. " Enough said.
Read together.
Creative grandparents who don't live near their grandchildren have found technology really helpful, whether it's reading together using FaceTime or Skype or using cell phones to record and send stories. If you are in the same town, consider a joint visit to the library followed by talking about the visit over a snack or meal.
Share a healthy habit.
Counting steps? Take your young friend or grandchild along and have them guess how far you've walked. Share a healthy snack. Drink a glass of water. Go to the playground. Turn off the electronics and talk with each other. Actions speak louder than words when it comes to passing on a healthy lifestyle.
Share a laugh.
Joan Rivers understood the power of laughter. Share jokes and funny stories with your grandchildren. Ask them about their favorite punch lines. Make one up together. You can even watch the same funny show, but be sure to take time afterwards to talk about why it was funny or how it could have been even funnier.
The opportunities are endless for you to start new traditions together.
In 1978, President Jimmy Carter signed the first presidential proclamation acknowledging Grandparents Day. This year, President Barack Obama, who was raised in part by his grandparents, issued a proclamation calling on all Americans to honor their own grandparents and those in their community.
It's a tradition worth continuing.
So happy Grandparents Day to all, but especially to "Nana New Face." May your spirit live on through the laughter and love you shared with your grandson.