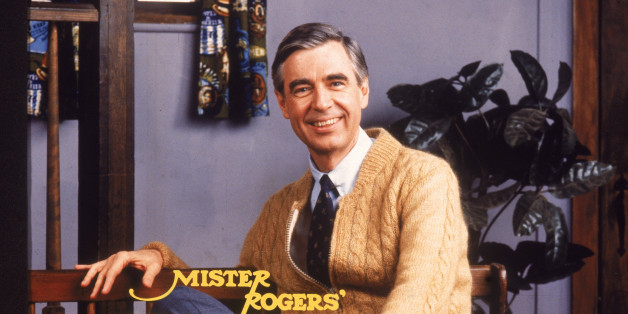 This post was co-authored by Dr. Sally Newman, founder of Generations Together at the University of Pittsburgh and Editor in Chief of the Journal of Intergenerational Relationships. She was Fred Rogers's neighbor.
It's a wonderful day in the neighborhood.
A generation grew up eagerly looking forward to those words every afternoon. Fred Rogers -- aka Mr. Rogers -- was welcomed into homes across America. His trademark sweater, calm demeanor and wonderful approach to the joys of life were valued by children, parents and grandparents.
Mr. Rogers, who would have turned 95 today, understood the magic of connecting generations. He spoke honestly to children and he honored his grandfather by naming a character on his show after him.
While he built a following reaching across age groups, others were building a field to support and encourage these connections.
About the time Mr. Roger's Neighborhood first aired, intergenerational programs -- programs that intentionally bring younger and older people together -- began to proliferate.
It was a time in our country when social and economic changes were impacting the demographic make-up in many communities. Families were moving apart, largely because of work opportunities, but also because a new concept, sun cities, began captivating the retiree population.
The first intergenerational programs were started as part of the War on Poverty amid growing concern about the increasing number of isolated, low income older adults. These early efforts focused on connection to combat the unnatural separation of people by age -- a separation that can lead to negative attitudes, misperceptions and myths.
These early programs were challenged to prove whether linking unrelated people of different generations could result in ongoing, meaningful and significant relationship connections.
They did this and more. They provided a venue for older and younger people to exchange ideas, develop skills and be a part of events that contribute to the future of their community. In addition to connections and learning, they offered purpose.
In later decades, intergenerational programs evolved to focus more on contributions, the roles young and old could play as they combined their resources in neighborhoods and communities addressing societal problems. They ranged from partnerships to address the needs of at risk, vulnerable and immigrant populations, to neighborhood watch teams to computer recycling and more.
Now the focus, much like Mr. Rogers, has moved from isolated programs to a community approach, whether locally or, increasingly, global. As people are living longer and healthier lives, thoughtful leaders realize we need to engage and recognize all ages if our country is to remain strong and prosper.
For example, there are about 77 million baby boomers in America. Older adults on average report watching 49 hours of television a week. If 10 percent of our older population used 10 percent of those TV hours to work instead with or on behalf of younger people, it would equal about $885,500,000 in service to our country's future.
Similarly, thousands of teens and young adults seeking opportunities to be productive in society can enrich the lives of growing numbers of older adults who need some support in order to age in their own homes, and receive academic acknowledgement for serving others.
Linking the young and old benefits both generations and unifies our communities.
As the Navajo proverb says: When you know where you came from, you know where you are going. In today's political climate, it would be easy to revert back to segmenting the generations.
But we can't.
Human beings are bound together in order to thrive and survive.
So today, as we celebrate the birth of a man who reached across generations, we challenge you to follow in his footsteps.
You can do this in three easy ways:
First, challenge institutions, housing developments and services that are restricted to single age groups to become age-advantaged and open up to other generations.
Second, encourage leaders, whether policy makers or community associations, to use an intergenerational lens when addressing issues and engage and value all ages.
Third, act locally. If you don't have older and younger people in your life, find them. They need you and you need them.
Mr. Rogers said, "Whether we're a preschooler or a young teen, a graduating college senior or a retired person, we human beings all want to know that we're acceptable, that our being alive somehow makes a difference in the lives of others."
He made a difference across generations. He believed one of the greatest gifts you can give anybody is the gift of your honest self.
Happy birthday, Mr. Rogers, it is indeed a wonderful day in the neighborhood.
--
Dr. Sally Newman, emeritus, founded Generations Together at the University of Pittsburgh and is the founder and Editor in Chief of the Journal of Intergenerational Relationships. She was Fred Rogers' neighbor.