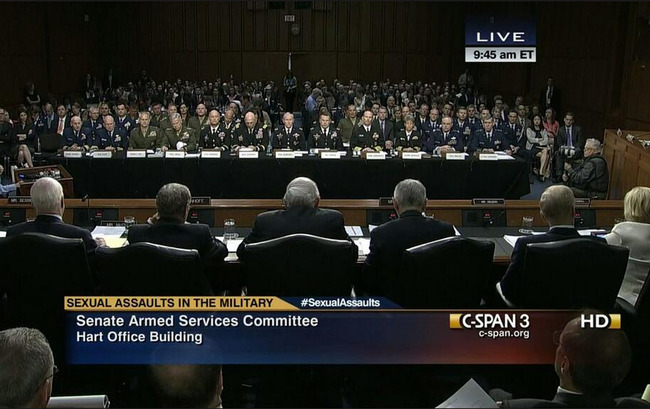 One would think that when the Joint Chiefs of Staff and members of their staffs took their seats in the Senate Armed Services Committee (SASC) hearing on June 4, 2013, they would come armed with statements promising change and detailing actions being implemented. But, instead of being like Lieutenant General David Morrison, Chief of Staff, Australian Defense Force, who inspirationally went bare knuckles on the issue, stating in a video distributed to his command and his country, and posted on YouTube, "I will be ruthless in ridding the Army of people who cannot live up to its values." Our chiefs can't even talk a good fight!
At the June 4 SASC hearing, they delivered confessions of failure -- Chairman of the Joint Chiefs of Staff General Martin Dempsey said, "We have become too complacent." Army Chief of Staff General Ray Odierno said, "We have failed in our efforts to date to fully protect our soldiers civilians, family members from sexual assault and sexual harassment within our ranks." -- apologies, and, most astonishingly, ignorance of what the militaries of our allies have done and are doing to address the issue. When questioned by Sen. Roy Blount (MO) how U.S. allies had dealt with sexual assault, since the problem has been known for years, Admiral Jonathan Greenert, Chief of Naval Operations, responded that was "something I should have done."
Unlike the militaries in Australia, Canada, Israel, Germany, the United Kingdom, and most of our NATO allies, who no longer allow unit commanders to determine the prosecution of sexual assault cases, American military law requires that the officers directly in command of individuals charged with sexual assault offenses decide how the cases are handled. The result is that only 8 percent of military sexual assault cases are prosecuted and only two percent are convicted.
Even after admitting the failure of the present system, and after President Barack Obama in his graduation address at Annapolis and Secretary of Defense Charles Hagel in his commencement speech at West Point made calls for action on the issue, the Joint Chiefs unanimously supported to keep that present system in place.
And, despite acknowledging the problem with similar rhetoric, SASC Chairman Senator Carl Levin refused to support SASC member New York Senator Kirsten Gillibrand's Military Justice Improvement Act, which has 27 bi-partisan co-sponsors. That legislation proposes a reformation of the military justice system and removes the court martial conveying authority on issues of sexual assault from unit commanders and places responsibility in the hands of the military's own professional legal corps. Instead, Levin replaced Gillibrand's legislation with his own amendment, if unit commanders decide not to prosecute service members for alleged sex assaults, those cases would be required to undergo "an independent review by the next higher level of the chain of command."
Since the 1991 Tailhook scandal in which Navy pilots were accused of sexually abusing female officers at a Las Vegas Convention, the Armed Forces have put in place numerous policies and programs to reduce assaults. General John Amos, Commandant of the Marine Corps, enumerates many in his SASC testimony. Yet, two decades later, the problem persists. The 2012 Department of Defense Annual Report on Sexual Assault in the Military indicates that 3,374 cases were officially reported. The Pentagon itself estimates that more than 26,000 incidents of sexual assault actually occurred in 2012, not the 3,374 officially reported.
So what happens next? Sexual assaults, notoriously underreported crimes (in fairness, a problem in the civilian world as well) are likely to remain that way -- under-reported.
What is the good news? The legislative framework is set up for implementation in 2016. Why 2016? Because a new panel commissioned to begin a year long process of researching and collecting more data on sexual assault in the military convenes on July 1, 2013. This panel's findings are due in 12 months on July 1, 2014. Interestingly that is nearly three weeks after the 2014 SASC hearing. Therefore the earliest this legislation can be proposed again for inclusion in the National Defense Authorization Act, the defense spending bill, is 2015 for inclusion and implementation in 2016. That is unless new legislation is proposed directly on the Senate floor.
So, I guess we need to tell all the victims of sexual assault to "just suck it up" for another three years.
The shame of it is the militaries of Australia, Great Britain, Israel and others are leading the fight to rid their ranks of those who as Lt. Gen. Morrison said, "behave in a way that demeans or exploits their colleagues." Our chiefs are not talking a good fight; they are apologizing.