She almost made it to her Los Angeles debut back in January, but illness kept Alisa Weilerstein away until now. No matter. The profoundly gifted cellist did keep her downtown date with Gustavo Dudamel and the LA Philharmonic and let us in on a big secret:
That towering artists who play in the concert spotlight can be
the very best chamber music champions - not just celebrities doing star turns.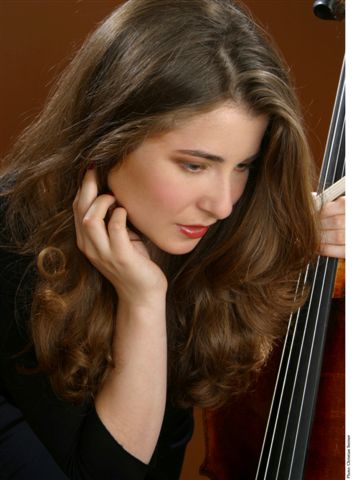 Her vehicle, the Dvorák Concerto, was the same warhorse Lynn Harrell played in January, when he pinch-hit for her at the Broad with the USC Thornton Symphony led by Mei Ann Chen - this he did, after flying from Europe, dashing from plane to stage with no sleep and no rehearsal. A valiant rescue, yes. A memorable showcase, not so. Rather, it was one of those "let's all meet at the cadence" efforts. A wag in the audience made a sweeping generalization, complaining that the concerto form seemed like nothing more than a formulaic between soloist and orchestra, all bouncing the same themes back and forth.
But then, days ago, came Weilerstein and her revelatory Dvorák, proving that the Czech composer had fashioned a complex of inner lines for any who could unearth them, no hackneyed formulas here.
While the mere 27-year-old American played her parts with exquisite tone, agile fingering, graded filigree and layer upon layer of nuance, at the same time, she entwined her phrases around various instrumental solos, joining them, weaving in and over them, clinging to the orchestral fabric, yet standing distinct - as if Dvorák were sending her the still-wet-inked score, straight from his head to her heart and hands.
And that's what chamber music is about - the intimate interplay between musicians, the close listening to and gauging each other. It doesn't happen so often, but on those rare occasions, well, sublimity.
Not only that, but due to a box office snafu at this soldout (what else?) show, I ended up sitting behind the orchestra (facing the conductor), with Weilerstein's back to me. That the intricacies of her performance wafted from so awkward a distance, with all her keen sensing of just where a phrase curved to find its key expression, was also remarkable - because at Disney Hall's circular stage, acoustics can often cheat the listener.
Then, again, she and Dudamel are hardly strangers. The two twenty-somethings performed this work before with the Simon Bolivar Orchestra, his alma mater. But Weilerstein is not on the current U.S. tour with him and the LA Phil, which features Tchaikovsky's Pathétique.
That epic Sixth Symphony came after intermission -- with a seat found out front for me. A good thing, too, because Dudamel spared no fortes, in this most manic-y of the emotionally embattled composer's works.
With his full-out approach to each characterful movement - even the wildly exhaustive march seemed about to pitch over from its bolt upright rhythms - the audience erupted in applause, but before the finale. It almost never fails that Tchaikovsky fools his listeners. For yet to come is the ultimate lamentoso adagio of his life, that final, bleak, pre-suicidal movement.
Our young maestro and his band gave it a thrilling rollout - especially in that passage where the strings sweep and vibrate with a palpable sonic intensity, before the softly morose, dying plunge.