No matter how glorious the Joffrey Ballet's specialty - you know, as a repository for pop culture exercises like Tharp's Little Deuce Coupe and choreographic capstones from Paris of the 1920s-'30s like Balanchine's Apollo- the economic scramble is on, and even heavier these days. Measures must be taken.
So what did this extraordinary company do in its recent visit to Los Angeles at the Music Center Pavilion? You guessed right: it put away those one-act connoisseur feasts and brought out the bread and butter: Sir Frederick Ashton's Cinderella -- a full-evening spectacle of tiaras and tutus/cum comedy, ergo a relative box office bonanza for hard-bitten times.
But some of us can still bemoan what it replaced -- a showcase of rarities that hardly any other dance enterprise can perform with so much stylistic panache and virtuosity -- whereas many touring troupes could roll out a well-appointed, well-danced Cinderella. In the best of worlds, the Joffrey should not be made to look indistinguishable from them.
And get this. The last time we saw a Cinderella, using the nearly complete Prokofiev score, it was Matthew Bourne's (also British) version, which, of course, veered totally out of the ballet realm to play against a backdrop of World War II à la Waterloo Bridge with Vivien Leigh-Robert Taylor. That Cinderella so energized the music that we could hear in it the Londoner's wholly contemporary sensibility -- sardonic flavorings, dark undertones, jagged perkiness, Gershwin-esque flights. Yes, it was still faintly based on the Perrault fairy tale, but the storyline took on heightened drama and made us forget about the virginal, touch-me-not genre of dance Prokofiev originally had to deal with. (The truth is, I never felt he believed in the tip-toe tidy balleticisms of this work -- especially not after seeing Bourne's epic. Bear in mind, Prokofiev was not Tchaikovsky, they belonged to different centuries.)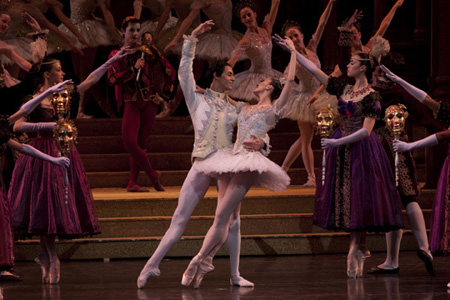 One other point that kept occurring to me while watching Ashton's first full-length ballet, dating from 1948 at Sadler's Wells while still in the thrall of porcelain prettyisms, was that, as a piece of dance theater, it seemed like thin gruel compared to the Prokofiev-Lavrovsky justifiably famous Romeo and Juliet that eschewed classical ballet divertissements for the more integrated, contemporary style of dramatic ballet. How annoying it was to hear the composer lifting whole themes and motifs from that magical Shakespeare-based work to drive this piddling thing. And how amazing to realize Bourne set his own powerful Cinderella to the same score. It virtually transformed what we heard into what we saw.
But all was not lost -- neither in the Los Angeles Opera Orchestra's loving account (a few horn bobbles aside), led by Scott Speck, nor in the Joffrey dancers' actual performances. As the titled character and her prince, Victoria Jaiani and Miguel Angel were long, lithe, picture-perfect and technically superb, although he took his imposed balletic stances with the stiffly uncomfortable manner many tall men suffer. The ugly stepsisters, Michael Smith and David Gombert, lent requisite drag hilarity to their over-sized, galumphing competitions and, with Graham Maverick's prissy dancing master, negotiated the ballet's cleverest piece of choreography, while Derrick Agnoletti's Jester exulted in his acrobatic stunts.
There's more. The Long Beach Opera offered up another downtrodden character of note -- minus the fairytale ending -- with The Good Soldier Schweik, Robert Kurka's version of Catch 22. Only this time the anti-hero hails from Jaroslav Hasek's World War I sardonic novel. The conscript at center stage is a lovable innocent, but sadly he's neither a Wozzeck nor a Mack the Knife, because the piece lacks musical weight, although it's a mildly zany romp with catchy, rhyming lyrics and a terrific wind/percussion orchestral score jumping through all the accompanimental hoops. Too often, though, the vocal line becomes monotonous, what with the constant loud and un-nuanced declamation and sparse melodic content. The whole cast and orchestra, led smartly by artistic and general director Andreas Mitisek, held to the highest standard. Ken Roht's staging, with Justine Jorgensen and Marcy Hiratzka's imaginative decors, brought the whole thing to laughable life.
Call it the little opera company that could. And anytime the troupe reaches out with another production of a rarity - hold on, folks, sometimes it's even a Wagner "Ring-let," done as intimate theater - we all pay attention. After all, life is ever in economic downturn for these imaginative die-hards.