That was no busboy at the Broad Stage - where most of Los Angeles's opera elite massed to the walls the other night. Yes, Juan Diego Florez may have looked like one in his black suit, boxy jacket buttoned to the neck, all emphasizing his slight frame. But, in fact, the celebrated Peruvian tenor fearlessly treads the same testy stratosphere that the Big Man with the White Hanky once monopolized (pace Pavarotti). And he does so with a stunning radiance and suavity.
That's what he delivered at the Santa Monica venue (named after philanthropist Eli Broad), a little jewel box of a Westside theater whose bright acoustics seem to amplify the voice. Okay, Florez may not boast the flourish of his famed predecessor. But who could argue with the sheer thrill of his pinging, ringing tenor and gorgeous tone - all captured in this recital, affably accompanied by pianist Vincenzo Scalera?

Florez devoted the program's first half to Rossini, championing the composer's bel canto virtues while holding onto a serious demeanor and seeming solely intent on his careful, and yes, perfect delivery.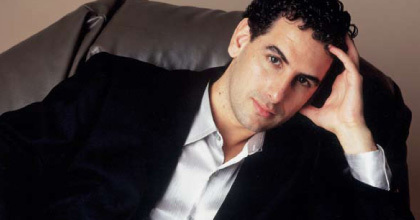 But after intermission he let loose with the fireworks - an amalgam of personality and vocal wonder in a siege of roof-raising French and Italian arias along with lesser known songs in Spanish.

There was Florez the soulful in "Pourquoi me reveiller" (from Massenet's Werther), his tone expansive, yet resonant and focused - the audience swooned. There was Florez, the deeply heart-felt, singing in his native tongue about his country, and there was Florez the immaculate technician who tossed off the nine treacherous high C's in his now obligatory "Pour mon ame" (from Donizetti's Fille du regiment), the aria he sang twice last year, yes twice, on demand, mid-performance of the opera from the Met stage - a rarity there.

That's not all. There was Florez the spontaneous comedian, who forgot the lyrics to a Spanish love song, stopped, joked at the lapse as though among friends, then fumbled through the pianist's pages, finally placing them on the instrument's lid so he could sneak looks as he progressed through the piece - all of this done as quietly shared humor.

And during the encores, which included a breathtakingly beautiful "Una furtiva lagrima," he again brought his well-placed comic flair to "La donna mobilé," where on the final high note, he consulted his watch, timing its length and thereby mimicking his peers who like to hold that note for bravura effect.

There was also the crowd-pleaser "Granada," every tenor's delight to sing, but Florez, along with his thrilling expressive freedom, did it differently -- adding perfectly plotted interpolations.

In that regard, he saved the best for last: "Cessa di piu resistere," his stellar calling card for next month's Barbiere di Siviglia which he sings with Los Angeles Opera. Those who lack the chops simply omit the aria, but JD, as his Florezidos call him, revels in it - his agile voice stringing neat little coloratura pearls together in an orgy of ornamentation. But tastefully. The man is, after all, tasteful.