Creatures of creative habit -- say, Placido Domingo, Woody Allen, Philip Roth -- do not let numbers stand in their way. How many opera roles? How many movies? How many novels? Could be, they're even consumed with self-competition.

Take the fabled tenor, for instance, who wouldn't dream of resting on his performance laurels. At 68, an age when most singers are content to browse through their scrapbooks because they hardly have a larynx left, Domingo has now advanced to his 126th role, in Handel's rarely performed Tamerlano. And please note, no one in all of opera even approaches that number - which means that he's committed to memory yet another staged three hours of music. A true marathon man. And, oh yes, he also helms the Los Angeles Opera (where he's currently appearing), as well as the one in Washington, D.C. and conducts in his spare time.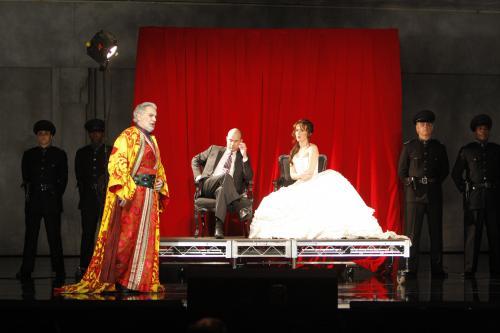 Neither is our hero afraid to veer off the tried and true Romantic path of Puccini, Verdi, even Wagner. As proof, we find him testing out the notoriously difficult terrain of Baroque singing - with all its long, breath-challenging bars of music filled with melismatic demands and other such hurdles requiring vocal agility. That's not to say this lion in winter succeeds so well at the stylistic framework imposed here. If anything, his voice sounds overly big and robust (though quite gorgeous) for the slender, immaculately focused genre of antique opera.

Not so his cast-mates, who are all singing paragons of that era's performance style - as well as being young, beautiful and gifted. Domingo sang the doomed Turkish sultan, Bajazet, who is taken prisoner by the Tartar emperor, Tamerlano. In the mix are love quadrangles, with princesses betrothed and betrayed - the usual malarkey of opera librettos old and older.

But the cast's noteworthiness aside, it is the production - directed by Chas Rader-Shieber, designed by David Zinn - that grabbed attention, along with Christopher Akerlind's moody side-lighting, and was so much fun to watch.

It immediately put me in mind of Neil LaBute's In the Company of Men, an office intrigue. Here, in contemporary street wear -- with men in suits and ties -- characters strutted around importantly, conspiratorially, sometimes slinging jackets over their shoulders in a gesture of casual confidence. The women were executive-glamorous in black and white; one of them, especially, looked like an Eve Arden throwback. Only Domingo, as Bajazet, and his daughter Asteria were in colorful, gilt-threaded robes.

So just when the style of music harkens to 18th century opera seria (one solo number after another ad infinitum), the updated social mode twists our heads around. Lo and behold, we see it through today's prism.

How startling it was to witness Tamerlano, an emperor, mind you, portrayed by the tall, thin, testosteronic and bald Bejun Mehta, taking charge of his "office," nimbly leaping around in his dark, narrow suit, issuing CEO-like commands. Somehow it sounded right for a countertenor to portray this high-strung character. And even though Tamerlano's cohort, Andronico is mezzo soprano Patricia Bardon (singing the trouser role superbly), they show opposite sides of the male spectrum: Tamerlano as external and flighty, Andronico internal and caught in a sorrow warp.

Nothing less than stunning was Sarah Coburn, Bajazet's daughter Asteria. With a voice equal to her fairytale princess face and form and a limitless technique she is simply stellar. So too were Jennifer Holloway, as Irene, and Ryan McKinny, as Leone, standouts. William Lacey, with the old-instrument-enhanced orchestra (a long-necked theorbo stuck out from the pit), led his players vigorously in the uptempo music and with deliberation in the slow, mournful parts.

But, as he noted in the program, Handel's score goes on by the yard (it's easily almost five hours long as written). And since modern audiences have a way of diminishing as an evening wears on, wouldn't it make sense to cut the whole thing down to an intermissionless 90 minutes? Especially since a good two hours are already lopped off?