Great writers, politicians, and other powerful people have written about the importance of children's rights, and the role that youth can play in our country in alleviating poverty. In Guatemala, various laws and policies protect these rights, but the same children who should benefit from them don't even know that these laws exist and don't value their own rights.
Particularly, girls and young women in Guatemala suffer even more discrimination than youth generally, and are much more likely to have their rights violated. In my own community, I have seen the human face of statistics that report that indigenous girls in Guatemala finish primary school at one third the rate of their non-indigenous peers, and that 30 percent of all indigenous girls in Guatemala are engaged in child labor.
But today, I am one of 156 girls and boys from across Guatemala that are working together to change our future, as members of the National Children's Parliament. Together, we analyze the most pressing issues confronting young people, and then propose solutions to these issues. Rather than waiting for the government to act, we ourselves are creating a just world for young people in Guatemala.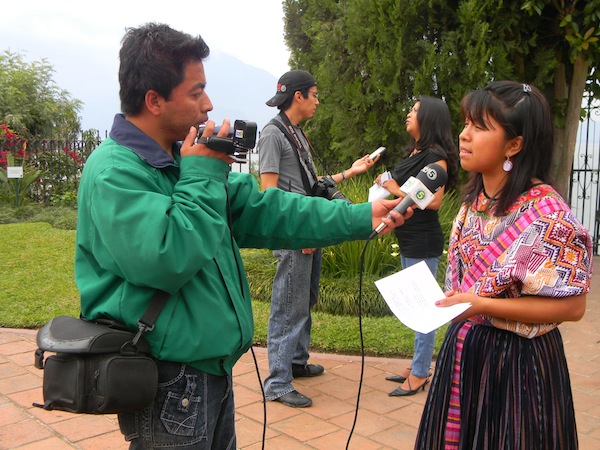 Along with the Asociación IDEI, a non-governmental organization based in Quetzaltenango, those of us in the Children's Parliament are helping girls to know their rights and understand their obligations, and learn how to demand that the government respect those rights.
I have been working with IDEI and the Children's Parliament for eight years, since I was a girl of only 12. At that age, my older siblings started bringing me with them when they participated in activities organized by IDEI, and I began to see that I could make my voice heard, and that I could change the lives of other young girls in my community.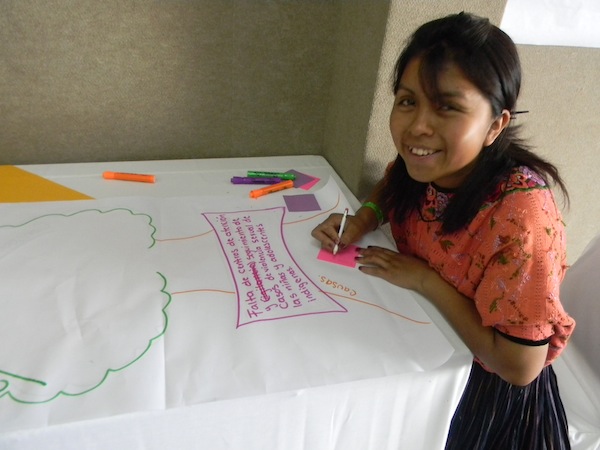 Although at least 66 percent of Guatemalan girls drop out of school, and only 5 percent of girls from indigenous communities like mine finish primary school, with much effort and support I have made it to university to study law. Many of my friends from primary school are now married with children, but there are also many of us who are still fighting so that we can have the same rights and opportunities as men. For a long time, my parents did not support my work, but with IDEI's help I have been able to change their minds and now they support my efforts and those of my five siblings. I feel proud that I have been able to break the paradigm that girls should just stay home to take care of their siblings and cook, and that now in my community girls can participate and take part in decision-making.
Because of my experiences and those of girls like me, IDEI and the Children's Parliament decided to help other girls become advocates for their rights. We coordinate with government representatives and other decision-makers, develop policies that respond to our needs, and publicize them through press conferences and other forums. We have achieved many successes, including getting our town mayor to open and fund a municipal office of women & children.
This important work has made me realize that our ancestors, our tradition, our collective memory, all of these things compel us to act. As adolescent girls who have organized to defend our rights, we can use our capacity and our potential to work, debate, discuss, propose, consult, negotiate, and advocate so that we can be part of the solution. We say, enough of enduring, we must participate, today, here and now. In order to protect the rights of girls and young women, we must find new ways of holding our government accountable to the wellbeing of children and adolescents in Guatemala.