Thursday night at The Cosmopolitan of Las Vegas, we celebrated the completion of four site-specific artist murals in the new parking garage. The commissioned pieces by Shepard Fairey, RETNA, Kenny Scharf and Shinique Smith, will be available for public view when the casino opens on December 15th of this year.
The Cosmopolitan recognizes the importance of embracing visionary artists and commissioning permanent works that will become both a destination and part of the dialogue of art history, and we at Art Production Fund are thrilled to be working with them.
Seeing these murals in person is an unexpected and unique experience. The pieces unfold almost cinematically as you move through the levels of the garage. Not quite on the street, they definitely feel of the street: dynamic, spontaneous, and inspiring.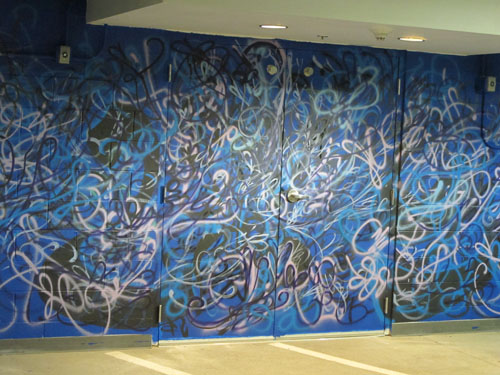 Mural by Shinique Smith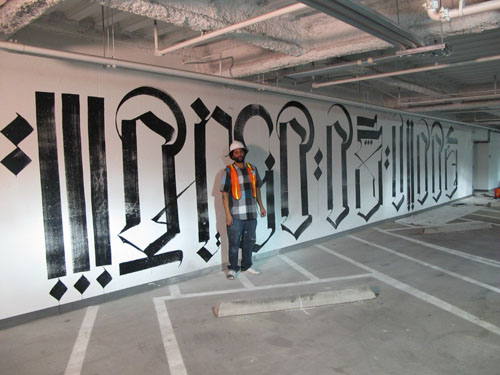 Mural by RETNA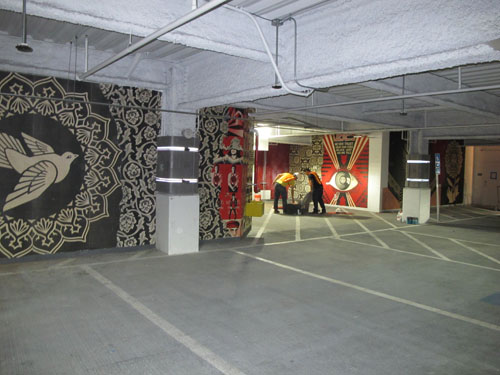 Mural by Shepard Fairey
When we arrived on Wednesday, the day before the opening, all of the murals had yet to be completed. One hadn't even been started! As the curators we were slightly concerned, but these artists were confident under the pressure.
The next evening was opening night. A small group, all wearing hard hats and sturdy work boots (because the spot is still a construction site) were given a tour of the works, with each artist saying a few words about his or her piece. Great conversations were had about the individual murals and graffiti in general, with one memorable observation from Kenny Scharf who commented that when it comes to street art everybody needs to be more responsible. The taggers, in where they choose to write, and the viewers, in not dismissing all graffiti on the street as mere vandalism.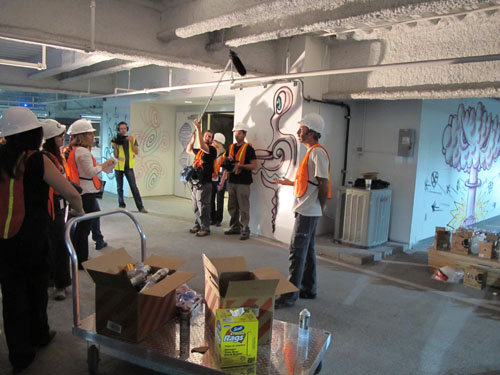 Kenny Scharf speaks to the group
After the tour we went to the reception at the Lou Ruvo Brain Institute in downtown Las Vegas.
Members of The Cosmopolitan and the Las Vegas art community were in attendance. It was a fantastic gathering, a bonding experience for the artists, the local community and us! Snapshots of the murals were installed around the room and people were inspired.
Everything was perfect, except the footwear... we went to the party in our sturdy work boots, straight off the construction site. Spotted: At a party in flats.......!? Well as the saying goes: What happens in Vegas stays in Vegas... for now.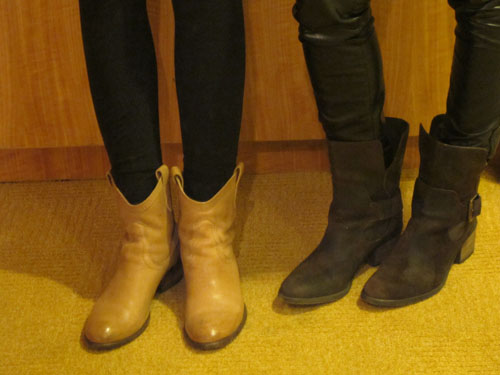 CF and DR show what not to wear