We're speeding north on the Coast Starlight, to our next stop on the grey whale migration route. It's a romantic name for a train, and it's a dreamy ride from Los Angeles, sprinkled with surfers, swimmers, beach houses and a bunch of Airstreams glittering like fish. The sea springs out from behind dunes and boisterous green, and tears off behind in a shimmering streak.
But as we approach our destination, Monterey Bay, a sense of foreboding creeps over me. The whales have reason to be fearful here too.
About a quarter of the way along the greys' annual path, the continental shelf drops off into the massive Monterey Submarine Canyon. It's comparable in size to the geological wonder that is the Grand Canyon. It's also the perfect place for a deep-sea ambush by the apex predators of the seas, orcas. The killer whales.
These distinctive black and white hunters are about half the size of an adult grey but hunting in packs, or pods, they gain advantage and they prey on calves. Deep water allows a stealthy approach from below. Some wise grey whales stick to the shoreline here, but others cross the canyon, risking their calves' lives. Could it be they are in a hurry, I wonder, or they just don't know any better?
The killer whale's tactic is to separate the calf from its mother and drown it by ramming and jumping on top. The mothers fight but the majority of calves die. I've been told the whale-watching boats we'll board consider such a battle a highlight. With my two-year-old fresh from patting baby whales in Baja, I really don't want to witness it.
The mere thought of dark shapes looming up from the deep towards the calves makes me break into a sweat. But this is a crucial step in the whales' journey and I know I can't shy away.
It's evening when we get to Seaside, a northern Californian city a few miles from Monterey. I've booked a room through a home-let website with Teri and her daughter Gabby. It was affordable and offered the added comfort of sharing with another single mother.
Eleven-year-old Gabby is sweet, graceful and a keen dancer. Teri is so keen to nurture her daughter's talent that she supplements her income by giving up her bedroom to strangers like me. She sleeps on the floor of the study, sometimes joined by Gabby, and by Bella, their adorable, rotund Chihuahua/sausage cross.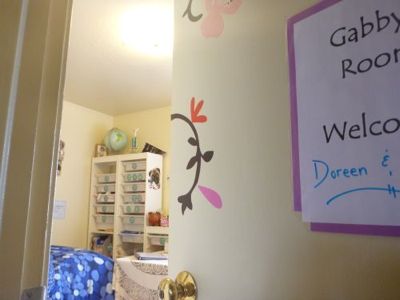 On Sunday morning Teri insists on driving us to Fisherman's wharf, a bustling boardwalk of seafood and boats. She fills my hands with her freshly baked cinnamon cake as we join the whale-watching queue.
There in front of us, is the Sea Wolf, at its helm an energetic blonde in shades, the ominously named Captain Nancy Black. Nancy, really, is a renowned and charismatic cetacean expert. She explains that orcas live in matriarchal groups, often led by grandmothers. They are extremely intelligent and live for up to about 90 years. There are several types. Transient orcas live on sea mammals. Another type, residents, eat only fish and often live peacefully alongside dolphins and seals.
This is transient orca territory. Since 1992 Nancy has seen increasing numbers of attacks on greys. This, she believes, may be because they were hunted to near-extinction by humans and for a time were not a regular food source for orcas. Now greys are protected by law, numbers have recovered, and the orcas are back on the hunt.
"They had to maybe relearn how to do this", Nancy explains. "Some older females probably knew how to hunt grey whales from before they were almost hunted to extinction, so they could have taught the younger whales."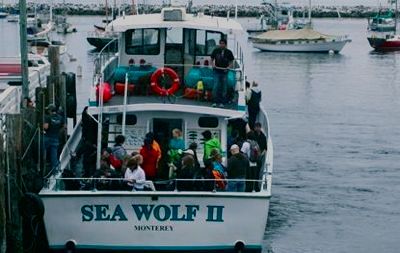 As we leave the harbor I'm not sure where to sit. Somewhere near the cabin so we can hide if something awful starts to unfold maybe? Minutes later I'm throwing up over the side of the boat. The two-year-old squeals happily as we ride the waves. I can't tell if it's motion sickness or more to do with my dread but I'm forced to retreat inside and lie down, my small companion sprawled asleep on top of me.
I wake as we arrive back in the harbor. Nothing grisly to report, no orcas and no greys. A couple of humpback mother and calf pairs appeared, to the delight of those on deck.
As I muse over the ocean's life and death battles, Nancy puts in a word for the villains of the piece, as I see them, "It's pretty brutal and sad to watch but it's part of nature. Killer whales have to feed their calves. They have families too." Does she have any parting advice for the greys for when I next see them? Yes, "They need to stay close to the beach."
As Captain Nancy heads out to sea again, we wander down the wharf, crunching fried calamari. This is John Steinbeck country and you can catch a trolley bus past Cannery Row. I find myself searching for the stink and poem of the sardine canneries that I read about as a teenager.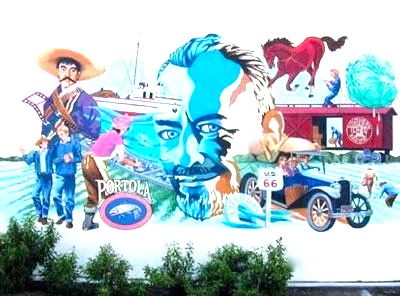 The next day our hosts Teri and Gabby give us a lift to catch our train. We drive through the Salinas valley, where John Steinbeck grew up. It's been called a giant salad bowl and is one of the most important agricultural areas in California. The pong of broccoli past its sell by date creeps into the car.
To the east and west are mountains, and there was a time when the floor of the valley was a narrow inland sea. Would the whales have swum where we now drove, I wonder? Teri points out to me that in East of Eden, Steinbeck wrote of the time his father dug a well, fifty miles down the valley. First topsoil and gravel appeared. Then came white sea-sand, full of shells and whalebone.
They were here, the ancient ones.
Our next stop following the greys' migration is Depoe Bay and we're sleeping on the train. We find our berth and the two-year-old bounces with excitement, 'We going to catch up with the whales mummy, it's going to be great!' I feel fireworks of happiness inside, at his enjoyment, his faith, his growing consciousness.
Swaying and rumbling through the dark, my son curled asleep beside me, I realise I'll never know if the calves we patted in Baja made it past those orcas. I find myself pleading with the night that they did, that they are still journeying with us.