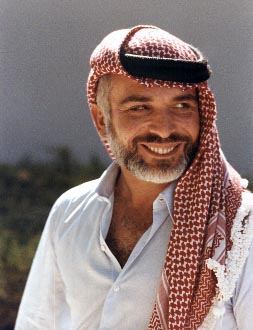 I have always liked and admired the late King Hussein of Jordan.
In my opinion, he was a kind, wise leader -- a haven of peace, reason and steadfastness in the always-troubled Middle East.
Thus I was not surprised to find very similar words in his official biography:
His Majesty King Hussein bin Talal, the father of modern Jordan, will always be remembered as a leader who guided his country through strife and turmoil to become an oasis of peace, stability and moderation in the Middle East. Among Jordanians, his memory is cherished as the inspiration for Jordan's climate of openness, tolerance and compassion. Known to his people as Al-Malik Al-Insan ("The Humane King"), King Hussein established a legacy which promises to guide Jordan for many years to come.
His biography lists his many accomplishments including "raising the living standard of each and every Jordanian," improving the quality of life of his people and it enumerates his impressive achievements and statistics in these areas. But most eminent in his biography are the late King's indefatigable efforts to promote peace in the Middle East, in particular to mediate the Israeli-Palestinian "conflict":
King Hussein also struggled throughout his 47-year reign to promote peace in the Middle East. After the 1967 Arab-Israeli war, he was instrumental in drafting UNSC Resolution 242, which calls on Israel to withdraw from all the Arab lands it occupied in the 1967 war in exchange for peace. This resolution has served as the benchmark for all subsequent peace negotiations.

In 1991, King Hussein played a pivotal role in convening the Madrid Peace Conference, and providing an "umbrella" for Palestinians to negotiate their future as part of a joint Jordanian-Palestinian delegation. The 1994 Peace Treaty between Jordan and Israel is a major step toward achieving a just, comprehensive and lasting peace in the Middle East.
Sadly, King Hussein passed away in 1999, before he could complete his work.
This week, Princess Haya Bint Al Hussein, the daughter of King Hussein from his third wife Queen Alia, prompted by current events in Gaza published a letter addressed to Prime Minister Netanyahu of Israel.
It is a poignant, timely letter. However, what makes the letter even more powerful and haunting is the fact that the Princess compiled the letter using the same words her father used when writing regularly to Netanyahu and words taken verbatim from the King's speeches and interviews when referring to Netanyahu in the late 1990s, "when both men were leading their countries."
While the only changes the Princess made were "to switch the word 'condone' from present to past tense, and to use the pronoun 'you' when [her] father referred to the Prime Minister by his title or as 'him'," what is truly tragic is how little has changed in this troubled part of the world. In the Princess' words, "Nearly 20 years later, [King Hussein's] words still resonate and reveal how little has changed in the politics of the Middle East."
Regardless of the readers' views on the so-called "Israeli-Palestinian conflict," Princess Haya's Letter From My Father, Late King Hussein, to Netanyahu -- a letter that concludes as follows -- is a must-read.
A long time ago, Sir, in Washington following the crisis of Hebron, when we departed, you said you were still determined to surprise me, and I am still waiting for the surprise. Let's hope that all of us are pleasantly surprised by progress, make it a peace between people -- a people-to-people peace -- and remove the barriers. You must present future generations with the kind of life that is worthy of them.

Yours,

Al Hussein Bin Talal
One of those "future generations" is here, now.
That generation now lives in Gaza, in the West Bank and in Israel.
Now is the time to heed a Humane King's timeless words.
~.~
From HRH Princess Haya's biography:
HRH Princess Haya Bint Al Hussein is a woman of many facets. She is a devoted wife and mother, a former Olympic athlete, a humanitarian, a member of the International Olympic Committee, a UN Messenger of Peace, president of the International Equestrian Federation and the only Jordanian woman who holds a license to drive heavy trucks.

She is the daughter of HM Late King Hussein Bin Talal of Jordan (1935-1999) and HM Late Queen Alia Al Hussein (1948-1977); and the wife of His Highness Sheikh Mohammed Bin Rashid Al Maktoum, Vice-President and Prime Minister of the UAE, Ruler of Dubai. They have one daughter, HH Sheikha Al Jalila, who was born on December 2, 2007 and one son, HH Sheikh Zayed, who was born on January 7, 2012.
Lead Photo: King Hussein of Jordan. Courtesy Zohrab