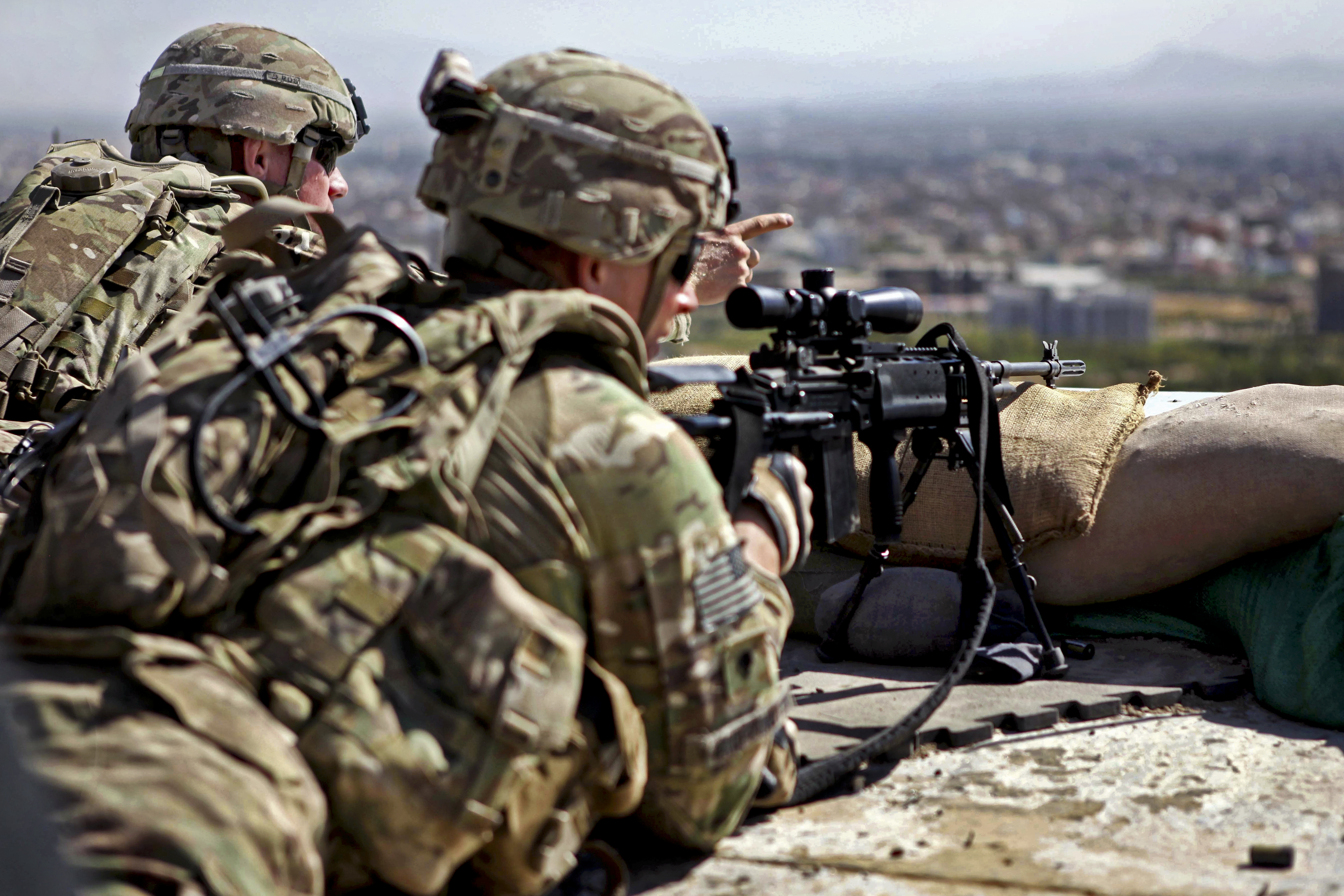 Although our fighting troops will continue to get paid -- at least for the time being -- the government shutdown must weigh heavily on their minds as they worry about the effects it is having on their families back home and even as to their own future pay, allowances and benefits.
All "stateside" commissaries (except for two in remote areas of California and one in Alaska), have been closed. Commissaries are essential to our troops and their families as they help them stretch their food budget.
Commenting on the importance of the commissaries and the impact their closure is having on our troops, the Defense Commissary Agency notes that "Commissary patrons across the United States reacted to the announced store closures in the same manner as customers descend on a grocery store to prepare for a hurricane," points out that commissary sales Oct. 1, the day before commissaries were closed, totaled $30.6 million and adds, "Those numbers underscore the impact of the closure on commissary patrons, who demonstrated with their transactions on Oct. 1 that they depend on their commissary benefit."
Adding insult to injury, many of the 11,000 commissary employees who have been furloughed, are military family members and retirees.
While schools and Child Development Centers on military installations are open, "childcare for school-age children before school and after might not be available if located away from development centers. Many young military families who rely on Women, Infant and Children (WIC) nutritional assistance could see that program running out of money if the shutdown drags on," says the Stars and Stripes.
Joyce Wessel Raezer, executive director of the National Military Family Association, says, "So not only are we making families pay more at the grocery store, our young, vulnerable families with babies and little kids are going to lose the extra nutritional support."
The Stars and Stripes adds:
Furloughs will impact access to care in base hospitals and clinics but the Defense Health Agency can't predict how yet. DHA does vow that the shutdown will not impact inpatient care, acute care or emergency care on base, nor will it affect access to private sector care under TRICARE options.
Also, while "activated Guard and Reserve personnel will be paid, reserve component drills are being cancelled so drill pay will stop. Death gratuities to survivors of members killed on active duty will be delayed. Education centers on bases are closed and tuition assistance is unavailable."
And:
Promotion boards are suspended. Training and travel are disrupted unless connected to the war in Afghanistan, readiness for future deployments or other "excepted activities" including emergency services, police, firefighters and emergency medical personnel.
Though Congress passed the "Pay Our Military Act" -- and the President signed it into law -- to ensure troops and excepted civilians will keep getting paychecks, "some three days later, the Pentagon has yet to tell employees whether they'll be able to collect their Oct. 15 pay."
On Thursday afternoon, defense officials were still busy preparing guidance on implementation of the hastily passed law. The guidance could also clarify other questions, such as whether troops will continue to receive Imminent Danger Pay during the shutdown, and whether the Pentagon can expand the number of civilians able to work.
Also, according to the Stripes:
As of Thursday, teachers with the Defense Department of Defense Education Activity, who continue to work during the government shutdown, seemed unsure whether they would be paid on time. In a Thursday email to Stars and Stripes, a DODEA teacher said supervisors have told her and her colleagues "that our pay will be delayed. We have been given no further information. I think it is important that our community understands that currently, teachers are still teaching their children with no idea when a paycheck will come."
Other impacts, according to the Air Force Times:
 The Air Force Academy immediately suspended 20 percent of its nearly 300 courses and grounded all flying operations at the 306th Flying Training Group after it furloughed more than 1,000 employees, more than two-thirds of its staff.

 Twenty-six training or test flying units stood down due to the shutdown, as did nine other combat-coded flying units. And tuition assistance for classes starting on or after Oct. 1 was suspended until further notice.

 The Air Force Global Strike Command said it furloughed almost 80 percent of its 2,465 civilian employees, forcing it to scale back or close down functions such as medical, logistics, contracting and communications...

 The Air Force has canceled all new temporary duty travel, except for travel in direct support of the war in Afghanistan and other travel directly related to the safety of life and protection of property, as well as foreign relations. Space Command said permanent change-of-station activities already underway will continue, but new PCS moves will not be started during the shutdown unless they are also in support of an excepted activity...
Even one of the very few things our troops in Afghanistan and in other overseas locations truly enjoy -- one of the few things that reminds them of home -- during their hours away from patrol and battle, has now been taken away as the American Forces Network, "reduced to just a news channel this week by the government shutdown, says it has no plans to screen football, baseball or other sports until things get back to normal."
Lt. Uriel Macias, a Navy reservist assigned to a stability operations team in Kabul, said while he is not an avid sports fan, he has noticed an impact on others who work in his office.

"They have to use the online play-by-play sites, and sit there and refresh it over and over again," he said. "Sports are an escape for a lot of people here, so it can be a little frustrating for them."
The Stripes article concludes:
Back at Yokota, [housing renovation project manager T.] Bourland said Americans should punish the people responsible for cutting AFN sports by voting out every politician currently serving in national office.

"Whoever is up for election -- don't vote for them," he said.
Amen!
This is no way to treat our troops.
Republicans in Congress must end this unnecessary and totally politically motivated, partisan government shutdown.
They must stop their theatrics, optics and photo-ops with our troops and our veterans.
They must stop holding them hostage to ideology, and stop using them as pawns in their political battles.
Pass a clean, unencumbered Continuing Resolution!
Lead image:
U.S. Army 1st Sgt. Sean Allison, left, and U.S. Army Ryan Skeffington provide security on the roof of the U.S. Consulate in Herat city in Afghanistan's Herat province, Sept. 19, 2013. Allison and Skeffington are assigned to the 1st Cavalry Division's Company D, 1st Battalion, 5th Cavalry Regiment, 2nd Brigade Combat Team. Photo: DOD.