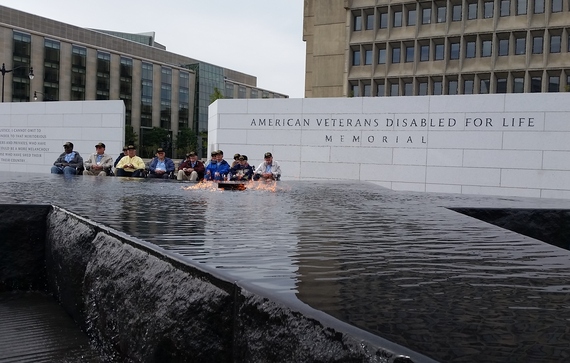 In his 2014 Veterans Day message, the president stressed that the responsibility to support and take care of our veterans "far exceeds the boundaries of government."
"It's a job for every American," he said. "We're all keepers of that sacred trust that says, 'If you put on a uniform and risk your life to keep us safe, we'll do our part for you. We'll make sure you and your family get the support you need. We'll have your backs, just like you had ours.'"
Indeed, there are numerous excellent, large and small organizations* that have our veterans' backs, offering a plethora of wonderful services, goods, donations and all manner of in-kind support to them.
Then we have those magnificent doctors and medical personnel who heal our wounded warriors, the selfless caretakers and, finally, individuals who look after our veterans with simple but priceless acts of kindness.
They deserve our thanks and, whenever possible, our support and donations.
Looking around one's community, one will find plenty of individuals and small grass-roots organizations who reach out to local veterans. Many of those doing the reaching-out are veterans themselves.

In my community, there are several such groups and individuals. I have been particularly impressed by two of these groups and their members.
On the occasion of Veterans Day, I would like to recognize and applaud them.
Honor Flight Austin, Texas -- part of the nation-wide Honor Flight Network -- has as its mission to transport America's veterans to Washington, D.C. to visit the memorials that honor their service and sacrifices, entirely free.
Well aware that our World War II veterans are leaving us at an alarming rate of approximately 555 each day, naturally the focus of Honor Flight is on the Greatest Generation.
Honor Flight Austin flew its maiden flight in June 2012 with 25 Texan World War II veterans on board and has been going full blast ever since. They have, thus far, flown 630 World War II veterans to our nation's capital on 20 flights. Honor Flight Austin will have a very special flight of Pearl Harbor survivors, December 7, 2014.
What is particularly commendable about Honor Flight Austin is that all its members are volunteers.
I recently met one of those volunteers, a deeply patriotic and God-fearing woman, a wife, mother of seven and an indefatigable supporter of our veterans and all things military.
Tanya Kinney's formal title with Honor Flight Austin is Assistant Director of Public Affairs -- an understatement, for Kinney does so much more than "public affairs." Having worked for various military families and veterans support organizations in the past, Kinney now devotes a lot of her time to accompany and take care of the senior veterans on Honor Flights, a task to which she gives her total love and devotion.
I saw Kinney at a recent "Honor Flight Homecoming" at the Austin airport, welcoming the return of a score of World War II veterans who had just concluded their visit to Washington. Despite the exhaustion of a two-day trip accompanying these veterans every step of the way, Kinney's love and devotion to these men and women was palpable. But equally unmistakable, and touching, were the respect and gratitude shown by these heroes of a long-ago war towards their young Guardian Angel.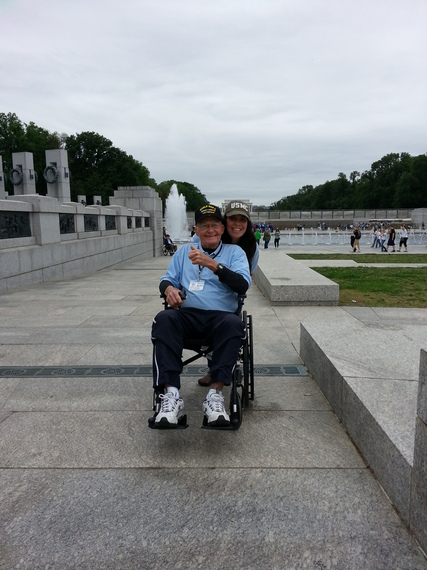 Tanya Kinney with World War II veteran Davis Redus of Georgetown, Texas, at the World War II Memorial during an Honor Flight to our nation's capital. (Photo courtesy Tina Lee, Honor Flight Austin)
Retired Navy Captain Cathy Ann Moreno, who worked with Tanya on the Cities of Service Program, helping Women Veterans, post-deployment, to reintegrate, perhaps said it best. Referring to Tanya Kinney, Moreno says, "[She] has a sincere, loving spirit and the altruism of St. Francis, in her spirituality and her genuine care and concern for others."
A modest Tanya Kinney, however, firmly believes it is her honor to serve our veterans, especially our most senior ones. Such volunteer service "has had a profound impact on my life and has given me a perspective that I treasure," she says.
Then there is that unique Capital of Texas Chapter (23-7) of the Combat Veterans Motorcycle Association (CVMA).
The mission of these "motorcycle riders," all of them combat veterans, is to support those who "have defended our country and our freedoms" -- a classic and wonderful example of "veterans helping veterans."
These veterans have exchanged combat helmets, weapons and MRAPs for hardhats, tool boxes and motorcycles and perform a myriad of voluntary jobs for veterans in need. This includes providing "a warm meal, clothing, shelter, and guidance to our veterans" or just saying "Thank you" and "Welcome home."
A couple of examples of their goodwill:
Back in July, under the hot Texas sun, these "Angels of Help" built a beautiful garden shed for a 93-year old World War II veteran.
A few weeks ago, as cooler weather prevailed, with assistance from the local Veterans of Foreign Wars Post 4443, they erected a chain link fence for a disabled Vietnam War veteran. Of course, their project had to have a "code name." How about "Operation Chain Link."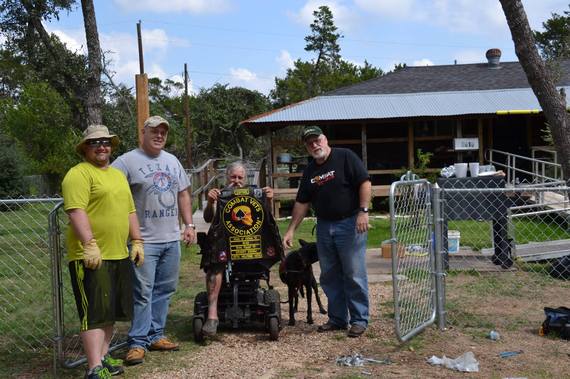 Members of CVMA Chapter 23-7 stand by disabled Vietnam War veteran Allen Hancock after installing a chain link fence surrounding the veteran's property. (Photo courtesy CVMA)
Because of Operation Chain Link, wheelchair-bound veteran Allen Hancock, who lives alone, can now enjoy watching his loyal companion, a dog named "Tonto," roam around the yard without concerns.
Thank you Honor Flight Austin. Thank you CVMA Capital of Texas Chapter 23-7, and a special thank you to Tanya Kinney, Darrel DeLong, Aaron Skinner, Kenneth "TexKen" Baldwin, Rob "Lewy" Lewis, Dan "Eagle" Bayes, Jeremy "Germ" Kenard, Jimmy "Hillbilly" Harris and Shanna "Tinkerbell" Baldwin.
You certainly "have the backs" of our veterans this Veterans Day and every day.
~.~
Lead photo: Honor Flight Austin World War II veterans during a recent visit to the newly unveiled American Veterans Disabled for Life Memorial in Washington D.C. (Photo courtesy Honor Flight Austin)
* The Department of Veterans Affairs publishes a "Directory of Veterans and Military Service Organizations" listing organizations that are "Non-profit, national in scope, of good reputation, in existence and involved with Veterans for a minimum of three years, dedicated to a wide range of Veterans' issues with a membership of at least 1,000 or Congressionally recognized."
For more information on Honor Flight Austin, please go here.