So much has already been said here and elsewhere mourning the death of Robin Williams and celebrating his incredible talents and humanity, that I will not even try to add to it, except to say that, as retired military, I tremendously appreciate all he did for our troops and that he was my favorite actor and comedian -- a beautiful person whom I'll terribly miss.
However, one of the greatest tributes to Robin Williams is perhaps the quickness and number of touching messages and statements made and released by our nation's leaders expressing sincere sorrow over his passing. I am sure there will be many more to follow. Here are some.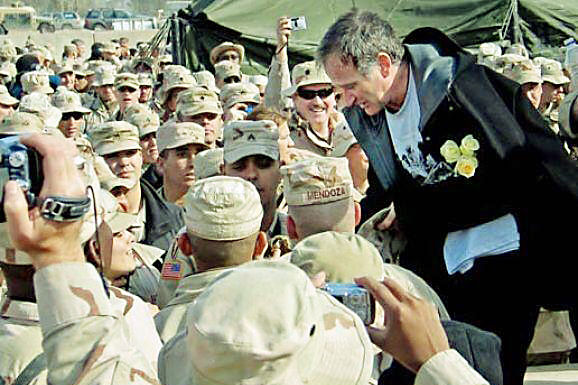 Robin Williams shakes hands and poses for photos with some of the troops gathered at the Camp Liberty Post Exchange in this DoD file photo taken in Baghdad, during a USO tour, Dec. 14, 2004.
The President of the United States:
Robin Williams was an airman, a doctor, a genie, a nanny, a president, a professor, a bangarang Peter Pan, and everything in between. But he was one of a kind. He arrived in our lives as an alien - but he ended up touching every element of the human spirit. He made us laugh. He made us cry. He gave his immeasurable talent freely and generously to those who needed it most - from our troops stationed abroad to the marginalized on our own streets. The Obama family offers our condolences to Robin's family, his friends, and everyone who found their voice and their verse thanks to Robin Williams.
Defense Secretary Chuck Hagel:
The entire Department of Defense community mourns the loss of Robin Williams. Robin was a gifted actor and comedian, but he was also a true friend and supporter of our troops. From entertaining thousands of service men and women in war zones, to his philanthropy that helped veterans struggling with hidden wounds of war, he was a loyal and compassionate advocate for all who serve this nation in uniform. He will be dearly missed by the men and women of DoD -- so many of whom were personally touched by his humor and generosity.
Secretary of State John Kerry:
There wasn't anybody Robin Williams couldn't touch. His humor was just that expansive. He was an absolute genius, with an extraordinary zest for his profession. It's safe to say that there was more going on in him in one minute than most people in a week. He loved people and he committed himself to any issue that concerned him. Robin wasn't just a huge creative genius, but a caring, involved citizen. I'll always be grateful for his personal friendship and his support for the causes that we both cared about deeply. We will all miss Robin's uncanny impressions, zany observations, and cutting-edge quips that found the truth as well as the humor. Teresa and I join the millions he inspired around the world in offering our deepest condolences to his family at this immensely difficult moment.
Lead photo: Robin Williams shakes hands and poses for photos with some of the troops gathered at the Camp Liberty Post Exchange in this DoD file photo taken in Baghdad, during a USO tour, Dec. 14, 2004. (Photo courtesy DoD)