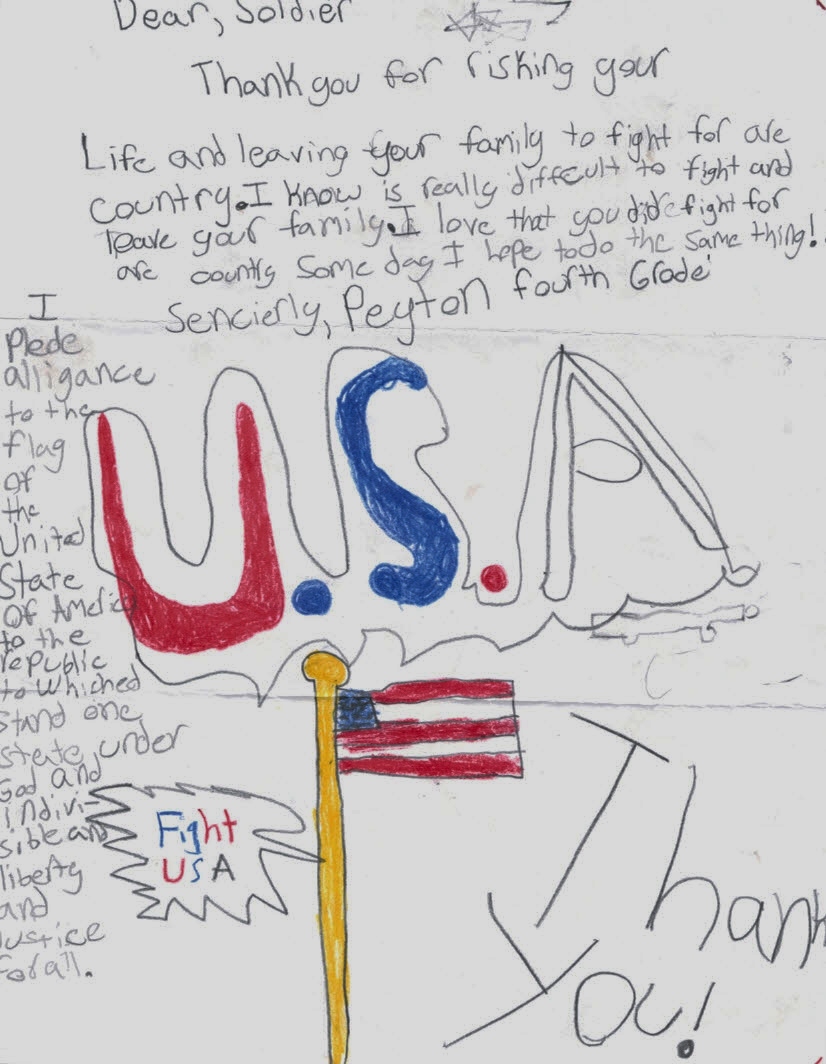 On April 26, an "Honor Flight" flew 35 World War II veterans from Austin, Texas to our nation's capital so that these members of the Greatest Generation could visit the World War II Memorial built in their honor.

That flight was named the "Vic Mathias Honor Flight" in honor of R. Vic Mathias, himself a World War II veteran and later a prominent leader in Austin, who was instrumental in helping Honor Flight Austin secure enough funding to make the Inaugural flight in June 2012, in which he participated. Mr. Mathias passed away on January 14, 2013 at the age of 86.
The author had the privilege of talking about the Vic Mathias Honor Flight to the son and grandson of Mr. Mathias, to organizers of the flight and to one of the World War II veterans who was part of the flight. From all indications the Mathias Flight was another commendable success in a series of such flights organized and sponsored by Honor Flight Austin.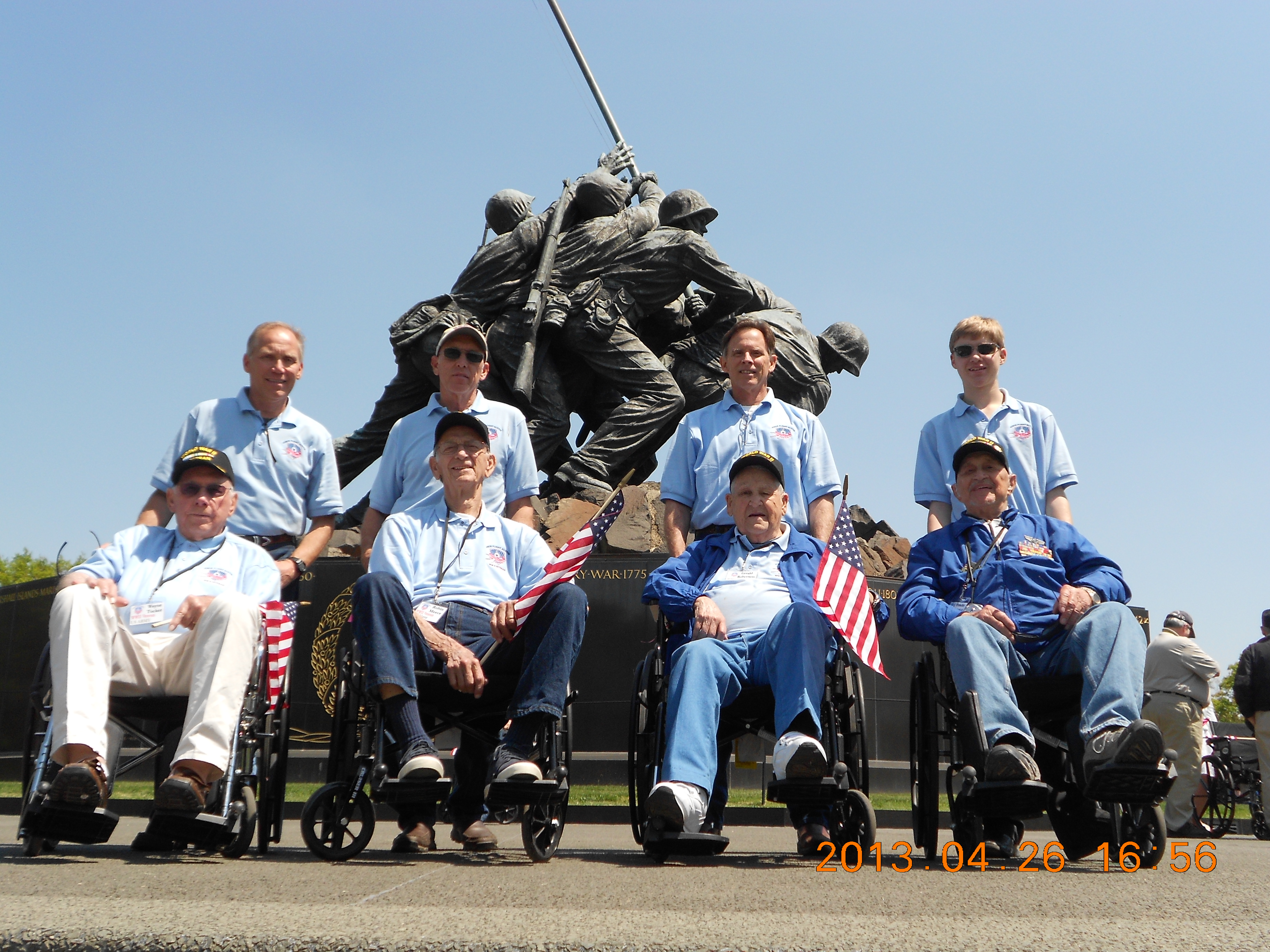 The Mathias family was well represented on the "Vic Mathias" Honor Flight. Here, in front of the Iwo Jima Memorial, standing from left to right and acting as "Guardians": Matt Mathias and Mark Mathias (sons of Vic Mathias), Larry Humphreys, uncle of young Mason Mathias who is standing to his left. Sitting in front of their respective Guardians, from left to right World War II veterans Wayne Tucker, Bob Meece, Jerry Robertson, John Tschirhart
Talking about "privilege," 93-year-old Austin, Texas, World War II veteran John Tschirhart had the privilege of having as his "Guardian" during the trip a most gracious young man, 17-year-old Mason Mathias, son of Matt and Deborah Mathias and grandson of the late Vic Mathias.
For young Mason, the privilege -- and honor -- was obviously his. As a "Guardian" for Tschirhart, Mason's job was to provide round-the-clock security and comfort for the veteran entrusted to him. "It is as if the veteran is the president and I am the secret service," quips Mason. But there is absolutely no joking about how Mason feels about Tschirhart and all World War II veterans. "These men and women fought for our freedom; fought to put an end to a terrible tyranny. The admiration I have for that generation - they went and did what they had to do. They saved the world and came back and rebuilt America. That is no longer just a story to us," Mason tells the Westlake Picayune.
World War II Veteran John Tschirhart with his "Guardian," Mason Mathias, in Washington DC
Wise and touching words from a young man who will be a senior at West Lake High School in Austin this fall. But, as is oftentimes the case, the youngest among us seem to put things best into perspective.
Take the words of Emma, Peyton and other children in letters they wrote to Tschirhart on the occasion of his Honor Flight to Washington.
Emma, a fifth grader at Clayton Elementary in Austin, Texas, writes, "THANK YOU! For serving our country and fighting with all your might." She also wishes Tschirhart "Good luck on your trip and have fun." Tschirhart certainly did.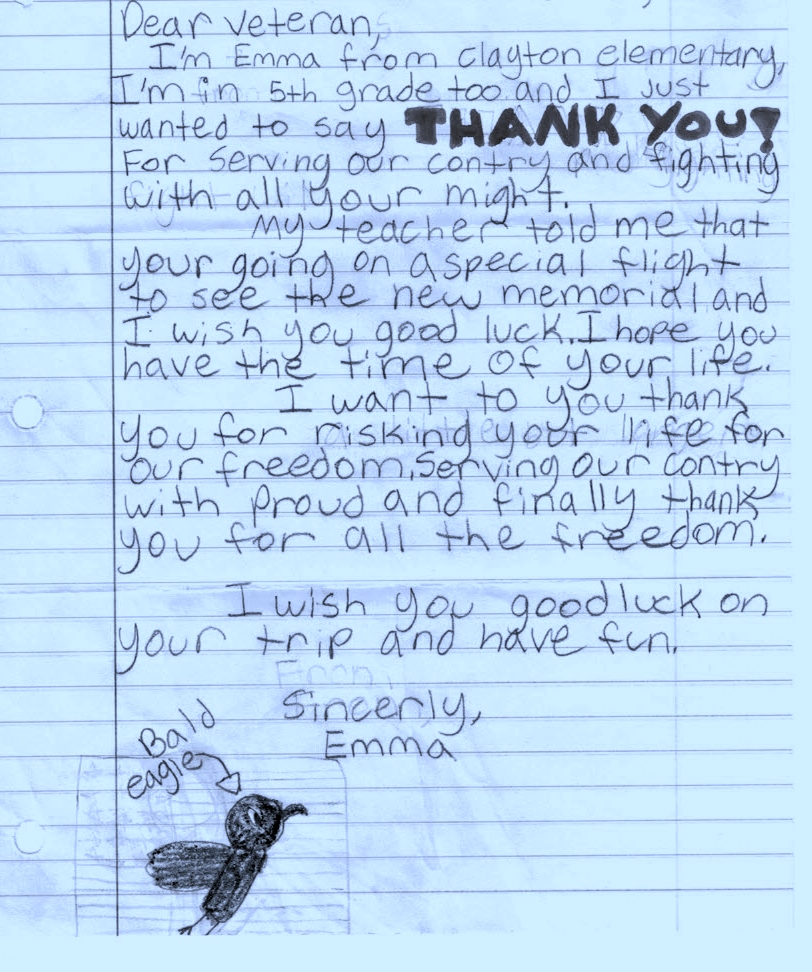 Emma's letter
Peyton, a fourth grader, in a wonderful, patriotically decorated letter (lead image), thanks Tschirhart for risking his life, for leaving his family to fight for our country and adds, "I love that you did fight for our country. Some day I hope to do the same thing!"
Isabella thanks Tschirhart for "saving our country from danger" and also says that she is going to be "in the Army."
Jennifer thanks Tschirhart for his sacrifices and, wishing him a good time in Washington, adds, "You deserve to treat yourself because you've done already so much for others."
And, indeed, all these World War II veterans have already done so much for others. The least we can do is expressing our appreciation in simple, heartfelt words as these children have. You'd be surprised how much they mean to these members of a rapidly disappearing "Greatest Generation."
Guardian Mason Mathias, who observed the veterans receiving their mail on the return Honor Flight, says "They loved the mail call... and were in awe that so many people would write to them... it was very overwhelming for some -- in a good way. All were so appreciative of the letters. It was like a flashback for them when they had their mail call back in the war."
Many of the letters received by veterans on the Vic Mathias Honor Flight were in response to a plea to write to these heroes. Many came from Austin, some from as far as California. Thank you, readers!
The next Honor Flight from Austin is scheduled for September. Make sure your letters are on it, whether for the first time or for an encore!
Send your letters, notes, postcards to:
World War II Veterans on Honor Flight
815 A Brazos Street
UPS Box 498
Austin, TX 78701-2514
Finally, learn more about the Honor Flight Network and Honor Flight Austin and support them in their quest to make the dream of our World War II veterans come true.
Letters: Courtesy John Tschirhart
Photos: Courtesy Matt Mathias