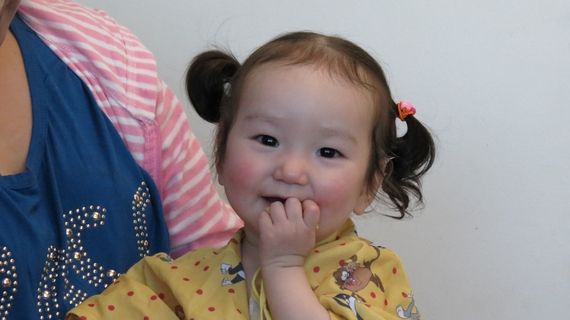 They come from all corners of the world.
At age 13, Kelly came from Nicaragua.
Three-year-old Frances came from Nigeria.

One young boy, Wahab, came from war-ravaged Iraq in 2008.
Five-year-old Wessale came from the Atlas Mountains in Morocco.
Twelve-year-old Norbu came from the Shechen Monastery in Nepal.
Several children, such as 3-year-old Jiating have come from remote villages in China and Mongolia.
The little girl who stole our heart, 16-month-old Emily, came from my native Ecuador.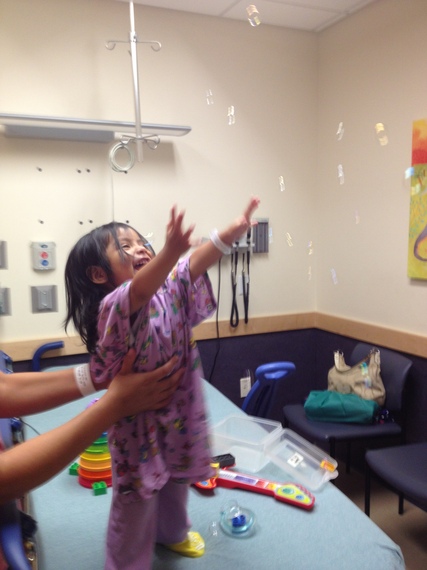 Emily, one hour before open-heart surgery at Dell Children's Medical Center, Austin, Texas, March 27, 2013. (Photo courtesy HeartGift Austin.)
Beautiful, 1-year-old Saranzaya, a baby from Mongolia, arrived in Austin, Texas, this past Saturday.
All these lovely children have one thing in common: They were or are in desperate need of delicate and risky open-heart surgery to correct life-threatening heart defects -- specialized treatment that is either scarce or nonexistent where they live.
Saranzaya, the beautiful baby in the lead photo, suffers from a life-threatening ventricular septal defect (VSD), also known as a "hole in the heart."
She is scheduled to undergo open-heart surgery at the marvelous Dell Children's Medical Center here in Austin, Texas, next Tuesday.
The question readers may ask at this point is: "Who brings these children to the United States; who arranges for such specialized -- and expensive -- medical care; who pays for it all?"
Certainly the desperate parents of these children, without resources and powerless to seek specialized medical treatment, cannot.
The parents of 3-year-old Frances from Nigeria had to mortgage their small farm just to pay for the "echo" tests.
The father of 3-year-old Jiating in China, who earned about $140 a month, spent almost half of his wages on Jiating's frequent medical treatments.
To the parents of little Emily from Ecuador, who earn about $50 a week growing and selling vegetables and beautiful flowers at a local market, such treatment abroad would cost more than they would earn or see in two or three lifetimes.
According to the International Children's Heart Foundation (ICHF) and the Children"s Heart Foundation, each year more than 1 million babies are born with a congenital heart defect -- one of every 100 children born in the world -- making this the leading cause of death from birth defects.
Fortunately, there are organizations that step in to help some of these children receive the medical care they so desperately need. One of these admirable organizations is the Austin-based HeartGift Foundation.
By the end of 2013, HeartGift had sponsored more than 200 little patients from more than 25 countries -- some from the most remote and impoverished regions in the world.
HeartGift Foundation's flagship chapter in Austin, Texas, HeartGift Austin, sponsored 12 children last year from Central and South America, Africa and Asia.
This year, HeartGift Austin has already made it possible for 2-year-old Courtney from Belize, 2-year-old Emmanuel from Liberia and 12-year-old Yuli from Panama to receive life-saving heart surgery at Dell Children's Medical Center.
Still, the question remains, "Who pays for it all?"
While skilled, generous surgeons and cardiologists, Dell Children's Medical Center and dozens of other professionals and volunteers donate their time, talent, effort and resources to save these children, there are still many expenses.
Here is where HeartGift steps in. Heart Gift arranges for airline-donated transportation to and from the United States and, once the child arrives in the U.S., takes care of expenses including a part of the medical costs.
This takes a lot of money. Money that has to come from the generosity of caring individuals.
In the case of little Saranzaya, HeartGift Austin is hoping to raise $25,000 through fundraising to provide the lifesaving heart surgery for Saranzaya next Tuesday.
HeartGift will use the $25,000 to leverage more than $200,000 of donated medical services to provide Saranzaya with open-heart surgery and five weeks of care while in Austin.
To raise these funds, HeartGift is participating in "Amplify Austin," a unique 24-hour "festival of giving" to benefit 400 area non-profits -- including HeartGift -- that begins at 6 p.m. today, Thursday.
Why should readers nationwide donate to such a "local" fundraising effort?
Just think of Emily from Ecuador, now a 2-year-old adorable little girl who is leading a normal life back in the slopes of the Andes.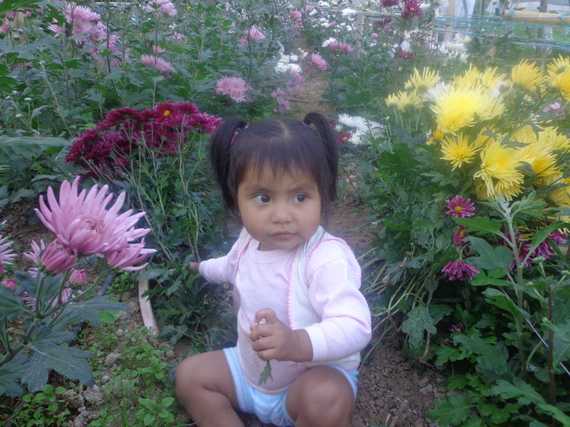 Emily back home in Ecuador, two months after open-heart surgery. (Photo courtesy Emily's family)

Just think of adorable Saranzaya from Mongolia who according to Jennifer Edwards, Executive Director of HeartGift Austin, "arrived into HeartGift's care not a moment too soon -- a few months more and she may have been past repair." A baby and her relieved and grateful mother who Edwards wants to send home to Mongolia "healthy, healed, and happy."
There is nothing "local" about the children from more than 25 countries HeartGift has helped save, one "heart gift" at a time.
Emily from Ecuador certainly stole our heart.
I hope Saranzaya will steal your heart and that you will help heal her heart.
To help HeartGift continue such a noble mission and to learn more, please click here or go to HeartGift.org.


Lead photo courtesy HeartGift Austin