Air Force Senior Airman Brett Carson, a military working dog handler, plays with military working dog, Jago, before his retirement ceremony on MacDill Air Force Base, Fla., July 12, 2012.
A dog is man's best friend.
Dogs have been so from the earliest times.
They have also been some of man's best companions and protectors during hunting, patrolling, in guarding his person and property -- and in warfare.
"The Greeks and Romans probably were the first users of dogs in warfare. They sent formations of attack dogs, complete with spiked armor, to harass and cause general disturbance throughout enemy lines," according to a factsheet published by the Department of Defense (DoD) Military Working Dog (MWD) School, a unique military organization in San Antonio, Texas, dedicated to the training of military working dogs (MWDs) used in patrol, drug and explosive detection and other specialized missions by DoD and other government agencies.
The best breeds of dogs for MWD are the German Shepherd, Dutch Shepherd and Belgian Malinois.
"[They] have the best overall combination of keen sense of smell, endurance, speed, strength, courage, intelligence and adaptability to almost any climatic condition. The highly developed senses of hearing and smell, along with a generally superior personality and disposition, make [these breeds] the most versatile working dog breeds, and the ones best suited for military duties," according to the MWD School.
As seen through a night-vision device, Marine Corps Lance Cpl. Sam Enriquez, and his K-9 partner Kally, take part in night operations training during the Inter-service Advanced Skills K-9 course, at the U.S. Army's Yuma Proving Ground, Ariz..
They perform special roles such as the detection of marijuana and drugs, including cocaine, hashish and heroin, explosives, bombs, ordnance and the deadly Improvised Explosive Devices (IEDs) that cost us so many lives and injuries in Iraq and continue to do our troops harm in Afghanistan. Today the Department of Defense has more than 500 drug detector dogs in service at various bases around the world.
U.S. Army Sgt. Adam Serella bonds with his military working dog, Nero, as children look on during Operation Clean Sweep in Kandahar City in Afghanistan's Kandahar province, Oct. 3, 2012. Serella, a narcotics patrol detector dog handler, is assigned to the 3rd Infantry Division.

According to the New York Times, the total value of a trained working dog -- often German Shepherds, black Labrador retrievers, or Belgian Malinois -- can reach $40,000 and there are about 2,700 dogs serving in the armed forces. Sadly, 29 of these superb animals have been killed in action in Iraq and Afghanistan.
One dog who not only survived her dangerous work in Afghanistan but who also saved several Coalition Forces team members during a June 4, 2012, special operations mission in Afghanistan, is Layka, a 2½-year-old female, Belgian Malinois military working dog.
According to Mike Joseph, Joint Base San Antonio-Lackland Public Affairs:
Layka had been dispatched to clear a building of explosives and help look for enemy combatants after a brief firefight.

During her search, the dog was ambushed by one of the assailants. Layka received multiple gunshot wounds to the abdomen and a limb, which later had to be amputated.

Severely wounded, she attacked and subdued the assailant, protecting the lives of her handler and other coalition team members behind her.
"She surprised the terrorist, who was waiting to lay down fire on the team. I heard from people on the mission that if Layka hadn't reacted like she did, there was a potential for multiple casualties," says Tech. Sgt. Joseph Null, the 341st Training Squadron MWD adoptions coordinator.
After the area was secured and Layka was given emergency care, Layka was flown to a theater hospital for the first of several surgeries. She eventually lost her right front leg and was transferred to the Daniel Holland Military Working Dog Hospital for rehabilitation.
A month ago, Layka became the first military working dog to be officially honored by the 341st Training Squadron (TRS) for her heroic actions while assigned to a U.S. Special Forces unit in Afghanistan.
Tech. Sgt. Joseph Null, 341st Training Squadron military working dog adoptions coordinator, places the 37th Training Group medal of heroism on Layka Sept. 12 at Joint Base San Antonio-Lackland. (U.S. Air Force photo/Robbin Cresswell)
Maj. Jason Harris, the 341st TRS commander who presented the dog with a medal of heroism, said, "This has never been done before by us, but we wanted to thank Layka...The medal is unofficial because no decoration exists for military working dogs, but we felt Layka deserved recognition. " He adds, "What these dogs do, day in and day out, is phenomenal. They do save lives."
Following the ceremony, and no longer able to serve because of her injuries, Layka was flown to Georgia to be reunited with her handler, who is still on active duty and cannot be identified for reasons of security.
Finally, we have the story of another hero, Gabe, a retired military dog who spent several years in Iraq, completed more than 200 combat missions there sniffing out insurgent bombs, guns and ammunition.
Gabe was the most successful detection dog in Iraq in 2006-2007, receiving more than 40 awards.
A week ago, Gabe was named American Hero Dog of 2012 at the American Humane Association Hero Dog Awards in Los Angeles.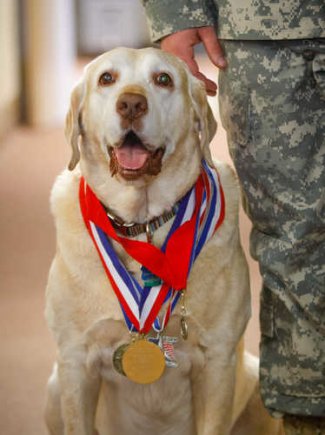 Gabe had already won $5,000 for his charity in a previous round of competition, and won another $10,000 from last weekend's win.
Gabe's charity is the United States War Dogs Association, which provides care packages for deployed Soldiers, Marines, Airmen and their K-9 partners.
The winner was selected by a panel that included Whoopi Goldberg, Kristen Chenoweth and the handlers and owners of last year's eight finalists. The seven runners-up each won $5,000 for a designated charity.
The ceremony, hosted by Chenoweth, will be broadcast Nov. 8, on Hallmark Channel.
Read more here

Gabe's photo: www.army.mil
Other Photos: DOD