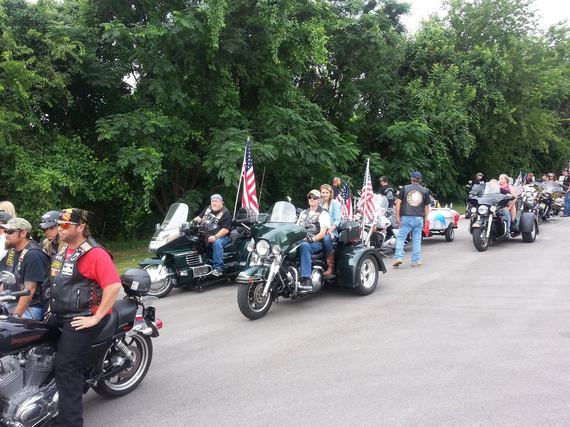 Next time you see, and hear, a bunch of burley guys, sporting black leather jackets blazoned with all kinds of intriguing patches, roaring down your quiet street on their Harley- Davidson "hogs," don't be nervous.
These fearsome looking men could be on their way to perform some work for their community, on their way to help out a person in need.
That was exactly the case when, on a recent hot and muggy Saturday in Austin, Texas, a group of bikers pulled up at the house of 93-year old, World War II veteran, John Tschirhart.
Off came their jackets and bandannas and out of their motor cycles and pick-up trucks appeared tools and toolboxes.
And off to work they went to build the veteran a nice garden shed.
The bikers come from different walks of life and professions. Dan Bayes was a law enforcement officer. Rob Lewis is a musician. Steve James works for Samsung Austin Semiconductor (SAS). Jeremy Kennard is attending Texas State University, getting his Masters in social work. Max Vasquez served in the U.S. Marine Corps. Kenneth Baldwin is still on active duty with the 36th Infantry Division, 124th Cavalry regiment, and is involved with numerous organizations, including Austin's Veterans of Foreign Wars Post 4443, the American Legion, the National Guard Association of Texas, etc.
Regardless of their background and Service, they all have one very important thing in common, perhaps the one thing that truly binds the group together: they are all combat veterans.
It is that unique, personal experience and bond that only those who have been in combat can relate to, that has attracted many of the members of the Combat Veterans Motorcycle Association (CVMA) Capital of Texas Chapter 23-7 to join.
For Dan Bayes, road name "Eagle," one of the older members and a Vietnam War veteran who served with the 3rd/187th Infantry, 101st Airborne (Airmobile) Division, the CVMA appealed to him, he says, because in it he can associate with other combat veterans with similar experiences, "even if we cross several generations."
Some of Bayes' buddies who served with him "around the rice paddies and jungles in Northern I Corps" never made it back home. "They are forever on our minds," he says. Some 44 years later, Bayes still has moments of grief, regret -- even guilt -- and frequently asks himself, "could I have done something more, something different?"
It is perhaps partly because of this nagging "survivor's guilt," but more important, because of a strong need to "continue to serve" that Bayes joined the CVMA whose stated mission is "to support and defend those who have defended our country and our freedoms."
That is why Chapter 23-7, one of more than 130 CVMA chapters in the nation, came to the home of John Tschirhart, a highly decorated B-17 bombardier who flew 35 combat missions in World War II over Nazi-occupied Europe.
Some, such as Rob "Lewy" Lewis, "just a Jew-boy from Omaha," were surprised to hear about Tschirhart's fascinating action- and romance-packed 20-year military career and about his movie producing ambitions.
When asked why he joined the CVMA, Lewis, whose "favorite job" was being a forward observer in the Army, modestly replies "It's just a simple, honorable way to serve my country even though I am no longer on active duty." And oh, by the way, Lewis is also proud of his "Harley" which he loves to ride with his CVMA brothers.
But Lewis is even prouder of his son who served five years in the Army and just recently returned from Afghanistan. "He is the fourth generation in our family to have served in the Army," Lewis rightly boasts.
Equally proud of his family's military heritage is Stephen "Edge" James, whose father was a decorated Vietnam veteran and an Army retiree and whose grandfather was a pilot who was shot down over Korea. "And the list goes on, it's in the DNA," James says.
James himself served more than 20 years in the U.S. Army, one of his tours of duty was a combat tour in Iraq.
Doing community work is nothing new to James.
As a Drill Sergeant at Ft. Gordon, Georgia, James organized over 3,000 man-hours of community service with new recruits, helping elderly veterans, handicapped kids, and burn victims.
Even in combat, James used whatever "free time" there was to visit injured soldiers and civilians at the makeshift hospital at his Forward Operating Base.
On one of those visits, James was left with an indelible impression when he saw a little Iraqi girl -- herself covered in bandages, probably because of burns -- walking from bunk to bunk, talking, holding hands, and singing to every patient there.
James recalls, "She didn't care about her own injuries. She was there every time I visited, even after she was no longer a patient. One of the last times I saw her she was sitting next to a blinded American soldier. His whole head was wrapped. She was holding his hand and was singing to him."
James concludes, "After meeting her, there is no doubt in mind that angels exist."
And angels do exist. In the form of veterans "Lewy," "Eagle," "Edge" and of Justin "Tank" Powell, Jeremy Kennard, Kenneth "TexKen" Baldwin, Adams "Farbs" Farabaugh -- all members of CVMA Chapter 23-7, who came out on that hot Saturday in July to help another veteran.
World War II veteran John Tschirhart appreciatively and appropriately called these men -- "fearsome looking men" with hearts of gold -- "Angels of Help." And they certainly are.
Thank you CVMA Chapter 23-7 and may you always keep "the shiny side up and the rubber side down."
Dan "Eagle" Bayes and Max "Jedi-Max" Vasquez congratulate each other on a job well done (Photo: John Tschirhart)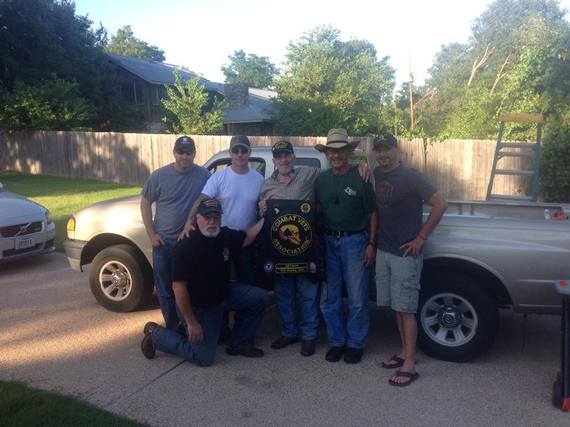 Members of CVMA Chapter 23-7 after a good day's work at the home of World War II veteran, John Tschirhart. (Kneeling: Dan "Eagle" Bayes. Standing, left to right: Stephen "Edge" James, Justin "Tank" Powell, John Tschirhart, Max "Jedi-Max" Vasquez, Rob "Lewy" Lewis.) Photo Courtesy CVMA Chapter 23-7
~.~
Lead Photo: Combat Veterans Motorcycle Association (CVMA) Members at a Fourth of July Parade in Round Rock, Texas - Photo courtesy CVMA Chapter 23-7