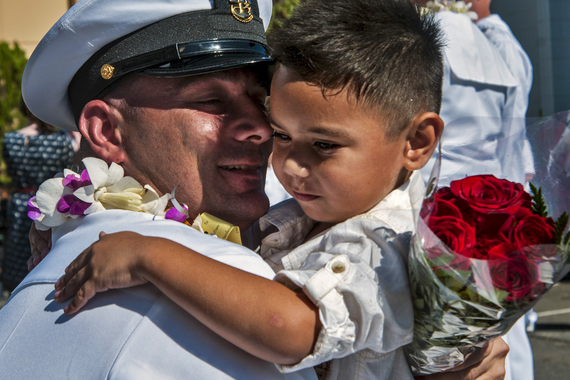 It is very difficult to divert our attention away from such captivating images as the "handshake," the "selfie" and -- OMG -- the "breastfeeding multitasking" events, so I don't have much hope that the following images will be able to break the cycle.
Nevertheless, military working dogs -- or dogs in general -- and young children seeing their military parents (sometimes for the first time) return home from military assignments, are some of my favorite subjects and enough readers appear to agree, that I will once more dare to interrupt our "regular broadcast" for these images.
Above: A sailor hugs his son after returning to Joint Base Pearl Harbor-Hickam, Hawaii, Nov. 22, 2013, following a six-month deployment on the USS Chosin to the western Pacific region. The ship and its crew of nearly 340 sailors conducted integrated operations with allies and partners during the ship's deployment. U.S. Navy photo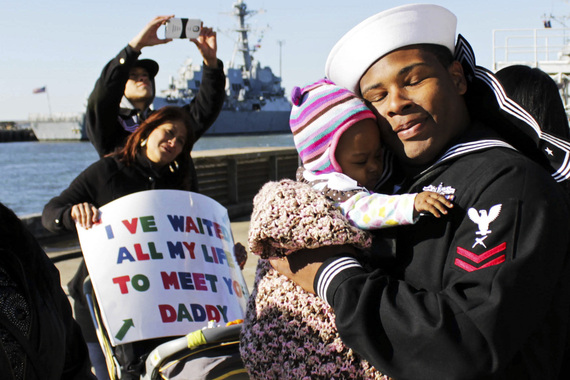 U.S. Navy Petty Officer 2nd Class Marcus Harris meets his daughter for the first time during a homecoming celebration for the USS Barry in Norfolk, Va., Nov. 8, 2013. Barry, a cryptologic technician, returned to Naval Station Norfolk after completing a nine-month deployment. U.S. Navy photo.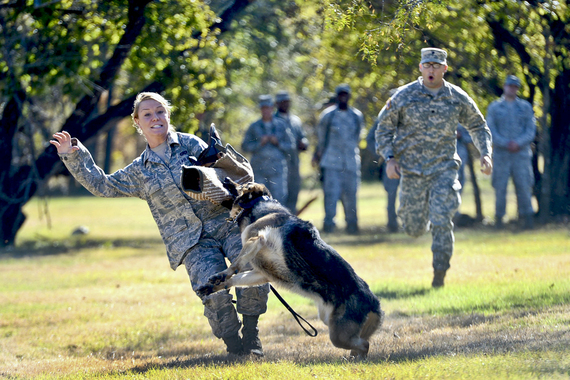 A military working dog tackles Air Force Senior Airman Melissa Goodhile during training at the Defense Military Working Dog School on Lackland Air Force Base in San Antonio, Texas, Dec. 3, 2013. Goodhile is a military police trainee. (Photo: DoD)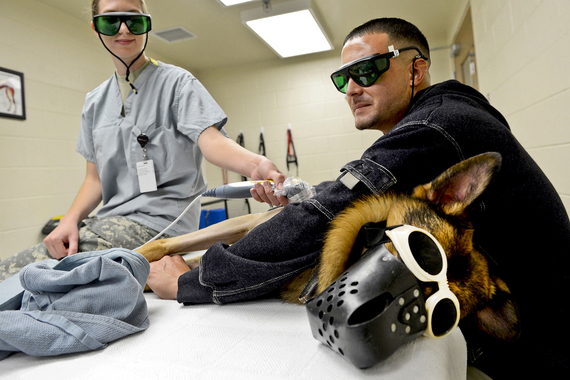 Goggles protect a military working dog, his handler, Kyle Miller, a Defense Department civilian, and Army Pvt. 1st Class Kristi Deal from a laser in use to help heal a wound after surgery in the Holland Military Dog Hospital on Joint Base San Antonio in San Antonio, Dec. 4, 2013. Deal is an animal care specialist (Photo: DoD)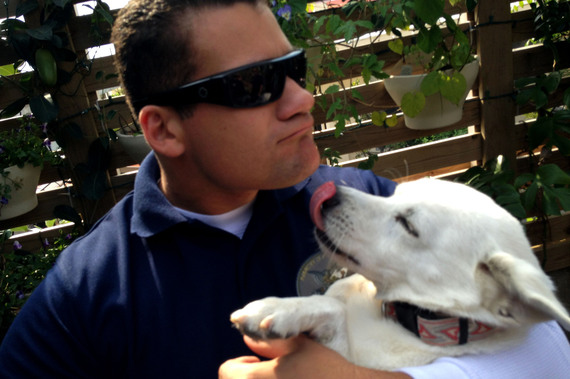 U.S. Navy Petty Officer 1st Class Pete Izarra receives kisses from Ace, a rescue dog living at Camp Canine, an Okinawan dog kennel that specializes in caring for abandoned dogs in Okinawa, Japan, Dec. 7, 2013. Izarra and other members of the Naval Mobile Construction Battalion 3's First Class Petty Officer Association volunteer every other Saturday at the kennel to give its furry residents some one-on-one attention and perform small custodial jobs around the property. (Photo: DoD)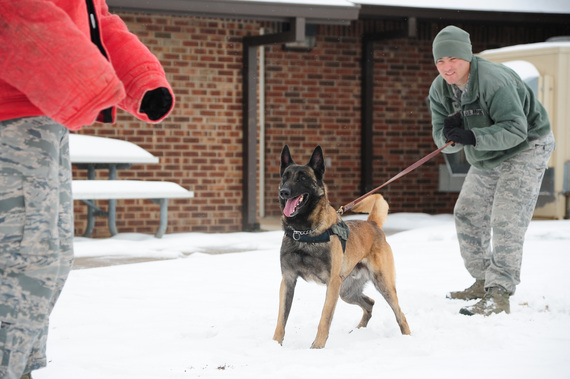 U.S. Air Force Staff Sgt. Wesley Cox, 97th Security Forces Squadron military working dog trainer, holds back Zeus, military working dog, during bite work training Nov. 25, 2013. Military working dogs are trained to bite and hold onto the suspect until their handler gives the command to release. (U.S. Air Force photo by Senior Airman Lausanne Genuino)
Finally, in the spirit of the Season: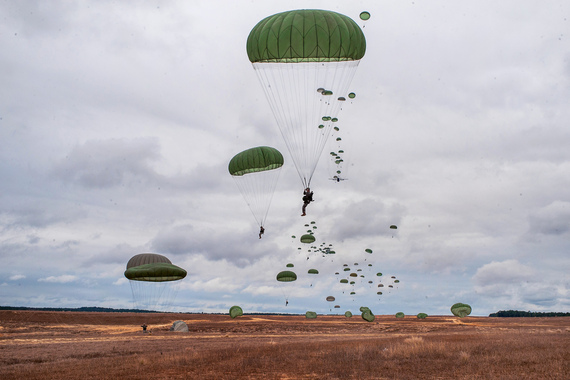 Paratroopers descend on the Sicily Drop Zone during the 16th Annual Randy Oler Memorial Operation Toy Drop on Fort Bragg, N.C., Dec. 7, 2013. The event allows U.S. troops to train with service members from Germany, Netherlands, Italy, Canada, Poland, Sweden, Chili, Brazil and Latvia while they participate in the humanitarian toy drop mission.(Photo: DoD)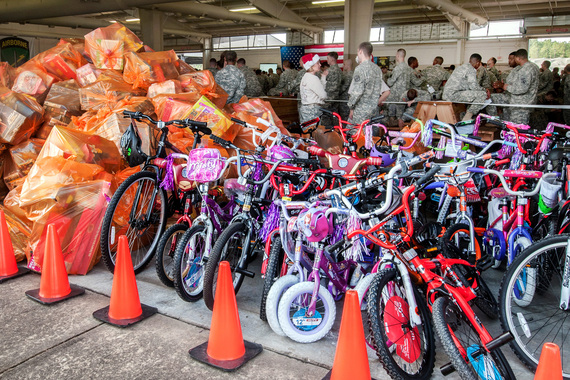 Soldiers prepare to process thousands of donated toys that were collected during the 16th Annual Randy Oler Memorial Operation Toy Drop, at the Green Ramp on Pope Army Airfield, Fort Bragg, N.C., Dec. 6, 2013. (Photo: DoD)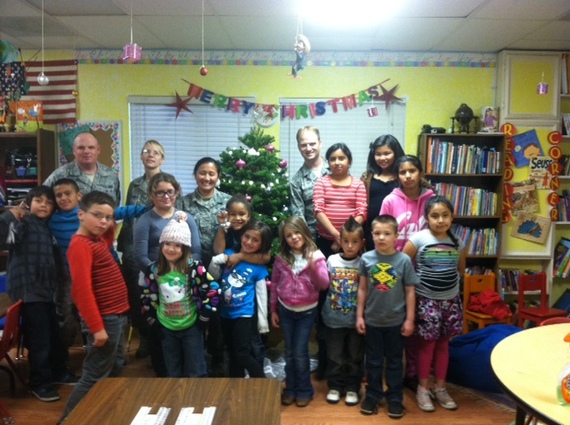 Volunteers from 14th Air Force and Joint Functional Component Command for Space pose for a photo with a group of children from the Good Samaritan After School Youth Program in Santa Maria, Calif. Eight teams of approximately 450 Airmen and joint partners from JFCC SPACE and 14 AF participated in an effort to accomplish more than 3,850 hours of volunteer service in the local area during this holiday season. (U.S. Air Force Courtesy Photo)