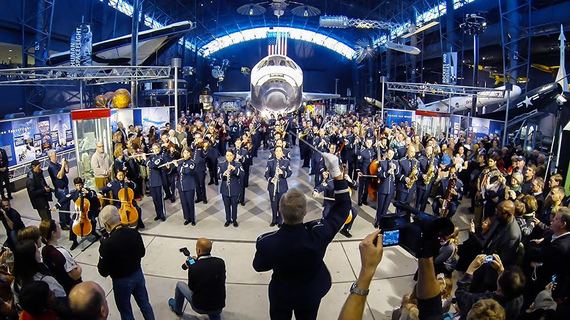 U.S. Air Force men and women fly and maintain some of the most sophisticated aircraft in the world. They do many other things and do them well.
One of them is playing beautiful music, and singing beautifully, as the U.S. Air Force Band recently did -- one by one, eventually swelling to more than 100 instrumentalists and vocalists -- at the National Air and Space Museum's Steven F. Udvar-Hazy Center in Chantilly, Va., on December 2.

As they did for the first time last year in Washington D.C. -- with tremendous success -- the U.S. Air Force Band once again surprised and delighted unsuspecting visitors at the National Air and Space Museum with a holiday-themed concert in the form of a "flash mob."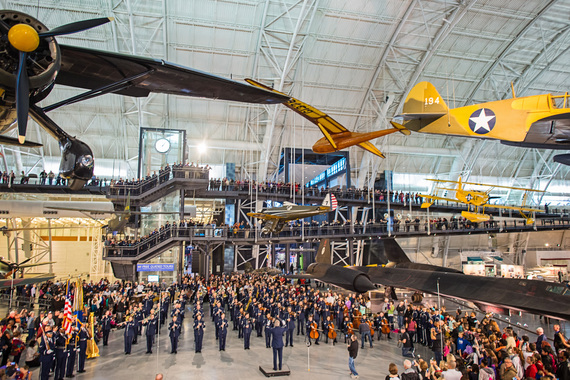 The United States Air Force Band performs a holiday flash-mob at the Smithsonian National Air and Space Museum Udvar-Hazy Center in Chantilly, Va. (U.S. Air Force photo/Staff Sgt. Devon Suits)
Disguised as a special holiday kickoff event, the U.S. Air Force Band began playing an arrangement of "Greensleeves" with a single musician, Technical Sgt. Emily Snyder, who played the English horn.

After several moments of performing solo, Snyder was joined by more than 100 instrumentalists who popped up throughout the crowd, transitioning the song into "What Child Is This," giving a "surround sound" style performance that charmed guests throughout the museum.
This year's performance brought together musicians from the Band's six performing ensembles.
Recalling last year's "flash mob" success, Chief Master Sgt. Jennifer Pagnard, the Band's chief of Marketing and Outreach, said, "Airmen musicians performing holiday classics at an iconic museum in the nation's capital was a winning combination." She added, "Like many popular videos, it also had the element of surprise, and this year's video is no different. We hope everyone enjoys it as much as last year's offering."
Senior Master Sgt. Bob Kamholz says, "An important part of the Band's mission is to have a positive impact on the global community on behalf of the U.S. Air Force and the United States of America. With each viral video, the Band garners worldwide attention from the media and on the Internet reaching millions across the globe."
This latest performance by the Air Force Band is certainly headed that way.
Judge for yourself:
Read more about the background and preparations for this flash mob here
Lead photo: The United States Air Force Band performs a holiday flash mob Dec. 2, 2014, at the Smithsonian National Air and Space Museum Udvar-Hazy Center in Chantilly, Va. (U.S. Air Force photo/Staff Sgt. Devon Suits)