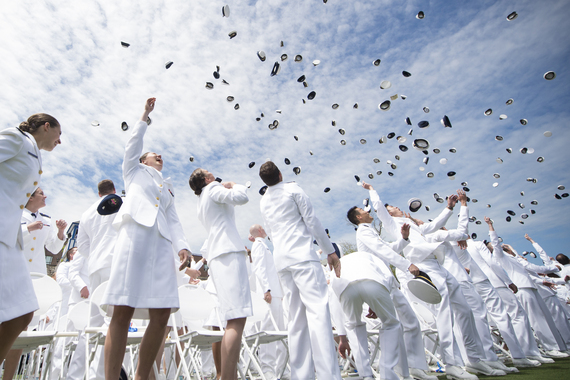 It is that time of the year...
When jubilant high school seniors receive their diplomas and look forward to attending the college of their choice -- a few perhaps hoping to be accepted by one of our U.S. Service Academies.
When more reflective college graduates flip their tassels from one side of the mortarboards to the other and look forward to their first employment -- some nervous, hoping to be able to pay off the mountains of college loans; some more confident, anticipating a "big bucks" job.
When Service Academies and College Reserve Officers' Training Corps (ROTC) graduates proudly render their first salute as commissioned officers, equally jubilant toss their hats into the air, but even more reflectively consider the solemn oath they have just taken:
[to] support and defend the Constitution of the United States against all enemies, foreign and domestic; [to] bear true faith and allegiance to [that] Constitution; ...[to] well and faithfully discharge the duties of the office on which [they are] about to enter. So help [them] God.
They will in fact go on to serve and defend the Constitution in a changing nation and globe. Many will lead men into battle in distant places and, sadly, some will make the ultimate sacrifice.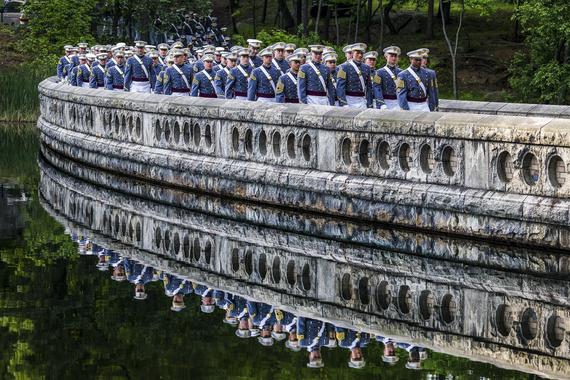 More than 950 cadets in the U.S. Military Academy's Class of 2016 receive their Bachelor of Science degrees at Michie Stadium in West Point, N.Y., May 21, 2016. Vice President Joe Biden gave the commencement address. Army photo by Staff Sgt. Vito T. Bryant)
My commissioning ceremony was relatively simple. No hats tossed into the air. No President, vice-President or Secretary of Defense delivering an earth-shaking commencement address.
We did get our shiny second lieutenant bars pinned on by girlfriend, bride or mother.
We did get to kiss girlfriend, bride or mother -- but not more than two of the three -- and we did give out a (silver) dollar to the first uniformed military to salute us.
I did go on and did my best to protect Country and Constitution, sometimes performing hazardous duties, but never in combat and, thank God, still here to write about these other more fancy, more jubilant, more solemn graduation or commencement ceremonies.
I regularly write about these inspiring ceremonies.
Not being "an Academy Graduate," I do so perhaps with a little envy, perhaps because I only went through six months of hell instead of four years, but I always do so with the highest respect for these young men and women who survive the hell and go on to become our future military leaders.
That respect goes out to every one of those graduates, including the traditional "Goat,"(below), as someone has to be last even in such a distinguished group. Keep in mind, even the last one in the cream of the crop is still the cream of the crop.

Vice President Joe Biden smiles as Army Cadet Alex Fletcher celebrates being named the Goat of the U.S. Military Academy's Class of 2016, in West Point, N.Y., May 21, 2016. The Goat is the last-ranking cadet to graduate and usually receives the loudest applause from the class. Biden delivered the speech at the academy's commencement ceremony. Army photo by Staff Sgt. Vito T. Bryant
Talking about a changing nation, a changing world, two graduation events corroborate that.
First, for the first time in more than 40 years after ROTC programs left Yale University amid protests over the Vietnam War, 18 men and women received their commissions in a ceremony at Yale's New Haven, Connecticut, campus.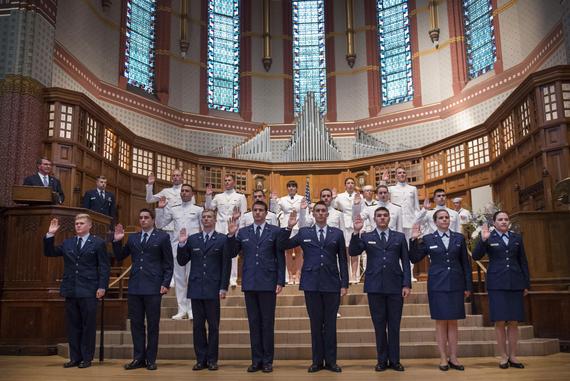 Defense Secretary Ash Carter administers the oath of office to Air Force and Naval ROTC students during a commissioning ceremony at Yale University in New Haven, Conn., May 23, 2016. DoD photo by Air Force Senior Master Sgt. Adrian Cadiz
Addressing the 10 new Navy ensigns and eight new Air Force second lieutenants, Defense Secretary Ash Carter, himself a Yale graduate, commended the new graduates for helping "bridge a divide that has persisted for too long," noting that some of their classmates had not met members of the military before.
"People think differently about the world when a former roommate is managing the nuclear reactor on a submarine, or a former organic chemistry classmate is serving as a combat medic, or a fellow programmer is defending our nation's cybersecurity," Carter said.
Finally, in another sign of a changing world and a changing threat, the U.S. Naval Academy, on May 27, will graduate the first 27 cyber operations majors as part of the class of 2016.
"These cyber operations majors have the technical understanding of what's happening behind the screen, and additionally they understand the broader implications of what a cyber act's effects can be," Paul Tortora, director of USNA's Center for Cyber Security Studies. "I think that USNA is on the leading edge of this at the undergraduate level."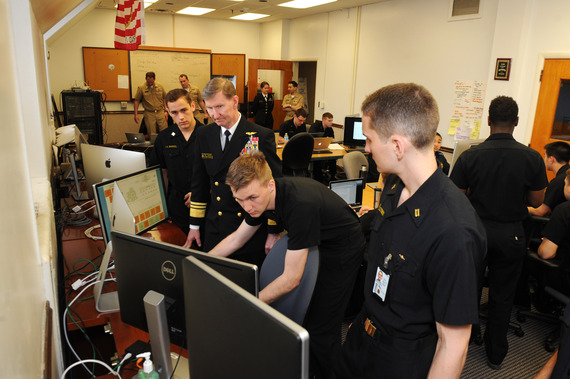 Vice Adm. Walter E. Carter, superintendent of the U.S. Naval Academy, observes a team of midshipmen during the 15th annual Cyber Defense Exercise hosted by the National Security Agency. (U.S. Navy photo by Mass Communication Specialist 2nd Class Tyler Caswell)
According to the U.S. Naval Academy, "After completing USNA's cyber operations program, future officers can enter advanced study or potentially choose assignments with various military cyber-related forces in support of national security."
Our congratulations to all the graduates and Godspeed.
CODA: The graduation ceremony for the United States Air Force Academy Class of 2016 will take place at Falcon Stadium in Colorado Springs, Colo. on Thursday, 2 June 2016. The commencement speaker will be President Barack Obama.
Below, the U.S. Air Force Academy's Class of 2015 tosses their hats in celebration as the Thunderbirds roar over Falcon Stadium, May 28, 2015. Over 800 cadets graduated and became second lieutenants.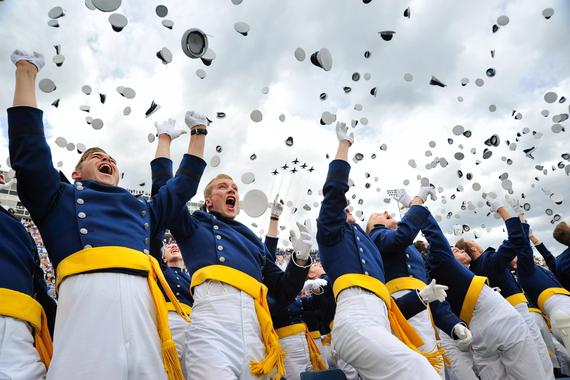 Lead photo: The U.S. Coast Guard Academy Class of 2016 graduates and receives their commissions as officers from DHS Secretary Jeh Johnson during their commencement ceremony May 18, 2016. U.S. Coast Guard photo by Petty Officer 2nd Class Cory J. Mendenhall.
All photos: DoD