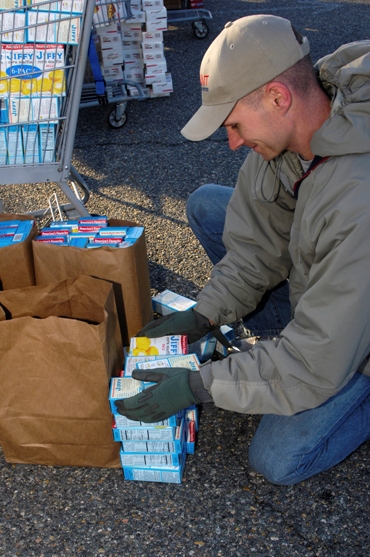 U.S. Air Force Master Sgt. Justin Phebus, 83rd Network Operations Squadron first sergeant, stacks boxes of donated food at Langley Air Force Base, Va. Nov. 17, 2012. Phebus, as part of the Langley First Sergeants Council, is supporting Operation Warmheart which helps Langley Airmen during the holidays. (U.S. Air Force photo by Airman Kimberly Nagle)

First, a Happy Thanksgiving to all our readers.
May it be an occasion for joyful family get-togethers, for cranberry sauce, stuffed turkeys and honey-baked hams, for showing gratitude for all the blessings we have received.
But, it should also be an occasion to share those blessings with the less fortunate.
That is exactly what a group of military, Operation Warmheart -- or OWH -- at Langley Air Force Base in Virginia will be doing this Thanksgiving.
OWH, a non-profit organization, raises money throughout the year to "provide for struggling Airmen at any point in their lives, whether it be for covering the costs of a holiday feast, or providing a little extra money to get back on track," according to Airman 1st Class Austin Harvill of the 633rd Air Base Wing Public Affairs at Langley.
But especially for Thanksgiving, OWH pulls out all the stops:
The Thanksgiving food basket give-away is the largest event OWH presents. Money raised throughout the year via 5Ks and donations allowed the Joint Base Langley-Eustis First Sergeant Council to make roughly 550 food baskets for Airmen in need.

The food baskets aren't just packs of crackers either. Each basket contains cranberry sauce, stuffing, mashed potatoes and other traditional fixings. The baskets do not come with a ham or a turkey, but rather a food voucher for the Airmen to make the selection themselves, which benefits vegetarian Airmen who might want an alternative.
Harvill says, "Some of those households would not have a Thanksgiving feast if not for Operation Warmheart, which allows first sergeants to step up and help Airmen in need."
The Thanksgiving baskets are only one example of what OWH does for the Joint-Base Langley community:
OWH's main mission is to provide grants to Airmen in need. If an Airman is struggling financially, and needs cash for food, gas money or other necessities, the JBLE First Sergeant Council will evaluate the needs of the Airman and provide a grant to help during a time of need.

Random acts of kindness became a part of the OWH mission in the spring of 2012. The JBLE First Sergeant Council gave out cold drinks to flightline Airmen, provided gas cards and paid the grocery bills of Airmen at the commissary; all entirely at random. The RAK initiative showed Airmen they don't need to request help to be recognized by the Langley community and that they are valuable to the mission.
I applaud the concern and goodwill displayed by OWH and by so many other military and civilian groups and individuals around the nation to make the Thanksgiving of those who serve us, who risk their lives for us, a little more festive, a little more bountiful.
And, as we sit around the table with our loved ones celebrating the holidays, let us take a minute to thank those brave men and women who will not be sitting around the table with their loved ones this holiday, because they are in harm's way in some far-away land or, God bless them, because they have made the ultimate sacrifice.
As the president's Thanksgiving Day proclamation says, in part:
As we reflect on our proud heritage, let us also give thanks to those who honor it by giving back. This Thanksgiving, thousands of our men and women in uniform will sit down for a meal far from their loved ones and the comforts of home. We honor their service and sacrifice. We also show our appreciation to Americans who are serving in their communities, ensuring their neighbors have a hot meal and a place to stay. Their actions reflect our age-old belief that we are our brothers' and sisters' keepers, and they affirm once more that we are a people who draw our deepest strength not from might or wealth, but from our bonds to each other.
CODA:
I struggled with the title.
I thought about "What Thanksgiving Should and Shouldn't Be About."
The "Should Be" part of course being what these fine non-commissioned officers -- and others -- are doing for the less fortunate lower ranks.
The "Shouldn't Be" part, an outcry against the fact that so many military men and women who are serving us and have served us -- risked life and limb -- must still rely on such acts of kindness, on "food baskets," to set the table for themselves and their families during the holidays.
We haven't even mentioned our homeless veterans.
It just does not seem right.
A final acknowledgment and thanks to everyone who will make this Thanksgiving a little more joyful for the less fortunate, military, veterans and civilians.