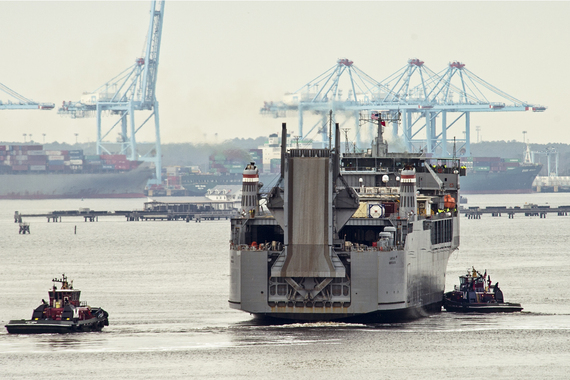 In the State of the Union Address tonight, the President said, "American diplomacy backed by the threat of force is why Syria's chemical weapons are being eliminated."
Well not quite. The deadly chemicals are -- albeit ever so slowly -- being shipped out of Syria, but it will be a while yet before they are all eliminated. However, when the latter does happen it will take place aboard an American ship named "Cape Ray."
"The second cargo of Syria's most toxic chemical weapons was exported by ship on Monday for eventual destruction at sea," says the New York Times in a column on Monday.
Reportedly, this is the second cargo exported thus far from the Syrian port of Latakia. The first one left the port on January 7 each carrying 15 to 20 tons, according to the Times, which adds that, if confirmed, this tonnage would represent "only about 5 percent of the 600 tons of the most lethal compounds, including components of sarin and VX nerve agents, that Syria had been obliged to export by the end of 2013, the first deadline under the government's pledge to renounce chemical weapons."
Also on Monday, the Organization for the Prohibition of Chemical Weapons (OPWC) announced:
Today, a further shipment of chemical weapons materials took place from the Syrian Arab Republic. The chemical materials were verified by Joint Mission personnel before being loaded in Latakia port onto Danish and Norwegian cargo vessels for onward transportation.

The vessels were accompanied by a naval escort provided by the People's Republic of China, Denmark, Norway and the Russian Federation.
But where do these chemicals go, and what happens to them?
Here is where the Cape Ray comes in.
Yesterday, the nearly 650-foot-long, specially modified container ship M/V Cape Ray and its crew deployed from Portsmouth, Va. enroute to the Italian port of Gioia Tauro, where it will transfer the chemicals -- mustard gas and "DF compound," a component of the nerve agent sarin gas -- from the Norwegian and Danish ships and then sail to a yet-to-be specified location in the Mediterranean to perform its mission -- a first of its kind.
Once "on station," its 64-member specialist crew will use two new, recently installed "Field Deployable Hydrolysis Systems" (FDHS) to neutralize the chemicals, a process expected to take about 90 days.
In addition to the specialists there will be 35 mariners, a security team and a contingent from U.S. European Command aboard for a total of 135 U.S. personnel.
The M/V Cape Ray, the Defense Department's primary contribution toward international efforts to eliminate Syria's chemical weapons material program, left Portsmouth with words of encouragement for its crew from Defense Secretary Chuck Hagel:
As you all know, your task will not be easy. Your days will be long and rigorous. But your hard work, preparation and dedication will make the difference...You are ready...We all have complete confidence in each of you...
The U.S. military and its contractors began working on the project back in December 2012, even before it was known whether the mission would ever materialize.
Undersecretary of Defense for Acquisition, Technology and Logistics, Frank Kendall, says, "There was a recognition that something was going to happen in Syria, in all likelihood that would require us to do something with those chemical materials that were known to be there."
By the end of January 2013, a team with the Joint Project Manager for Elimination and the Army's Edgewood Chemical Biological Center had evaluated existing technology and configurations for neutralization of chemical weapons and recommended using the hydrolysis process.
Construction of a deployable system began in February, and the first prototype was available in June. A second was available in September.
The crew of the container ship M/V Cape Ray performed sea trials off the coast of Virginia in the Atlantic Ocean, Jan. 11, 2014. U.S. Navy photo by Petty Officer 1st Class Isaiah Sellers
Some of that technology and the techniques that will be used:
Aboard the ship, an environmentally sealed tent contains two new FDHS units, each capable of processing between five to 25 metric tons of material daily, which will operate 24 hours a day in parallel to complete the chemical warfare agent neutralization mission.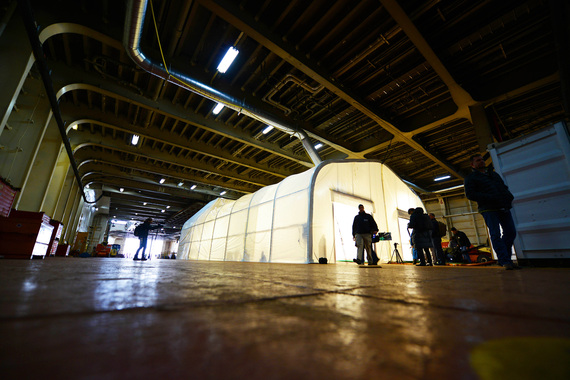 A tent inside the Cape Ray contains two FDHS. DOD photo by C. Todd Lopez
Each unit costs about $5 million and contains built-in redundancy and a titanium-lined reactor for mixing the chemical warfare agents with the chemicals that will neutralize them.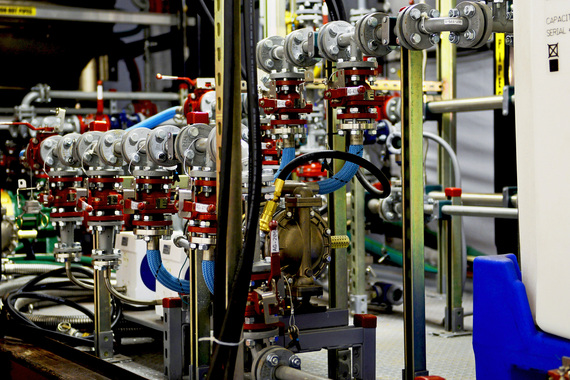 One of two FDHS is installed aboard the Cape Ray in Army's Edgewood Chemical Biological Center, Jan. 2, 2014. DOD photo by C. Todd Lopez

About 130 gallons of mustard gas can be neutralized at a time, over the course of about two hours, for instance, said Adam Baker, with the Edgewood Chemical Biological Center, Edgewood, Md.

The FDHS systems can, depending on the material, process between 5 to 25 metric tons of material a day. With two systems, that means as much as 50 metric tons a day of chemical warfare agents can be destroyed. The mission requires disposal of 700 metric tons of material.

Rob Malone, with the Joint Project Manager for Elimination at Edgewood, Md., said the two chemical warfare agents will be neutralized with reagents such as bleach, water or sodium hydroxide.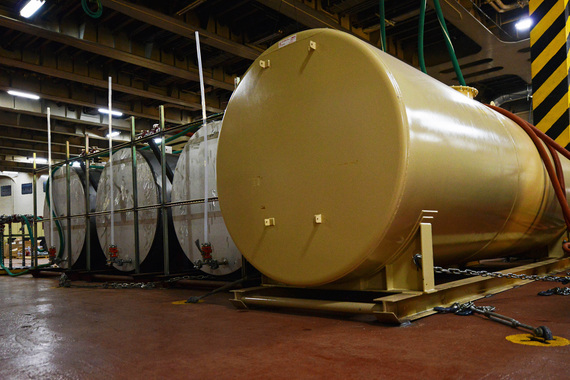 Tanks aboard the Cape Ray will be used by scientists to help neutralize chemical materials from Syria. DOD photo by C. Todd Lopez
The result of that neutralization process will create about 1.5 million gallons of a toxic "effluent" that must be disposed of, but that cannot be used as a chemical weapon. Malone said the effluent is similar to other toxic hazardous compounds that industrial processes generate. There is a commercial market worldwide for disposing of such waste, he noted.

Malone said the operational plan includes a cycle of six days of disposal plus one day for maintenance of the equipment. On board will be about 220 6,600-gallon containers that will hold the reagents used in the disposal process, and will also be used afterward to hold the effluent.

"Everything will be kind of contained on the ship throughout the entire process," Malone said.

The U.S. has never disposed of chemical weapons on board a ship before...The chemical process is not new, and neither is the technology. The format, field-deployable, is new, however...

"This has not been done on this platform, not been done at sea," Baker said. "But it is taking the established operations we've done at several land sites domestically and internationally and is applying them here."

"We had to figure out on the Cape Ray how to operate in three dimensions," he said. The FHDS systems are inside tents inside the ship, for example. But the chemical weapons may be loaded on the ship on the deck above, and additional materials will be a deck below the FDHS equipment. On land, everything is spread out and on one level, he said.
The Cape Ray will first sail into the Italian port of Gioia Tauro, where it will transfer the chemicals from the Norwegian and Danish ships and then sail into international waters to perform its mission. It will be escorted by about a dozen U.S. Navy ships that "will provide security for the Cape Ray to ward off any potential seaborne attacks," according to the Stars and Stripes.
Under a previously agreed timetable, all of Syria's chemical weapons compounds were to have been shipped by Feb. 6 -- a deadline that Syria is not likely to meet.
If the June 30 target date for the total destruction of Syria's chemical weapons materials is not met, it will not be due to the Cape Ray or its crew, who are expected to be on station in about two to three weeks to begin their dangerous and critical work.
Read more about the Cape Ray, its crew and their mission at the following sources for this article:
With Encouragement From Hagel, Cape Ray Leaves for Syria Mission
Cape Ray Heads to Sea on 'Historic' Mission To Destroy Syrian Chemical Materials
Army to Destroy Syrian Chemical Weapons Aboard Ship
Lead photo: The container ship M/V Cape Ray departs Portsmouth, Va., Jan. 10, 2014, for sea trials. U.S. Navy photo by Petty Officer 2nd Class Jared Walker.
All photos released by DOD.