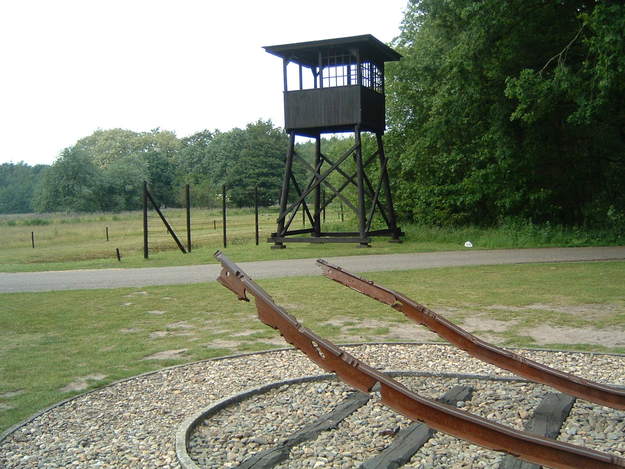 As Rosh Hashanah -- sometimes referred to as the "day of judgment" -- starts tomorrow evening and as we continue to debate the atrocious gassing of the innocent in Syria, events of seven decades ago ghastly come to my mind.
In particular, the departure of a train out of the Nazi transit camp of Westerbork in the Netherlands exactly 69 years ago to the day.
It would be the last train, carrying Dutch Jews to Nazi gas chambers, to leave the miserable camp.
It would be the last train to Auschwitz.
Various reliable sources report that this last train from Westerbork making the three-day journey to Auschwitz also had on board Anne Frank and her family. The following month, Anne Frank would be transferred from Auschwitz to the Bergen-Belsen concentration camp.


But this is the story of Louis de Wind.
It needs to be told -- again.
_._
As the long freight train leaves the Nazi Westerbork transit camp and picks up speed across the flat Dutch countryside, Louis takes out the couple of sheets of paper he had stuffed in his pocket and begins to write his letter. He knows he has to hurry: It will not be very long before the train crosses the border into Germany.
Writing in Dutch, he starts:
Darling,

I am on my way to an unknown destination. I sit here with 56 people in a freight car. I have to write on my knee while we are riding...
Louis finds it difficult to write, for it is very dark in the sealed freight wagon.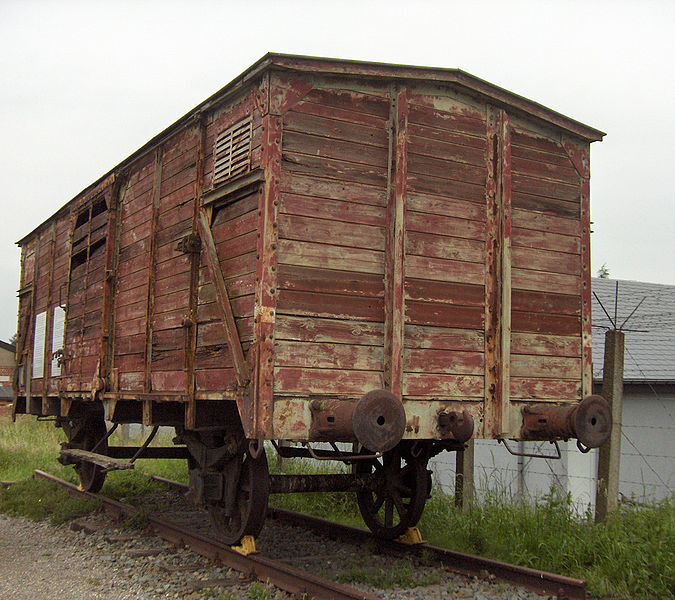 Original boxcar used for transports to the Nazi concentration camps (Commons - Wikimedia, Fort van Breendonk, Belgium)
Still not knowing how close to the border the train is -- his growing anxiety reflected in his worsening handwriting -- Louis hastily ends the letter with words of hope that, "God willing," he will see his loved ones again; with words of love, "a thousand kisses;" and with a request to his wife: "Omhels Loekie," -- Give Loekie, his little daughter, a hug.
Louis de Wind, a Dutch Jew, then quickly puts the two-page letter into an envelope, addresses it to his wife, Elizabeth de Wind, and, through a slit in the door of the train that is taking him and a thousand other doomed Dutch Jews to some sinister destination, pushes the letter out of the wagon, hoping that someone will find it and send it to his wife.
The date of the letter is September 3, 1944.
By then, it had been four long years since the Nazis invaded and occupied the Netherlands.
Although people in the Netherlands suffered greatly under the Nazi boot, the plight of the 140,000 Dutch Jews was nothing short of genocidal. Soon after the occupation, the Germans initiated many measures to identify, shame and to isolate the Jews in the Netherlands from the rest of the population. "Registration," discrimination, persecution and internment of Dutch Jews in camps in the Netherlands were not far behind, followed by massive deportations to Nazi extermination camps such as Auschwitz and Sobibor.

The last mass deportations of Dutch Jews took place in September 1944. By that time, 107,000 Dutch Jews had been deported to Nazi concentration camps. Only around 5,000 survived.
The September 3, 1944 freight train -- many of these "Holocaust trains" were used to carry both freight and cattle -- taking Louis de Wind away from his homeland, away from his family to a near-certain death in a Nazi gas chamber was, in fact, the last of those tragic transports.
What happened to the letter? What happened to Louis de Wind?
I met Loekie de Wind, the daughter of Louis de Wind, a few years ago in beautiful Blaricum, The Netherlands, while finally getting to know the Dutch (de Wind) side of my family.
Examining the family tree, we found out that Loekie and I were cousins.
At the time, we briefly talked about Loekie's father, and about what had happened to him during the war.
My visit to Loekie and to other de Wind family members in the Netherlands awakened my interest in my Dutch-Jewish family roots and ancestry. I soon made the sad and haunting discovery that among the Dutch Jews who were murdered by the Nazis during the Holocaust, there were 124 de Winds. This may not seem like a large number, until one realizes that the name de Wind is quite an uncommon family name in the Netherlands, that virtually all the de Winds in the Netherlands have common roots and that the number 124 represents a significant proportion of an entire de Wind generation.
It wasn't until very recently that Loekie confided enough in me to give me a copy of the letter her father had written in that cattle car on the way to Auschwitz in 1944.
A letter that someone miraculously found in a field along the railway and mailed to Loekie's mother. On the back of the envelope were only the words, "fallen out of the train" and the name of a small town in the Dutch province of Drenthe: Koekange.
Loekie tells me that in the summer of 1944 her father went to Loosdrecht, a popular Dutch lakeside resort, to sail, as he had done the year before.
Her father felt safe because he was married to a non-Jew, had a false identity card and did not wear the hated, humiliating "Jodenster", the yellow star.
This time, however, Loekie's father was arrested during a razzia (raid) and was later shipped to Westerbork, a camp situated in the northeastern part of the Netherlands that served as a transit point for Dutch Jews before they were deported to Nazi extermination camps.
Just a few days later, Louis de Wind would find himself writing the letter, the only words his loved ones would ever again receive from him, in a darkened, crowded train wagon on the way to Auschwitz.
A letter in which Louis apologizes for his messy handwriting, jotted in a freight train hurtling relentlessly down the Dutch lowlands towards Auschwitz and "points beyond." A letter in which he tells his loved ones not to worry about him, that he knows they will be well taken care of and a letter in which he sends a thousand kisses, asks his wife to give Loekie, who had just turned six, a big hug, and in which he says, "God willing, I will see you again..."
However, such was not God's will.
Loekie would never see her father again.
In 1949, Loekie's mother was told by the Dutch Red Cross, "It must be assumed that Louis de Wind died as the result of illness, exhaustion or 'gassing.'"
When Loekie turned 21, her mother gave Loekie her father's letter. Anxious to learn her father's fate, Loekie contacted a friend of her father who had been with him in the train and was one of the very few Auschwitz survivors.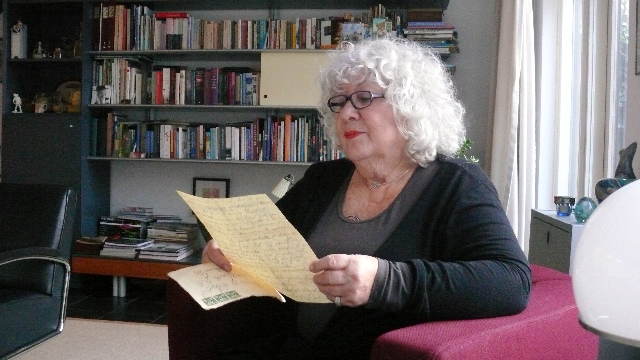 Mrs. Loekie de Wind reading her father's letter
Her father's friend informed Loekie that, as the Allies were closing in on Auschwitz, Loekie's father came to say goodbye to him in the hospital where he was recovering from frostbitten feet. Loekie fears that her father might have died during the horrific forced marches -- the "death marches" to which the prisoners were subjected -- when the Nazis attempted to move their prisoners out of Auschwitz during the brutal, debilitating, murderous cold that was January 1945.
Loekie, now 72, tells me, "The most terrible thing of all is that I am still sad about my father and that I don't have a place to mourn at his grave."
But she does have that letter, a letter written 66 years ago in a dark, cramped cattle wagon, a letter simply ending with "1000 X gekust," a thousand kisses, a letter that is now the only link to her father.
A letter that, along with all that has been said and written about the Holocaust, may help us keep that solemn promise of "never again."
Lead image: Rails and watchtower at the former Nazi transition-camp Westerbork in the Netherlands. (Commons-Wikipedia)
Please watch the video "Westerbork to Auschwitz 1944" here.
This story originally appeared at The Huffington Post in January 2011.