On previous Independence Days I have expressed my thoughts and feelings about the day's significance and meaning in different ways.
The thoughts and feelings that are most consistently expressed on this celebration of our nation's independence are freedom, justice, love of country -- in short, patriotism.
Mark Twain in his unique, perhaps somewhat satirical style, defined patriotism once simply as "patriotism is supporting your country all the time, and your government when it deserves it."
Of course patriotism has also meant sacrifice on the many battlefields our nation has fought in.
In my opinion, patriotism can also be as basic as Americans helping out Americans in need.
It certainly pertains to those who have fought or served on foreign battlefields, today looking out for their veteran brethren who have fallen on hard times or who simply need a helping hand.
And that brings me, on this Fourth of July, to an organization that does exactly that.
That organization is the Veterans of Foreign Wars, or VFW. As a matter of fact, the mission of the VFW, "simply put," is to "strive to do good things for deserving people -- our veterans, their families and their communities."
From what I hear, read and see, the VFW does a fine job at the national level. But, as with any large organization, many of the "good things" take place where the rubber hits the road, at the local Posts.
One such Post is VFW Post 4443, one of the most beautiful and progressive VFW Posts in the nation, located on nine acres of gorgeous Texas Hill Country in Austin, Texas, and one of the beneficiaries of the "good things" done by this Post has been disabled Vietnam War veteran and VFW member Allen Hancock.
While serving in the U.S. Coast Guard off South Vietnam during the Vietnam War, Hancock received serious injuries to his right leg, for which he was disability discharged in 1975.
Hancock does not like to talk about his service -- he feels he was just doing his job. "I was just down in the engine room on a ship... I can imagine what the 'ground pounders' went through," he says modestly.
But Hancock himself would "go through" personal setbacks, serious problems and horrific injuries that would bring many of us down. .
One of the worst of these "problems" occurred about three years ago when Hancock -- perhaps due to his wartime leg injuries, which to this date cause him severe pain and problems -- was in a serious motorcycle accident involving an 18-wheeler. As a result of that accident, Hancock underwent above-knee amputation of his left leg and was in and out of hospitals, including the Audie L. Murphy Polytrauma Rehabilitation Center at San Antonio, where he -- going on three years now -- has been struggling to be fitted for a prosthetic leg.
Two years ago, this disabled veteran -- with no job, no close family, no permanent place to call home and clearly at the end of his wits -- was about to be discharged from the VA hospital. Here is where the veterans of Post 4443 came to his rescue.
You see, on its beautiful nine acres, Post 4443 just happens to have seven modest, small rental houses.
One of those houses just happened to be vacant at the time, but needed a lot of work to make it suitable for a wheelchair-bound person to live in.
No problem. The Post and its veteran members did the "good thing" -- the patriotic thing -- for a fellow veteran in need.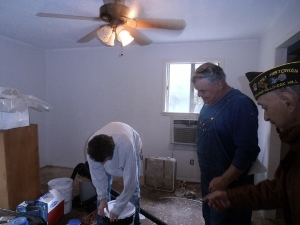 VFW Post 4443 members working on the interior of Vietnam War veteran Allen Hancock's home
They grabbed hammers, saws, paint brushes and, with materiel donations from local merchants -- ranging from new floors and floor coverings, cabinets and appliances, to new roofing -- they turned the small house into Hancock's "new home" in every sense of the word.
VFW members even got the normally glacially moving VA to cut through layers of red tape and install a super-duper ramp for Hancock to enter his home with his wheel chair and to provide various other safety and disability equipment and services.
The Post and other organizations -- such as a marvelous non-profit organization in my own neighborhood, aptly called "The Neighborhood" -- have continued to help Hancock during the past two years, to try to make his life easier, to make his house even more of a home.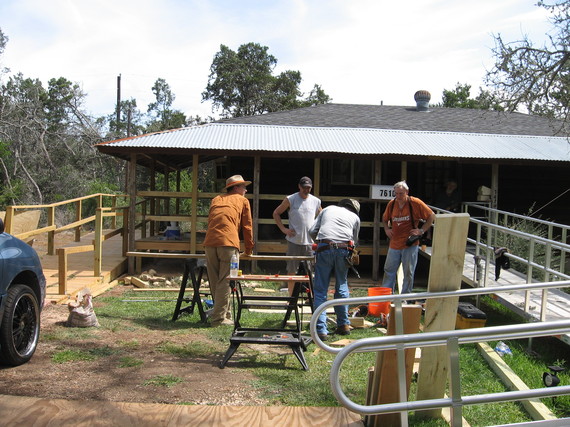 Volunteers from "The Neighborhood" building a deck and wheelchair ramp for disabled veteran Allen Hancock.
Recently, Hancock got himself a dog, "Tonto," a pet who has become Hancock's loyal friend and inseparable companion.
Tonto's excitable demeanor sometimes alarms neighbors and can intimidate small kids. Thus Hancock ambitiously decided to put a fence around his property. Those who have tackled such a job before know just how "ambitious" it is. For a wheelchair-bound person like Hancock, it is virtually impossible.
However, Hancock is not one to be easily unnerved. He may have inherited the toughness and perseverance from his father, Allen W. Hancock, who, while serving in the Philippines during World War II, was taken prisoner by the Japanese, was forced to walk in the tortuous and infamous "Bataan Death March" and spent an equally tortuous 44 months as a prisoner of war in Japan. Allen's father was one of the relatively few American servicemen to survive the Death March and the subsequent harsh imprisonment.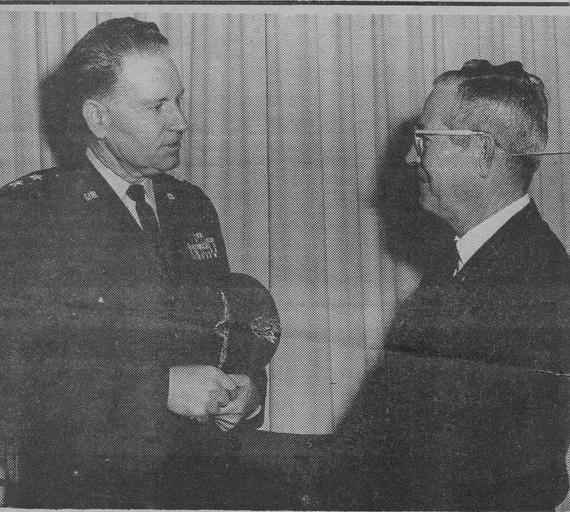 1966 photo of Allen W. Hancock (right) meeting for the first time in 25 years then-Maj. Gen. Robert P. Taylor (left) who made the Bataan Death March with Hancock. The two were later imprisoned together in the Philippines. (Source: "Flying Times," Kelly Air Force Base, January 28,1966)
With a little help from his friends, Hancock started pounding posts into the hard Texas ground. Knowing Allen, he would have probably eventually finished the job.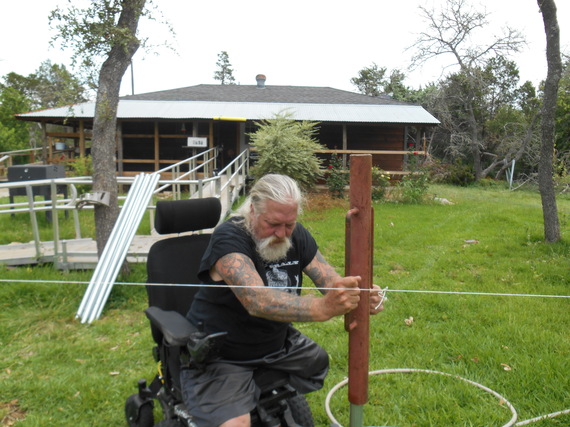 But, once again, Post 4443 is doing the patriotic thing.
Post Commander Gary Adam says, "We have helped Allen on many occasions and we will continue to support him" with the fence -- and they will.
Finally, on this Fourth of July, I would be remiss not to mention that while VFW Post 4443 strives to attract our younger veterans -- those returning from the wars in Iraq and Afghanistan -- and to meet their different needs, it continues to serve and honor those patriots of previous wars, especially the four members of the Greatest Generation the Post is still proud and honored to have.
Those four World War II veterans were honored recently during a ceremony celebrating the Post's 50th anniversary.
One of the honorees was John Tschirhart, a highly decorated World War II B-17 bombardier, who flew 35 combat missions over Nazi-occupied Europe and now, at 94, is the oldest member of the Post.
Tschirhart received an additional high honor during a 70th D-Day anniversary ceremony on the battleship USS Texas in La Porte, Texas.
The Consulate of France in Houston, on behalf of the French Republic, awarded Tschirhart that nation's highest decoration, the Legion of Honor Medal, for his participation in the liberation of France during World War II.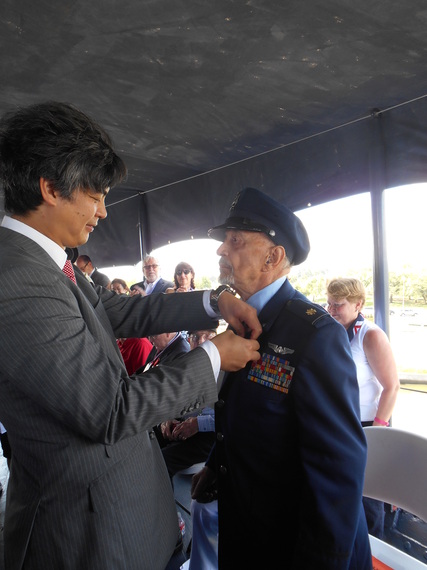 John Tschirhart receiving the French Legion of Honor medal from Consul General of France, Sujiro Seam, aboard the Battleship Texas
As we celebrate yet another Independence Day, thank you, World War II veterans for your service, sacrifices and patriotism and thank you members of VFW Post 4443 for the "good things" you do for a fellow veteran and for so many others.
Lead Image: Courtesy Veterans of Foreign Wars
All photos by author