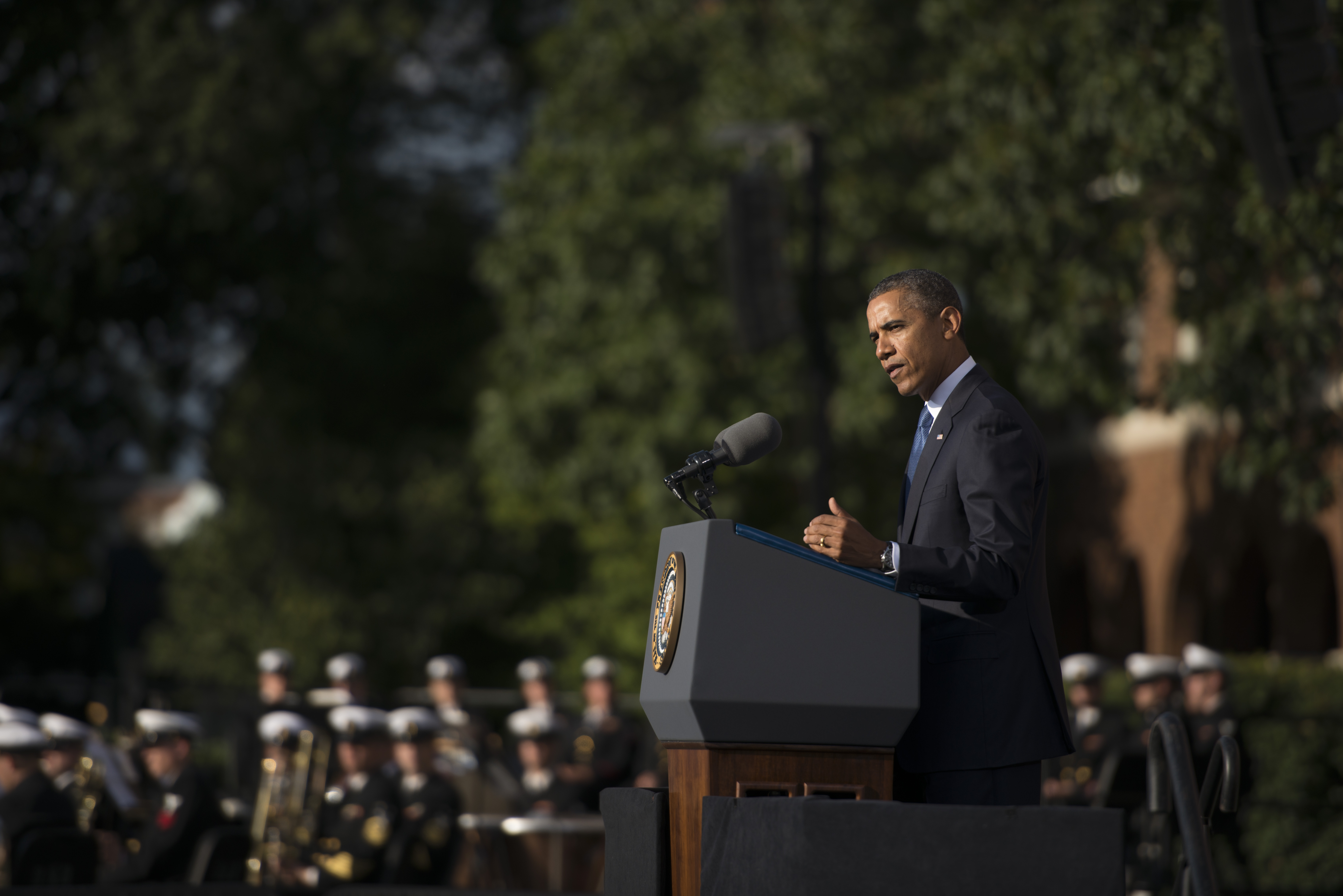 No, not the brief aftermath wherein shocked Americans express grief and indignation at yet another senseless slaughter of innocents by guns and where the National Rifle Association uses the occasion to urge for even more guns.
Nor the little-longer-lasting aftermath wherein well-intentioned Americans and their representatives seek for legislative ways to prevent such tragedies in the future and where the gun lobby shamelessly blocks each and every one of those efforts.
No, it is the aftermath where the president and other leaders once again offer their "deepest sympathy to the families and friends of the victims," and where we all wipe tears from our eyes, go home -- and nothing happens.
Where the president recalls the mass shootings that have plagued America, which he says are "part of ... what wears on us, what troubles us so deeply..." -- and then nothing happens.
Where the president grieves with American communities "ripped apart by mass violence: Fort Hood, Tucson, Aurora, Sandy Hook, and now, the Washington Navy Yard," where there is not a single dry eye -- and then nothing happens.
Where the president laments how "these mass shootings occur against a backdrop of daily tragedies, as an epidemic of gun violence tears apart communities across America -- from the streets of Chicago to neighborhoods not far from here," where there is a lot of hand-wringing -- and then nothing happens.
Where the best our leader can hope for is that "the horrors of [yet another massacre] will soon recede and together we will recover" -- until we have to start to "recover" all over again.
Where the president insists that the issue of gun deaths in America "ought to obsess us; it ought to lead to some kind of transformation," where we all applaud -- and then nothing happens.
Where the president feels that he has to admit that he senses "a creeping resignation that these tragedies are just, somehow, the way it is."
Thank God, he decides to add:
We can't accept this. As Americans bound in grief and love, we must insist, here, today, there is nothing normal about innocent men and women being gunned down where they work. There is nothing normal about their children being gunned down in their classrooms. There is nothing normal about children dying in our streets from stray bullets.
We all solemnly agree -- and then nothing happens, until the next time.
Where we hear those dreaded words "once again" and "once more" over and over again, knowing that it is not just "once more" -- that, sadly, there will be many more "once agains."
Where the president claims for the umpteenth time: "I do not accept that we cannot find a common-sense way to preserve our traditions, including our basic Second Amendment freedoms and the rights of law-abiding gun owners, while at the same time reducing the gun violence that unleashes so much mayhem on a regular basis."
Where the president asks for the umpteenth time:
Do we care enough to do everything we can to spare other families the pain that is felt here today? Our tears are not enough. Our words and our prayers are not enough. If we really want to honor these 12 men and women, if we really want to be a country where we can go to work, and go to school, and walk our streets free from senseless violence, without so many lives being stolen by a bullet from a gun, we're going to have to change.
But is anybody listening anymore?
"Wisdom comes through the recognition that tragedies such as this are not inevitable, and that we possess the ability to act, and to change, and to spare others the pain... In our grief, let us seek that grace," the president concludes.
Does America possess such ability? Only time will tell.
CODA:
The New York Times this morning echoes the helpless, sickening Groundhog Day feeling many Americans have after yet another gun tragedy.
Reporting on the president's remarks at yesterday's memorial service for the Navy Yard shooting victims, the Times says:
But the president appeared exasperated with the political system that he leads, admitting that changes in the nation's gun laws "will not come from Washington, even when tragedy strikes Washington." He acknowledged that his previous effort to pass new gun laws had failed, but he did not specifically call for a new political battle, saying change would come only when Americans decide they have had enough.
The Times recalls the president's message -- a message that "reached fever pitch" -- after the service for the 20 children who died at Sandy Hook Elementary School in Newtown:
In the coming weeks, I will use whatever power this office holds to engage my fellow citizens -- from law enforcement to mental health professionals to parents and educators -- in an effort aimed at preventing more tragedies like this.
But the Times also recalls the aftermath:
That promise led to an effort by the administration to push through aggressive gun restrictions, including an expanded background-check system that would have closed loopholes that allowed guns to be sold without a check. But months later, failed when the Senate could not pass a compromise background-check bill amid fierce opposition from the National Rifle Association and lawmakers who favor gun rights.
And so it goes, until the next aftermath.
Lead image: President Barack Obama delivers remarks during a memorial service at the Marine Barracks for the victims of the Washington Navy Yard shooting. U.S. Navy photo by Mass Communication Specialist 2nd Class Stuart Phillips