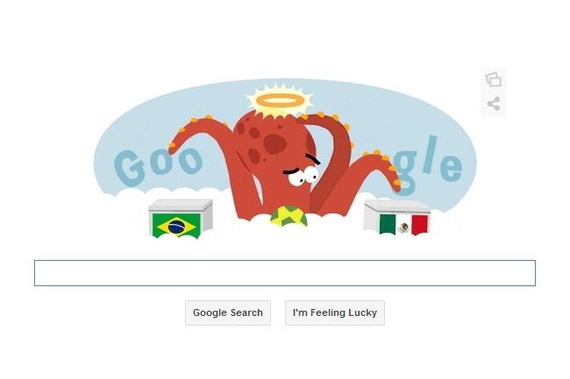 When Portugal, on Sunday, scored the tying goal in the final seconds of the final minute of stoppage time at Arena Amazonia in hot and muggy Manaus, Brazil, the dreams of Americans who thought their team had all but won and qualified for the next World Cup 2014 round were shattered.
A question popped up in my mind: Could anyone have predicted such a cliffhanger of an outcome?
If Paul had still been alive, perhaps he could have. But Paul -- with one exception -- is said to have only predicted the outcomes of 2010 World Cup matches where Germany -- his adopted country -- was one of the players. Also, Paul was not prepared to predict draws, as will become clear.
But I am getting ahead of myself.
Paul was an English-born octopus (I don't know how he got his German citizenship) who led a relatively sedate aquatic life in an aquarium in Oberhausen, Germany, until he became an instant worldwide celebrity when he started correctly and consecutively predicting the outcome of all of Germany's 2010 World Cup matches.
His method? According to Sports Untapped, Paul predicted the winner of the games by picking out, and eating, a mussel out of two plastic containers let down in his aquarium. One of the containers had the German flag on it and the other the flag of the opposing team. You guessed it: The flag on the container from which the sacrificial mussel came represented the predicted winner.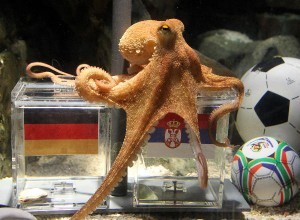 Everything was going swimmingly until the eve of the Germany-Spain 2010 World Cup semi-final whenPaul ate the Spanish mussel, which meant that Spain would be victorious in the semi final.
One headline at the time read, "An apparently psychic octopus has risked the wrath of his fellow countrymen by predicting Spain will beat Germany in the World Cup semi-final."
As so happened, Spain did defeat Germany in the World Cup Semi Final, 1-0.
After such a catastrophically (for Germany) correct prediction, Paul found himself in a very serious predicament which prompted me to write "Paul the Octopus: Once More, with Wine and Balsamic."
I thought of that for-Paul-not-so-funny title because, when Paul's prediction turned out to be accurate, the public sentiment among Germans suddenly changed from admiration and respect to downright ugliness, loathing and hate for the reluctant hero -- now a villain in his own aquarium land.
The internet was full of nasty messages and threats against the poor cephalopod - and full of octopus recipes.
But it was not the first time that Paul's life had been recipe-threatened.
When Paul correctly predicted Argentina's loss to Germany in the 2010 quarter final, Argentines threatened to make asado out of Paul. The newspaper El Dia even printed a simple but effective recipe for Paul: "All you need is four normal potatoes, olive oil for taste and a little pepper."
Notwithstanding all the threats, Paul the Octopus continued to do what his prognosticative skills and his octopus conscience prompted him to do and which had made him so famous.
So famous that even CNN reported that Paul the Octopus had once again eaten a Spanish mussel in anticipation of the World Cup final.
As those two or three of us Americans who watch soccer* know, Spain beat the Netherlands 1-0 in the World Cup final in Johannesburg to become the 2010 World Champion.
This was the "one exception" where a German team was not involved in Paul's predictions.
In July 2010, after reaching the pinnacle of fame -- and abuse -- the famous cephalopod who correctly predicted "the outcome of as many World Cup matches as he has legs -- all seven of Germany's games plus the Spain-Netherlands final," decided to retire from predictions business to a more sedate and safe life at the Oberhausen aquarium, where he -- according to a spokeswoman for the aquarium -- would "get back to his former job, namely making children laugh."
And that he did, for another six months, until one morning in early October 2010, attendants at the aquarium who had found him in good health the day before, were saddened to find that Paul had not made it through the night. He was aged two-and-a-half, "a normal lifespan for the species," says Wikipedia.
Paul received many honors and offers while he was alive and after his death.
As recognition for his services to the World Cup community, Paul was presented with an appropriate facsimile of the World Cup trophy, encrusted with three live mussels.
YahooSports! reported that English-born Paul -- supposedly hatched at Weymouth Sea Life Center on England's south coast -- was appointed as an ambassador to England's bid to host the 2018 World Cup and that El Pulpo Paul "became so popular in Spain that the northwestern Spanish town of O Carballino tried to borrow him and made him an 'honorary friend.'"
As expected, several animals -- "imoctopusators"? -- have tried to imitate Paul.
Back in 2010, after a string of lucky predictions, 13-year-old Mani, a Singaporean parakeet, predicted that the Netherlands would win the World Cup final match against Spain. Parakeet stew anyone?
Today, as the 2014 World Cup winds up, several animals are stepping up to try to fill Paul's (eight) shoes.
There are the penguins Alf, Lolly and Ginny, the macaws Sarge and Oscar, miniature donkeys Alistair and Derek, all in England. Then we have Big Head the loggerhead turtle in Brazil, Nelly the elephant in Germany, Flopsy the kangaroo in Australia, Shaheen the camel in Dubai and Madame Shiva the Swiss guinea pig.
You can read about the various sophisticated and not-so-sophisticated methods used by these prognosticators to predict the outcomes of World Cup 2014 matches here.
There will be many Paul the Octopus impersonators and wannabes, but none will replace Paul in his accuracy and personality...
Even Google is paying tribute to Paul with a June 17 "Doodle" (above) showing Paul in (octopus) heaven, sitting atop billowing clouds with a halo over his head, trying to decide the winner between Brazil vs. Mexico, the game played that day.
How would Paul have predicted the outcome of the USA-Portugal match? I really don't know. But Paul was resourceful enough that he would have found a way to predict a draw. Perhaps a tasty, two-mussel cocktail?
Rest in watery peace, Paul. You gave us some very interesting, entertaining and anxious moments.
~.~
* ESPN's broadcast of the USA-Portugal match was viewed by 18.22 million people, breaking the record for the most-watched soccer game in the history of US television. Read more here
Lead image: Courtesy Google/Digitaltrends.com