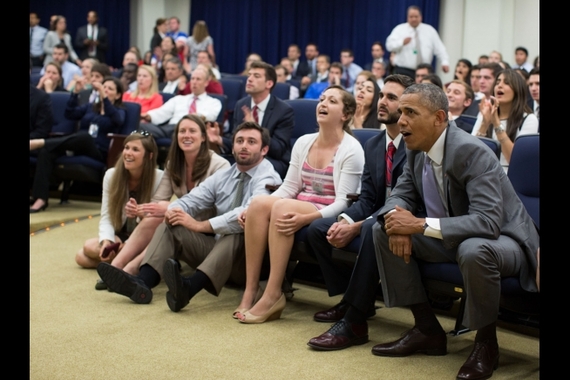 President Barack Obama and staff watch the U.S. soccer team vs Belgium in World Cup action in the Eisenhower Executive Office Building South Court Auditorium, July 1, 2014. (Official White House Photo by Pete Souza)
Well, Team USA came a long way, capturing our hearts and imagination, raising our hopes and making soccer -- judging by record viewership, tremendous interest and unbridled enthusiasm from Main Street to Pennsylvania Avenue -- an "American sport."
Yet, playing against a much stronger and skilled Belgian team, advancing to the World Cup quarter finals was not to be, although the last five minutes in overtime raised our hopes that Team USA might still do it -- against all predictions and all probabilities.
But while everyone on Team USA played magnificently, clearly the star -- the hero -- was goalkeeper Tim Howard.
With his skilled dives, spectacular leaps, unbelievable footwork, and a lot of yelling and steely nerves he was able to keep 12 of Belgium's goal shots out of the net during regulation game to keep the score down to 0-0 and to give Team USA a chance in overtime.
Before the game was over, Howard would save 16 goal shots, the most saves in a World Cup match since FIFA started keeping track of such things.
And what does Howard say?
I'm just trying to do all the things that have gotten me here and gotten us here...That's what I signed up to do -- -- stick my face in front of balls. It's nothing startling.
Well, America -- including Secretary of Defense Chuck Hagel -- think that Howard has done much more than just sticking his face in front of balls.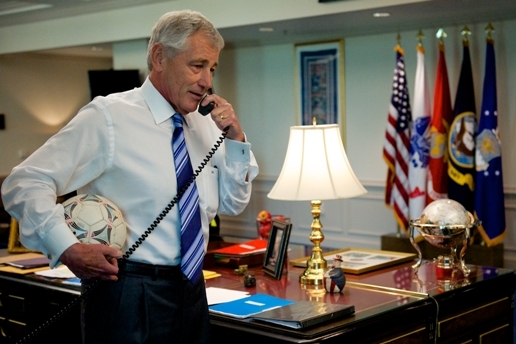 Chuck Hagel calling Tim Howard. DOD photo by Casper Manlangit
Yesterday, Hagel called Howard to thank him for defending the United States at the World Cup. He congratulated Howard on his record-breaking game and a great run in Brazil and invited Howard and the entire team to come to the Pentagon later this year. Hagel told Howard that with some training, he could someday become the real Secretary of Defense.
In what was perhaps an even greater honor for Howard, some enterprising editor at Wikipedia edited the "United States Secretary of Defense" page to indicate that Howard had been appointed Secretary of Defense.
Apparently, that edit was quickly reverted to show that Chuck Hagel was still Secretary of Defense.
In our hearts, however, Howard will remain the greatest goalie for the longest time, as will his words:
Thirty-one teams get their heart broken...It has to end sometime. It ended a little bit early for us.
Thank you Tim Howard. Thank you Team USA for uplifting a nation and for roundly sending to history's trash heap the ignorant allegation that soccer is "a sign of the nation's moral decay."