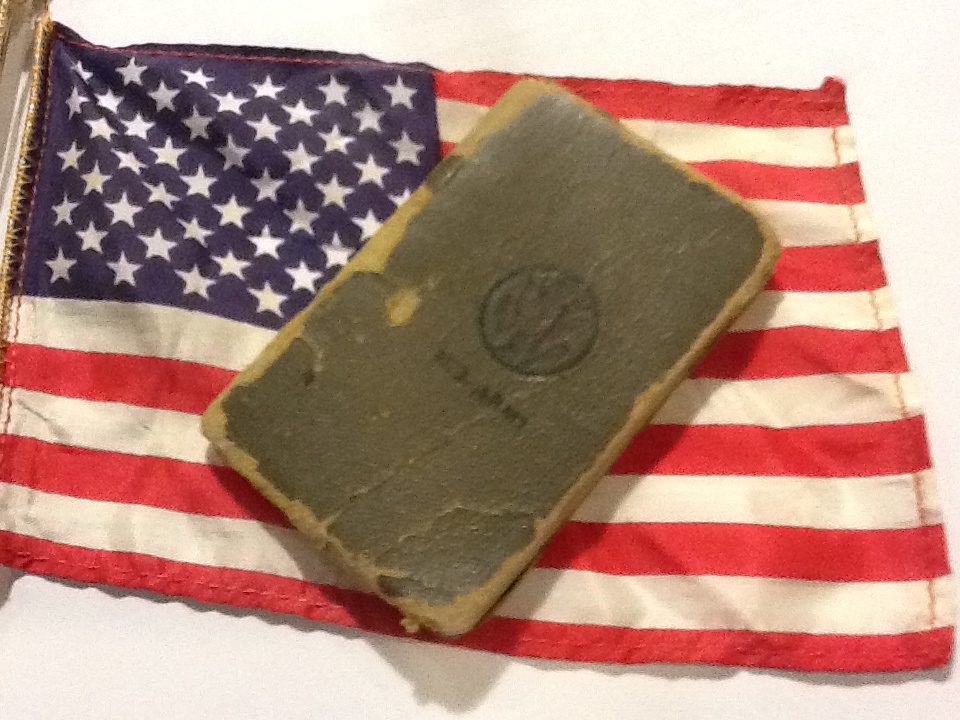 It has become an honor every year around Veterans Day for me to write one or two articles about our veterans, about our heroes -- still alive or Resting in Peace.
This year, in a way, it is no different. It is about a World War II veteran, it is about a hero and it is about duty, honor, country.
What makes it perhaps a little different this year, is that all I knew initially about this hero were his name and the information contained in an obituary and in a National Cemetery register given to me by a friend -- a friend who, by the way, is a hero herself.
But then there is that that tiny (2 by 3 inches), brown, heavily worn, U.S. Army-issue address booklet that accompanied the obituary and gravesite information.
His name and rank -- Cpl. H.S. Nowak -- and ASN (Army Serial Number) are neatly hand printed in ink on the very first page of the booklet, right above a very small 1943 calendar.
After several address pages, many of them blank, the address book becomes a tiny diary with simple but evocative words that took me back 70 years to the day when H.S. Nowak (His full name is Henry S. Nowak) was "sworn into US Army 20 Oct. 1942." Nowak would have been 22 then.

Neatly hand printed in the next 16 tiny pages are straightforward, sobering entries that span a period of more than three years and end with:
7 Dec. 1945, 1200 noon

In a solemn quiet small ceremony I was discharged from the Army after 3 years, 1 month, 18 days, Glory Be!!!

THE END
It is the austere, unpretentious entries in between these two events that tell the story -- perhaps better than any eloquent essay or documentary could -- about what our soldiers went through during that long, terrible war, a war in which Nowak served and fought in Europe.
In the tiny diary we read about:
The training Nowak received prior to being shipped off to war: "Desert maneuvers, A. P. Hill Military Reservation, Va., 28 July1943 to Sept. 28 1943" and "Winter maneuvers, Feb 25 to Mar 31 [1944], Watersmeet, Mich."
Making the perilous Atlantic crossing in the middle of winter: "Sailed -- England 10 Dec. 1944, USS Gen Richardson. Disembarked Southampton, 21 Dec. 1944."
The first "contact with enemy, Luxemburg, 25 Jan [1945]" and "Attack Siegfried Line H. + 30, 7 Feb. 1945." Then, on 23 Feb. "Crossed into Germany via Echternach and Sauer River"
The first incoming enemy fire: 28 Feb. 1945, "Received mortar shelling at Alsdorf."
The long treks, a surprise sighting and unexpected conversations: "April 3 [1945], Drove 87 miles into ... Germany through Alsdorf, located South of Kassel. Talked to a number of liberated Poles all along the way."
The heat of combat: 13 Apr. 1945, "Encountered enemy South of Leipzig. Pulverized town of Zeitz. Same day in evening saw AA boys knock down German plane as it strafed Btry. Bastard burned down two hundred yards away."
Seeing his buddies shot: 13 April 1945, "Few days ago another friend got a slug through the chest."
The end of the war in sight: April 22, "Withdrew back across the Mulde River, Awaiting contact with Russians," and on May 7, 1945, "May have fired last shot at 0910."
Being there when history was made: 8 May [1945], "V-E announced at 1300 to go into effect at 0001, 9 May." And, on 9 May, a standard, matter-of-fact GI reaction: "V-E Day. Don't feel any different," but asking what is really important, "Wonder when we go home."
The romantic hopes of a young GI: 19 May, "While on outpost guard in village of Fressnitz, met French girl [name]. Gave her my address and hope she will write."
Finally, after stops outside of Frankfurt, Germany; Montmedy, France; Camp Oklahoma outside Rheims and "Paris -O La La!!" Nowak, on August 5, arrives at "Tidworth staging area, England waiting for SS Queen Mary."
On August 17, 1945, Nowak sails for New York aboard the Queen Mary, arriving there on August 22.
Then a couple of long 'furloughs' -- "Whee!!" -- and it is home sweet home. On Dec 3, 1945, Henry S. Nowak reports to Camp Grant "for Discharge" and, on Dec. 7, 1945, he finishes his simple, unembellished but so real and touching account of his World War II service with the simple words "THE END."
CODA:
Henry Nowak passed away at the age of 82 on January 2, 2003.
His obituary reads in part:
He is survived by his wife, Madeline; son, Henry; and sister, Eugenie Eschmann. He was also father to Dolores (Robert Boyd) and grandfather to Katherine and Elizabeth Boyd.

Private services were held at the National Memorial Cemetery of Arizona.
I feel very fortunate and honored to hold this small piece of history in my hands. The diary is old and very worn and I have been very carefully turning its pages trying to imagine the sacrifices our World War II heroes, including Cpl. Nowak, made for freedom's cause 70 years ago.

While I want to share with our readers Nowak's precious words on this Veterans Day, it is my hope that his story will reach his survivors so that this soldier's diary can also finally come home -- as is the hope of the person who first came across the diary and of my friend who gave it to me.

Please use the "Comments" section if you are a surviving relative or if you have pertinent information about Henry Nowak's relatives.
Image by author