Throughout the world, both men and women feel pressure to conform to traditional roles and responsibilities. Discrimination and violence against women and girls are common. Changing long-accepted behaviors and beliefs about roles and women's rights cannot happen overnight.
But one by one, champions for change are building a better world for themselves and changing what has too long been accepted as "normal" to make a better world for future generations. I've been inspired by many women and men who are taking action and making a difference. Here are two stories, as told by Ms. Manori Wijesekera and Mr. Priyan Senavirathna, advisors to CARE in Sri Lanka, of two women who particularly stand out as champions for change.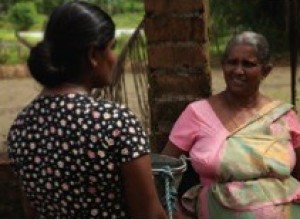 P. G. Biso Menike sees herself not as a champion, but as someone who is simply doing the right thing.
For her, gender violence and women's rights were not just words or abstract concepts. She knew that women were being paid less for doing the same manual work, often for longer hours. She knew first hand that abuse by a husband was part of life for many, many women in her village. She also knew that life shouldn't be this way. With newfound information from CARE's BRIDGE project, she began discussing these issues with the women everywhere she went.
She introduced ideas about equal wages in the micro-finance work she was doing. She successfully advocated for equal wages for women and men for the same work. As a small dairy farm owner, she practiced what she preached and paid women who worked on her farm the same daily wages as men.
And one by one, she is helping women affected by violence at the hands of their husbands understand that this is not their fate. Printed leaflets, wall paintings, and discussions at community meetings and in street dramas helped her make the case -- and even convinced some men to support the cause.
When CARE started working in her village in Sri Lanka through a partner organization, Suvnathy* [1] was very interested in their activities, especially the theater group, which explored issues of alcoholism and gender-based violence in the community. Her husband, Maninda* [2] was an alcoholic and beat her. Maninda would not let her go for meetings. He felt his wife should stay in the home taking care of their six children. But while he went to work during the day, she would sneak out and take part in the drama group's activities. She would sometimes get late to get back home and her eldest daughter would lie to her father to cover for her mother.
But he slowly figured out what she was up to. She tried to explain and make him understand what she was doing, but he was still reluctant. Then one day, they arranged for him to watch a video of one of his wife's performances. He was so impressed with what he saw in the video that he had a change of heart.
Change wasn't immediate. He would still drink. When he would start to get violent she would confront him saying, "I am trying to stop this happening to other women, are you going to do this to me?" The violence soon stopped as did the drinking. He slowly became her strongest supporter, even taking her to all her performances on his motorbike.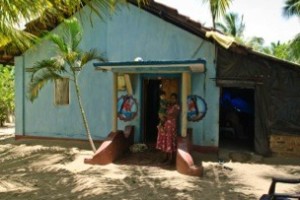 Maninda and Suvnathy's daughter and grandchild pose outside their house.
Together, Suvnathy and Maninda started trying to change people around them. They would frequently give shelter to an old neighbor whose husband would get drunk and beat her. Their house has earned a little bit of a reputation as a shelter for women who are victims of domestic violence.
Through these partnerships with Johnson & Johnson, CARE projects in Sri Lanka have helped women find their voices, teaching them to stand up for their rights and make change happen.
Change is hard, but for the women who know how different life can be, and who work to affect change, it is well worth the effort.

[1] Name changed to protect identity.
[2] Name changed.

Who Inspires You?
Share your stories of women who inspire you with Girls' Globe and Johnson & Johnson this month, and read the stories that we will be publishing here throughout the month!
Join the conversation using #WomenInspire and tweet us a story of a woman who inspires you! We will collect these stories to spread the inspiration that women and girls give us.
Editor's Note: Johnson & Johnson is a sponsor of The Huffington Post's Global Motherhood section.