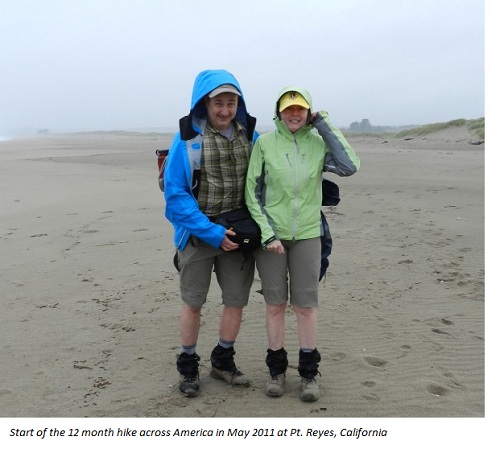 Even with every mode of modern transportation at their disposal, Kirk and Cindy Sinclair chose the most basic one to travel across the United States: their own two feet. They walked the 6,800 miles of the little-known American Discovery Trail -- a hiking feat that deserves attention itself.
But their reasons for doing it -- and what kept them going from the Pacific to the Atlantic oceans, up the Rocky Mountains and down in the mid-western plains through the almost twelve months of their extreme voyage -- well, these are just as impressive as the hike itself.
But first, a little about the American Discovery Trail, or ADT, as it's known to those intimately familiar with it (of which, I admit, I'm not). The trail leads hikers to discover America the way the earliest residents and explorers did: one step at a time. Walkers not only witness the amazing panoramas of the natural wonders of our country, but do so at a speed that is completely at odds with anything in our modern lives.
"We walked in the historic tracks of the Pony Express and Santa Fe Trails. We observed Native American cultures and the Amish. We crossed the Golden Gate Bridge in San Francisco and the Gateway Arch in St. Louis," explained Kirk with awe at the expanse of distance and time they have crossed.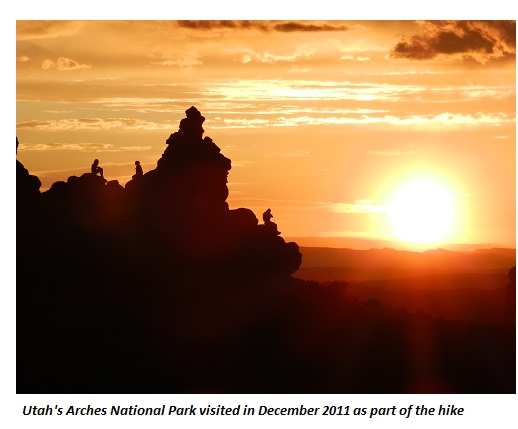 The ADT takes hikers across 15 states stretching from Cape Henlopen State Park in Delaware on the Atlantic Ocean to Point Reyes National Seashore in California on the Pacific Ocean, where the couple began their trek in May of 2011. Kirk and Cindy followed the trail as it passed through cities, towns and villages; led them to national parks and forests and crossed through thousands of historically, culturally and/or naturally important sites.
Kirk explained that they took on their longest walk yet, in part, "because we're hikers." He likes to remember that his fifth date with wife Cindy was hiking the Appalachian Trail -- a trek of 2,200 miles. "With our youngest now in college, we finally had the opportunity to get back to our first and foremost passion."
There's More to This Than a Good Hike
Apparently, many people who undertake such a hike along the American Discovery Trail adopt a cause. Kirk and Cindy chose to "raise funds and awareness for housing, health and hunger. We're supporting Habitat for Humanity, Doctors without Borders and Church World Service through our hike."
Along the way, Kirk gave talks to community organizations, schools and faith-based groups about kindness and community to address the issues of housing, health and hunger. "The kindness we witnessed across the country exceeded even our large expectations formed from our previous long-distance hikes," Kirk explained. "Except for during the most remote areas of the trail in Nevada and Utah, we encountered the kindness of people daily."
This kindness was expressed by strangers opening their homes to an increasingly straggly-looking Kirk as his graying hair and beard grew longer. Meals were shared with hundreds of kind-hearted folks in their homes, at church supers, fundraising events with the Lions Club and around campfires. Many a night was spent in the comfort of a stranger's home who, by morning, was a good friend and supporter while other nights -- such as those spent in the Rocky Mountains -- a tent and a sleeping bag kept them warm.
Kirk is sentimental when he speaks of his experiences meeting people: "We came across the kindheartedness that individuals and communities did for their own in these trying times and we met the compassion in the things they did for us as nomads across this amazing land."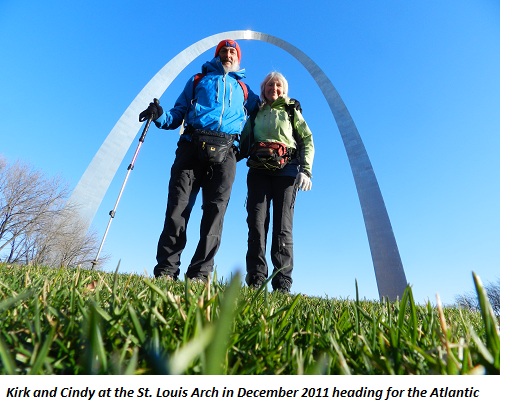 He documents these acts on his Kindness Blog on his Hiking Humanitarian web site. Kirk intends to produce a number of books as a result of their hike including: The Power of Kindness Across America and The Community Potluck Cookbook. More information is available at the Hiking Humanitarian website.