Editor's Note: This post is part of a series produced by HuffPost's Girls In STEM Mentorship Program. Join the community as we discuss issues affecting women in science, technology, engineering and math.
When an acknowledged media star disappears off the face of the earth, public speculation will run wild. Jan. 11 is the 79th anniversary of the first solo flight from Hawaii to the U.S. mainland, and Amelia Earhart was the pilot of that 1935 flight. Few people know of this aeronautical milestone but mention Earhart's name and most everyone perks up; yes, they know who she is and they probably have an opinion on how or why she disappeared on her 1937 round-the-world flight. After all, her disappearance is one of the great mysteries of the 20th century. Earhart was decorated pilot and a major celebrity during the 1930s, second only to Charles Lindbergh in terms of sheer notoriety. But even after the largest US maritime search of the era came up empty and Amelia Earhart was declared legally dead, even after nearly 82 years, people continue to think of her and wonder what really happened to her. With each new theory or book or expedition, her name remains in the public arena. But is that the only reason Earhart is remembered? Why do people continue to search and more importantly, to care?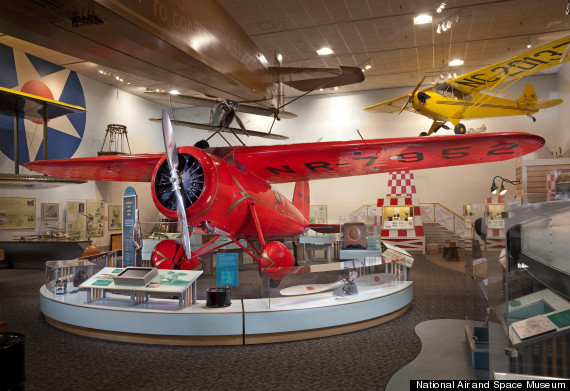 Earhart's transatlantic Lockheed Vega 5B, photo courtesy of the National Air and Space Museum
To be sure, Amelia Earhart had courage and commitment. It takes courage to embark on a path that is so different from the norm but Earhart felt that tug all her life. A tomboy and leader of neighborhood children, she fearlessly constructed a wooden roller coaster, then tested and improved it. She left school to be a nurse's aide in a Toronto military hospital at the close of World War I where working with Canadian soldiers suffering from post-traumatic stress disorder profoundly affected her views of war and peace. She discovered flying and worked odd jobs including driving a gravel truck to help pay for her flight lessons. Characteristically, she felt secure enough to buy a Kinner Airster airplane and set a feminine altitude record shortly after learning to fly. Then, while happily employed as a social worker for immigrant families at Denison House in Boston and flying at the local airport, she got her chance of a lifetime -- the offer to become the first woman to fly, as a passenger, across the Atlantic Ocean. She accepted the challenge even though flying the Atlantic in 1928 was still risky; 40 percent of the 1927 attempts failed, 25 percent proved fatal.
By 1932, she wanted to be accepted as a serious pilot and so, with other women poised to do the same, she flew solo across the Atlantic to become not only the first woman but only the second person to do so (Lindbergh was the first). She was carving out a highly unusual career at a time when few American women worked and only a few hundred flew airplanes. Some of those pilots formed the Ninety-Nines, Inc., the first women's pilot organization, and elected Earhart as their president. Highly motivated to succeed, she was either flying or preparing for a record flight, promoting aviation through associations and early airline companies, or ably lecturing, writing magazine articles and books (20 Hours and 40 Minutes; The Fun of It), and advertising products (Lucky Strike cigarettes, Pratt&Whitney engines) -- the latter three being the money-making aspects of her career. "I make I record and then I lecture on it."
Flying seemed to be the easy part for Earhart even though she had several "crackups" as she called them. She felt a far more personal risk from the marriage proposal of her manager, George Putnam, believing that it threatened her cherished independence; yet she knew his brilliant public relations skills were responsible for her initial success, and she liked him. She accepted the offer but on her own terms -- the marriage would be an open and equal partnership. Moreover, she demanded an escape clause that they would part in a year if they did not find happiness and she dismissed the "medieval code of faithfulness." Some called it a marriage of convenience, but they stayed together, even when she had an extramarital affair with aviation administrator Gene Vidal.
Following her solo transatlantic and U.S. transcontinental flights of 1932, Earhart and Putnam aimed to make her more than an aviation phenomenon by launching a moderately priced but short-lived clothing line and a successful lightweight luggage line. Though thin and tousled-haired, she photographed well and looked confident in her product promotion shots and Edward Steichen's portraits of her in Vanity Fair. Comfortable in pants and leather flying jacket, she projected an androgynous image, in company with sports stars and Katherine Hepburn, but she also wore dresses for many public events. Sculptor Maurice Heaton created a "streamline" glass etching of her transatlantic flight for Rockefeller Center. Though she traveled the edges of Hollywood, being photographed with Mary Pickford and Cary Grant, and was everywhere in print, radio, and newsreels, she did not embrace the high life nor succumb to false illusions.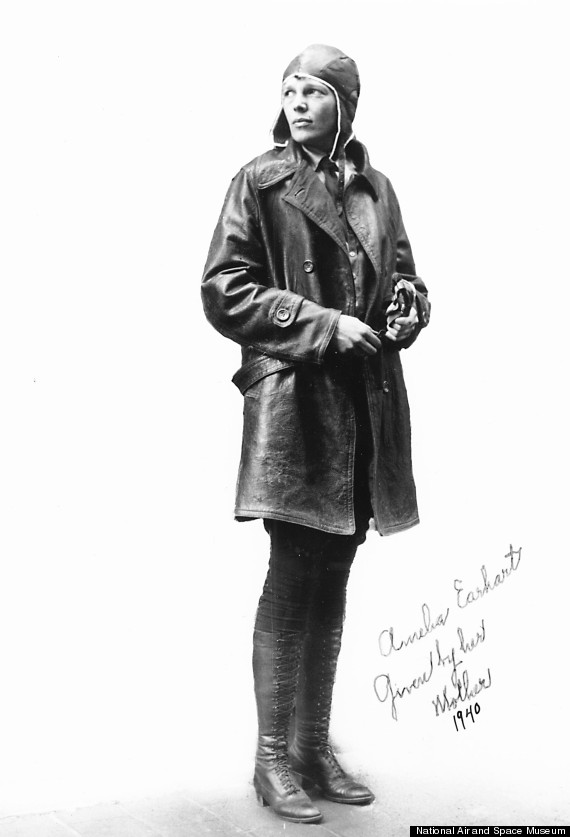 Photo courtesy of the National Air and Space Museum
Earhart exuded confidence and carefully cultivated her public persona. Though she had achieved economic and personal independence, she empathized with the average woman's situation but still challenged them to be more autonomous. Her deep commitment to women's equal rights and birth control rights, the National Women's Party and the Women's League for Peace, earned the friendship and respect of First Lady Eleanor Roosevelt, possibly the only woman of the 1930s more popular than herself. Never a shrill feminist she was instead an impressive but non-threatening advocate, except perhaps when she counseled female Purdue students to take engineering courses, much to the dismay of the male professors. While she was a valuable spokeswoman for woman's issues, she felt it crucial to use her celebrity status to directly appeal to women to push for individual change as well as legal and societal.
Her ill-fated 1937 world flight lacked a proper project manager but still she and her navigator came tantalizingly close to finding tiny Howland Island in the Pacific Ocean, so close that the Coast Guard cutter Itasca clearly heard her sporadic but strong radio calls. Jerrie Mock finally became the first woman to fly around the world in 1964 while in 1967 and 1997, Ann Pellegreno and Linda Finch respectively retraced Earhart's intended flight path in similar Lockheed Electras. Today's female pilots invariably cite her as a defining role model and scholarships are given in her name.
Earhart's aviation legacy is clear with her transatlantic Lockheed Vega housed at the Smithsonian Institution since 1966. Her broader influence is recognized in several ways, for example, in the mid-1970s, Judy Chicago produced The Dinner Party, an artwork celebrating 39 mythical and historical women at "place settings" around a Table and another 999 women, including Earhart, on tiles on a Heritage Floor. Earhart's image inspired clothing, dolls, runway models and is especially know for inclusion in two particular commercial ad campaigns. In 1993, GAP clothing store featured an original photograph of her in khaki pants in front of her Lockheed Vega, one of 13 "legendary writers, actors, adventurers with style" including Ernest Hemingway and Ava Gardner. Steve Jobs had a more serious take on Earhart in 1997 with stunningly brilliant and simple television and print ads designed to tie Apple, then at a low point, with the great minds, misfits, or rebels of the 20th century. Earhart was one of approximately 30 images, including Albert Einstein, who individually stares from the screen or page with only the striped Apple logo and the words: Think Different. Apple's award-winning series sealed Earhart's iconic status in American popular culture.
Defying gender roles, Amelia Earhart built an unorthodox career in a man's world, earned the Distinguished Flying Cross, was a compelling force for women's rights, and consistently made the Most Admired and Best Dressed women lists, a complex combination that allowed her to have a real and lasting impact. All told, her flying career, liberal feminism, life and death are subjects of countless student essays, articles, books, plays, movies, public inquiries and blogs like this and it is likely to continue.
This post is part of a series produced by The Huffington Post to commemorate the 79th anniversary of Amelia Earhart's 1935 record-breaking solo flight, when she became the first person ever to fly from the mainland United States to Hawaii. To see all the posts in the series, click here.