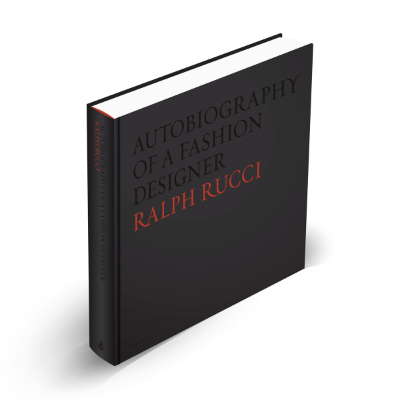 Title: Autobiography of a Fashion Designer: Ralph Rucci
Author: Ralph Rucci
Photographer: Baldomero Fernando
Dimensions: 11 1/4" wide, 11 1/2" tall and almost 2" inches wide. Book and slipcase are fully covered in cloth.
Page count: 256
# color photos: approx 1,000
Publisher: Bauer and Dean Publishers
Date published: December 2011
Retail price: $195

At the beginning of his book, Ralph Rucci quotes Sol Lewitt, the minimal and conceptional artist who said,"Successful art changes our understanding of the conventional by altering our perceptions."

Ralph lives up to this.

Ralph Rucci is an American and world treasure, and his book is an amazing visual tour. Beyond his own book, he has books not only about fashion but also about architecture, interiors, objects, furniture, art, non-fiction and fiction.

His home is also a sanctuary full of objects. All these show a visual world, but also show how a visionary is inspired. His work demonstrates passion, but is also articulate and strives for perfection.

Design is always about point of view but it is not just that -- it is about process. His quote, "It's all borrowed," shows the way designers get from beginning to end.

From inspirational images to sketches to materials, it is work that is thoughtful, tiresome and sometimes painful, but in the end he creates classic, timeless, exquisite clothing.

Finally the name Chado Ralph Rucci speaks volumes -- a reference to the Japanese tea ceremony -- his attention to detail, exactitude and austerity -- nothing is superfluous -- everything is considered.

Pure genius.
(Scroll down and click through the slideshow to peak inside the book.)