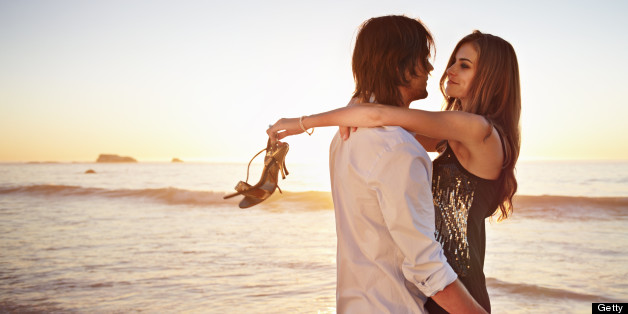 Not too long ago, I (Doug) watched a movie with Matt Damon I really enjoyed -- We Bought a Zoo. My favorite scene involved a brief dialogue between Matt and his estranged teenage son. Matt was trying to make a point and to encourage his boy to reach out to a cute, young girl he befriended and made this comment: "Sometimes all you need is 20 seconds of insane courage -- 20 seconds of embarrassing bravery and I promise you something great will come of it."
It stuck with me, probably because I often find it difficult to take risks in life -- especially the kind that grow out of immediate emotion and involve vulnerability. Where you suspend thought and take a chance. I most always think things through too much, lose spontaneity and send possibilities into a black hole of obscurity or unknown space.
But what if we all could find our own 20 seconds of "insane courage" in how we love? What if we could embolden ourselves somehow, to reach out to those we love for all we're worth, to touch the spirit and soul of our closest ally, our wives, our husbands? What if we put our fears aside and took amazing chances to create an affectionate, engrossing space of love and care with our life partner? And what would it look like? Specifically, what would it look like to love with force -- with passion -- by taking advantage of all the moments that risky actions are possible?
Imagine together the risks you might take if you were to embrace an impulsive, "right now" spirit in how you reach out with action to your lover:
1. Give a "Shiver Hug" to our lover like never before -- in a way that says "you are my main -- no, my only, squeeze, and I'm not letting go until you feel it and I send a shiver down your spine."
2. Send a "Super Text" to your mate, one they will never forget -- a succinct "I love you" with just why that is so.
3. Turn on a slow "Dance Tune" on the radio -- and sweep him/her off their feet for a slow dance. Hold your lover with conviction (guys, no groping) and end with a slow kiss on the lips or forehead.
4. Use your "Slow, Affectionate Speech" voice, capturing deep, serious tones in your voice to tell your lover something great about them -- a trait you love, what you most appreciate about them, why they rock your world. Look them in the eyes while talking so you can see their soul.
Keep adding to the list. Grow it each day. Be a man or woman with long "risk lists" that you can draw from that leap from the head to action when any of them occur to you. Or in any moment when you know you will have impact on your lover and soul mate by these surprising, courageous, actions of love. Are you willing to take these kinds of risks and create a new, intimate dance of affection and care?
At the end of We Bought a Zoo, Matt takes his son and young daughter to the restaurant where he met their mother, the love of his life (who had died earlier of cancer). He explained how he mustered the courage to introduce himself, fearing she would tell him to get lost. His 20 seconds of insane courage! For a brief moment, he lived like never before and found that true love comes from, and is sustained by, heart actions that go from zero to 60 if you just pull the trigger. You pull it in the moment. You don't wait. You love instantly. You dare to live.
Are you ready to love beyond the limits you have set for yourself? With new patterns that take you to new regions maybe unexplored or forgotten?
Do you have the courage to love without bounds?
So do it! Risk, leap and love!
Who knows? You might just end up buying a zoo!