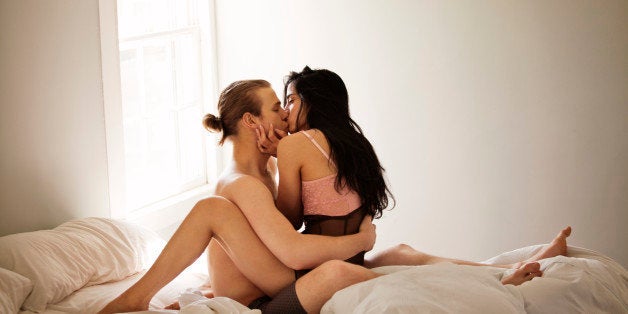 Yes, summer is here and that means, for many, vacation time. And on vacation, sex seems easier for many lovers. Here is what we often hear:
"We went away and rekindled our sex life."
"For some reason, sex seems easier when we're away. I feel more relaxed and more free."

"As soon as we checked into the room, we ripped our clothes off and jumped in bed. W hadn't had sex for the last six weeks but we made up for lost time on this vacation."
Intriguing, to say the least. What happens when we're away? What sparks the sexual adrenaline -- sometimes all of a sudden to everyone's surprise?
We believe there is really no mystery here. When we go away, we manufacture the ingredients that make sex work. These same ingredients can work at home if we know what they are and build them into our lives. Here are some crucial ones:
Vacations put us in the right mindset for great sex. When we think of vacations we think of relaxing, being free, having fun and letting go. Great sex is about all of these: being able to relax, let go, having fun and being free with each other! On vacation, we experience ourselves as less restrained, wilder and adventurous. Vacations can lead to more explorative and adventurous sex!
On vacations we focus on play and pleasure. Play and pleasure are aphrodisiacs! And sex is really a kind of adult play. A kind of a grown-up sandbox if you will.
On vacations we leave stress and responsibilities at home. Stress, responsibilities and worries are obstacles to great sex.
On vacations, we sneak away. The experience of "sneaking away" can rekindle feelings of sexual excitement that are more evident in earlier stages of a relationship. Vacations remind ourselves of "us" then.
Atmosphere is king in great sex. The setting, ambience, and change of scenery make sex feel new and different, and more appealing. Vacation is often one big atmosphere change up.
On vacations, we have the opportunity to see our partners in a new light -- doing things they don't normally do which makes them appear different and more exciting. This increases passion!
If possible, go without kids. While we love them, they do limit romantic opportunities.
Getting in the right mindset
Feeling relaxed and free
Focusing on pleasure and play
Sneaking away
Changing up the environment
Seeing your partner in a new light
And getting away with just the two of you
And even on your next Great Sexcation!