Provincetown, Massachusetts during the second week of July is unlike any other place in the world. The reason for this is an annual celebration known as "Bear Week," the bears in question being "a subculture of gay men who embrace natural body hair." They embrace each other as well, and I have never seen so many large, gay, hairy men in my life, nor I have ever seen a happier, friendlier, and mellower crowd either. There might be more testosterone here per pound than anywhere, but it is as peaceful and loving and calm as any large gathering you'll ever find.
It was pure coincidence -- a celebration of my father-in-law' 95th birthday -- that brought my extended family and me to Wellfleet, just south of P-Town on Cape Cod during these bearish festivities. But P-Town would have been an attractive destination regardless since it possesses breathtaking vistas, extraordinary beaches, and scores of great restaurants, cool bars and fun shops.
But being here this week adds a whole new dimension -- and a rather large one at that. The Bears come here by land and by sea and by air and by bike and by every other means possible -- hundreds upon hundreds of large gay men.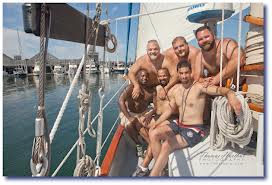 Provincetown has been gay friendly since the early 1900s, beginning with the introduction of artists' colonies. Supposedly, drag queens could be seen performing as early as the 1940s, and by the late 1970s the Provincetown Business Guild (PBG) was formed to actively promote gay tourism. And do they ever! Today more than 200 businesses belong to the PBG, and Provincetown is the best-known gay summer resort on the East Coast. The 2010 U.S. Census revealed Provincetown to have the highest rate of same-sex couples in the country, at 163.1 per 1000 couples.
The totality of Bear Week events is pretty overwhelming and ranges from the ridiculous ("Bearacuuda") to the sublime (Sunday "Spiritual Bears" services) to the outrageous ("Straps & Boots" night replete with these advisory taglines " Rough and rugged" and "No cologne") and everything in between. As the Bears themselves advise one another regarding the week "pace yourself."
I kept remarking to my family that I have never encountered a happier or friendlier crowd. And it made me wonder, as I thought about the Zimmerman verdict and the mayhem in Egypt and Syria and elsewhere, whether we shouldn't follow the lead of the visiting Bears and their gay hosts. It's a lot easier, and better, to be friendly and accepting and open than it is to be otherwise. This is perhaps the most peaceful place on the planet this week. We all could sure use a lot more of that.