A little over 49 years ago -- October 27, 1964 to be exact -- I was a 17 year-old high school senior in the audience at the Civic Center in Pittsburgh, Pennsylvania, to hear President Lyndon Baines Johnson (LBJ) deliver a speech about the upcoming presidential election. A large part of my reason for being there had to do with my fascination for a fellow Thomas Jefferson High School female who had helped organize the excursion -- and to be able to be out late (for us) on a school night.
It was a week before the November 3 presidential election but, quite honestly, since I couldn't even vote and, I could have cared less. My sights were set on attending college the following fall and eventually becoming a lawyer. The world was going to be my oyster.
Or so I thought.
Little did I know that LBJ would have something -- a lot -- to say about my future.
Thinking back on that evening, I recall only two things about LBJ's very, very long speech.
The first was that he never once mentioned the name of his opponent, U. S. Senator Barry Goldwater.
And the second was that he made just a small, single reference to "Viet-Nam" as LBJ used to say it. That perked up my ears because Karen, the young lady I was crazy about, had a boyfriend in college who was in ROTC and had talked about being sent to Viet-Nam. She squeezed my arm when the president sad this:
"I looked up the record the other day when he was talking about sending General Eisenhower to Viet-Nam. I don't think he took the time to talk to General Eisenhower about it. But it did make a headline momentarily."
On that sweet fall evening, I had no idea where Vietnam was or what my country was doing there. I was more intoxicated with Karen and staying out late and excited about my future.
Four years later, when LBJ spoke to the nation about not running for re-election "as your president," he also cancelled all grad school deferments for everyone except doctors and dentists. Meaning that as a prospective law student in the fall of 1969, I was screwed.
By March of 1970 I was in the U. S. Army, not law school, and on Veterans Day 1970, I was on a plane to Vietnam, ostensibly to "fight" LBJ's war (now Nixon's), albeit as an Army journalist stationed at Long Binh post near Saigon.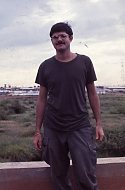 Ironically, one of the places I visited with some frequency was Long Binh Jail, a horrendous Army stockade that everyone affectionately referred to as "LBJ." And for some reason, every time I heard that name, I thought about Karen and LBJ's speech that night in Pittsburgh in 1964 and the fact he didn't reveal anything about his Vietnam ambitions. My fate and the fate of millions of other young men my age were hugely impacted by that election, and LBJ could only give the war that would forever change our futures three damn lines.
On the way home from LBJ's speech, I remember Karen, who fancied herself a poet and a romantic, telling me that October 27 was the birthday of two of her favorite poets, Dylan Thomas and Sylvia Plath. She even quoted a couple lines from each, words that this and every Veterans Day still burn deep in my soul.
From "Holy Spring" by Dylan Thomas
Over the barbed and shooting sea assumed an army

And swept into our wounds and houses,

I climb to greet the war in which I have no heart but only

That one dark I owe my light
From "The Dead" by Sylvia Plath
No spiritual Caesars are these dead;

They want no proud paternal kingdom come;

And when at last they blunder into bed

World-wrecked, they seek only oblivion.