About a month ago, just prior to Mitt Romney's choice of his vice presidential running mate, Congressman Paul Ryan was in his hometown of Janesville, Wisc., engaged in his usual activity of shaking hands and smiling smiles. An elderly constituent approached him, adorned with an "I'm part of the 99%" sticker. His name is Ted Kinnaman, and he's been an active and engaged progressive in Janesville and beyond since he arrived there in 1966.
While the other folks gathered around Ryan either gave Kinnaman a wary eye or completely ignored him, he walked right up to Rep. Ryan, who turned to greet him.
"I came to see how the other 1 percent is doing," Kinnaman directed at Ryan.
"No, they're up at the other tent," Ryan joked, pointing up the hill as he avoided yet another give-and-take with his feisty Janesville neighbor, kindly reminding Kinnaman, "You're still one of the few liberals I can talk to."

That brief exchange, one of many between Ted Kinnaman and Paul Ryan over the past 14 years, epitomizes Ryan's local appeal. "His supporters here like to point out that he's a really nice, local guy," Kinnaman says. "But he's turned out to be something else, something different than what people expected. This 'nice guy' will turn out not to be one, mark my words..."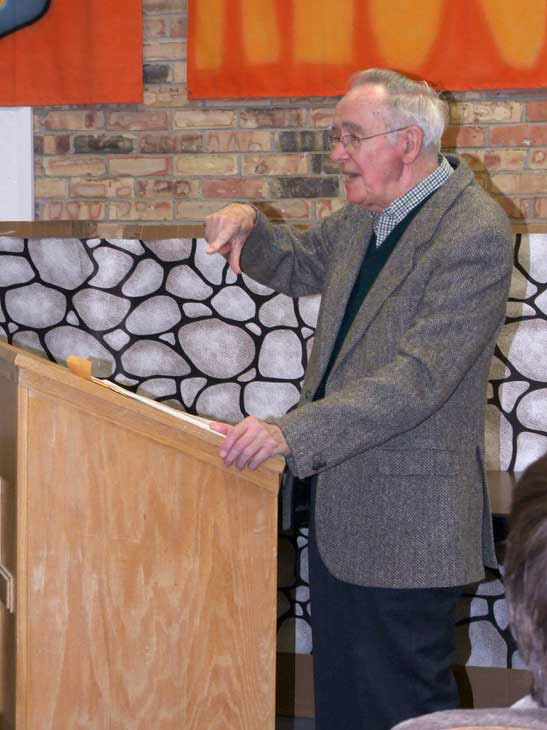 Marking words and making change have typified Ted Kinnaman's 47 years in Janesville and Wisconsin. A graduate of Northwestern University's music school, Ted joined the faculty at the University of Wisconsin-Rock County in 1966 when the two-year campus opened its doors. He quickly got himself in trouble with the local Democratic Party by vigorously supporting Eugene McCarthy's bid for the presidency in 1968.
"The Dem establishment in Janesville was not happy with me," Kinnaman recalls. "The UAW in particular, who were very strong in Janesville at the time, labeled me a 'trouble-making outsider.'"
Soon after the 1968 campaign, Kinnaman helped found the New Democratic Coalition in 1969 and served as its first chair. Back then, Janesville was a friendly, hard-working, Democratic community that regularly elected Les Aspin its U. S. representative.
"It wasn't until two years ago that I had my first Republican State Assemblyman," Kinnaman points out. "And for a long time it was that way in Congress, too, but Les Aspin joined the Clinton Administration as Secretary of Defense in 1993, Republican Mark Neuman took his seat in 1994, and we haven't been the same since."
Ted Kinnaman doesn't recall meeting Paul Ryan back then, but Janesville is a small town and he figures he must have, especially since he knows Ryan's aunt and uncle and gave piano lessons to two of Ryan's cousins. But suffice it to say, Ryan's 14 years as U.S. representative from Wisconsin's first congressional district have been anything but music to his ears.
"He hasn't brought any benefit to Janesville," Kinnaman argues. "With the closing of the GM plant here and our high unemployment, any other Congressman would have jumped on it. Not Paul Ryan."
Nevertheless, Kinnaman does give Ryan credit for being accessible, and, at times, reasonable.
"I was the only Democrat who showed up at his initial community forum after he was first elected in 1994," he recalls. "He's always been friendly to me. When I served on the local school board from 1994 to 2003, there were several major issues on which Congressman Ryan and we disagreed. To his credit, he told us his position but went on to put forward ours."
That kind of mutual respect and cooperation seems like eons ago, according to Kinnaman. "[Ryan]) still holds listening sessions but the people that come to them do the listening -- he spends most of the time presenting PowerPoints and talking... they're a lot more acrimonious than before."
Reflecting on Ryan's tenure, Kinnaman chalks it up to a combination of three things -- the nice-guy factor, re-districting (Ryan's current district is much more Republican than when he first ran), and "the Democrats' inability to run a strong candidate against him."
Still, the prospect of a Ryan vice presidency in a Mitt Romney administration is a lot more concerning to him. "His budget plan will rule the day," Kinnaman worries. "We'll be in serious trouble."
To add insult to injury, even if Ryan and Romney lose, Ryan still gets to keep his Congressional seat since he faces yet another lackluster Democrat. For his part, Kinnaman would rather Ryan were Janesville's problem than the nation's.
"Former Supreme Court Justice Louis Brandeis once said: 'We can either have democracy in this country or we can have great wealth concentrated in the hands of a few, but we can't have both,'" recites Kinnaman who believes that's the fundamental choice this November.
In the meantime, he'll keep wearing his "I'm part of the 99%" sticker" -- and keep an eye out for Paul Ryan. They still need to discuss the wealth imbalance in America.