Join the conversation at #Justice4Homecare and watch live at www.udwa.org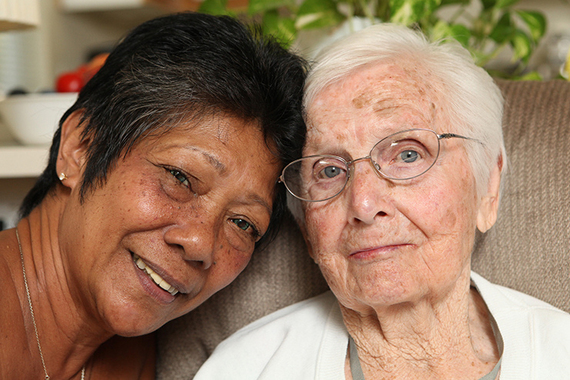 Providing care for the severely disabled, elderly and others who need round-the-clock care is the fastest growing job in America, and about 2 million people already are working as caregivers.
Most are women, and many are people of color. Many are parents or relatives working to keep their loved ones at home. As homecare worker Della Lundell from Merced, Calif., puts it, they single-handedly do the work of an entire team of professionals - serving as physical therapist, dietician, nurse, respiratory therapist, transporter, translator and more - for about minimum wage. Lundell has cared for her son Steven, born with Downs Syndrome, lung disease and a heart defect, for 24 years. She started as a paid employee of California's In-Home Supportive Services (IHSS) five years ago when her husband lost one of his two jobs in the recession.
And yet in California and across the country, home caregivers including Lundell are being denied basic rights and benefits afforded to other workers.
It is unacceptable. That is why the UDW, national labor experts and leaders, and other supporters are putting the State of California on trial for its unjust treatment of homecare workers and clients.
A distinguished group of academics, labor leaders, caregivers and their clients will gather on the steps of the State Capitol on Thursday for the Justice for Homecare Tribunal hosted by the United Domestic Workers of America (UDW)--a California homecare union comprised of more than 66,000 in-home care workers, and the California Domestic Workers Coalition.
Those who take care of some of the most important people in our lives--our grandmothers, our fathers, our children, our brothers and sisters with disabilities--deserve more. They are not being given dignity, respect, and equality and have suffered years of budget and hours cuts, while being denied basic workers' rights including overtime and sick leave.
Homecare workers have been excluded from basic protections for over 75 years.
Caregivers and their families, as well as the clients who rely on them, were looking forward to an end to injustice this year, when the new Dept. of Labor regulations and a California law making home caregivers eligible for overtime were supposed to go into effect on January 1st. Although a federal judge sided with for-profit homecare agencies and stopped the new Dept. of Labor rules from going into effect, there is nothing in the court ruling that prohibits the state from moving forward. What's more, funds to pay overtime wages for caregivers who are part of California's IHSS are already built into the budget. Still, California sided with CEOs and is reneging on commitment to the workers who take care of seniors and people with disabilities in our communities.
"Life for us is already difficult and challenging; mentally, physically and financially when caring for someone you love with disabilities," says Lundell. "We have to worry every time we check the mail. I actually get sick to my stomach wondering what is going to be cut next? How will we survive?"
It is time for justice.
Our jury comprises an impressive list of progressive leaders: Dr. Paul Song, Executive Chairman of the 900,000-member Courage Campaign; Women's rights activist and social justice attorney Sandra Fluke; Tefere Gebre the Executive Vice President of the AFL-CIO, which is made up of 12.5 million American workers and leads a worldwide movement for social and economic justice.

Our head juror will be Ai-jen Poo, Director of the National Domestic Workers Alliance, Co-Director of Caring Across Generations, and author of The Age of Dignity. Poo has been organizing immigrant women workers since 1996 and spearheaded the successful passage of the historic Domestic Workers Bill of Rights. She is a 2014 MacArthur "Genius" fellow and was named one of TIME's 100 Most Influential People in the World.
The jury will hear testimony from home caregivers, social justice leaders and homecare experts, including Dr. Eileen Boris, National Homecare Expert and Hull Professor of Feminist Studies and Professor of History, Black Studies, and Global Studies at the University of California, Santa Barbara.
Please join the conversation on Twitter with the hashtag #Justice4Homecare and on Facebook here. Tune in to our livestream on www.udwa.org this Thursday, March 19, 2015 at 12:30 PM and join our pursuit of justice.
Join the conversation at #Justice4Homecare and watch live at www.udwa.org.