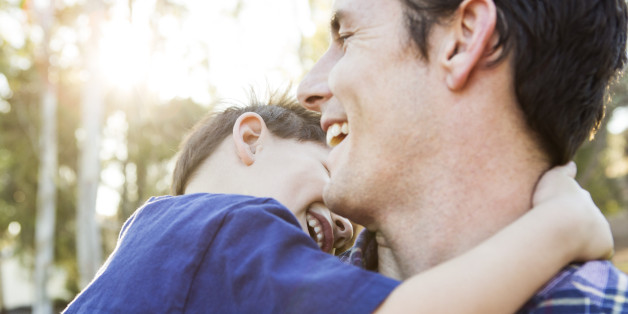 Doug Zeigler credits who he is, as a man and a father, to both his father and his stepfather. Now he's committed to being the best dad and stepdad he can be.
I have no recollection of my biological father whatsoever. Without the few pictures of him I have, I wouldn't be able to even tell you what he looks like. No memories of playing with him, wisdom he passed down, teaching me the finer points of a pick and roll -- he's an apparition. Yet, he plays a huge role in how I function as a dad.
My father married my mom because she was pregnant with me at the ripe old age of 17. Two years later, they were divorced. When I was 4, my mom met a great guy and was remarried. We, as a newly blended family, hopped in a car and moved from Miami to Pennsylvania. I never saw my father again after that. He died accidentally not long after we moved North.
It was in a rural tiny town that I got a completely different view of what a father figure is.
My stepdad raised and adopted me, and not once did I ever feel like I wasn't one of his own kids. He's my dad. He showed me how and when to be strong, when to have a more deft hand, how enjoy life and to work hard... but not so hard to that you miss what really matters. I wouldn't come to realize this until much later in life, but he taught me how to be a man, a husband and a father.
Two men had completely different amounts of contact in my life, but each has a impacted me profoundly. My biological father has one enormous place in my philosophy as a dad: I will NEVER abandon my kids. That's exactly what I felt like he did to me. I really didn't know how strongly I felt this recoil until I went through my own divorce. I bent over backwards to accommodate any demands my ex made because I was scared to death that I'd lose my kids. In the process, I probably gave in too much, but to me, I see it as a win since I have a good custody arrangement which allows us to see the boys every week. I can see now that I overcompensated to acquiesce to whatever she wanted just so I wouldn't be like the man that helped spawn me. I'll continue to overcompensate to insure our kids will not have to worry about that from me. I will always be there when they need me and even when they don't think they need me. They'll be able to count on me and will have no need to question how much I love them.
My stepdad's influence is more vast and nuanced. Now having my own blended family like he did, I have a clear sense of when discipline is and isn't deserved. I can recall as a kid feeling terrified of him when I'd do something wrong. I can also recall feeling his pride when I did something well. Like him, I actually enjoy and relish the time with our kids and savor the challenging, the wondrous and even the silly times we have, because that's where memories are made. Above all, I know how to love them and have no problem showing them, all thanks to my "real" dad. Even though he didn't have a part in creating me physically, he raised me and helped create me emotionally and psychologically. To me that's the epitome of a real father.
Balancing the facets of my father figures has been and continues to be an intriguing journey. Like both of them, I'm not perfect, and I don't strive to be. I'll make mistakes at times, and other times I'll get things right. Hopefully, my step-kids will feel the same love I felt from my step-dad, and will know that I'll have their backs anytime they need me, which is the motivation I get from my birth father. I've got more than enough father's love to give them, and I don't know if I'd have it without both of my dads.
This article was originally published on The Good Men Project.