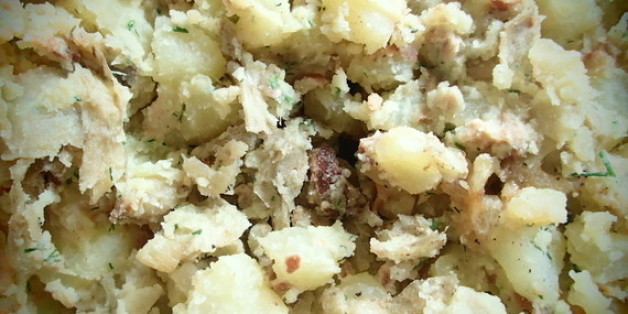 German potato salad has haunted me a good portion of my life. My very first boyfriend, of German decent, used to talk about this wonder of the world all the time. Why a teenager would wax poetic about potato salad is beyond me, but I swear this was a frequent topic of discussion. Every time I visited his home, his father, with his thick German accent, would insist I have some German potato salad. Our friends would tease him about his family's love of potato salad and their insistence that everyone whom set foot in their home, must eat an obligatory bite of their family staple. Yes it was delicious but what was this obsession? Even today when I hear the words "German potato salad," I hear it spoken with a thick German accent and I can't help but smile from my associated memories.
This delicious recipe is for people who don't appreciate large amounts of mayo in their side dishes. I myself have never been a huge fan of mayo, despite being raised by southern women who consider mayo a condiment similar to ketchup - good on everything. Don't get me wrong, it has its place. I enjoy it on sandwiches, with tuna fish and in coleslaw, but I have never enjoyed it on potatoes. Every time I have ever ordered potato salad at a restaurant or deli, I am hopeful I will be presented with a light mayonnaise version, but alas, this has never happened. All too often I am served mayo with a side of potatoes instead - yuck.
The great thing about this potato salad is, it's free of mayo, yet still creamy and delicious. It's sweet, tangy, savory and has a hint of acidity which all together, creates a deliciously balanced flavor profile. I added a few non-traditional items to the recipe making it a less authentic version. Despite this technicality, I promise you will be singing its praises. This was a big hit at our party last weekend and since one of our friends is of actual German decent and enjoyed it, I will consider her fondness for this dish an official seal of approval.
Enjoy!
Recipe: German Potato Salad
Author: Dough Mamma
Prep Time: 30 Mins
Cook Time: 35 Mins
Total Time: 1 hr 5 mins
Serves: 15 people
Notes: Traditionally this dish is served warm. I find the flavors are more pronounced after having it spend the night in the refrigerator. I prefer it served cold, but try it both ways to see which temperature you favor.
Ingredients
4 pounds of Yukon gold potatoes
1 1/4 pounds of thick cut bacon (best from butcher shop)
2 Vidalia onions finely chopped
1 cup of unseasoned rice vinegar
1/2 cup sugar
4 Tbsp of Grey Poupon or any Dijon
2 tsp salt (plus more for boiling water)
2 tsp of pepper
1/4 tsp of cayenne pepper (to taste)
1/4 cup of finely chopped chives
1/4 cup of finely chopped dill
1/8 cup of finely chopped rosemary
4 stalks of celery finely diced
Instructions
In a large pot cover potatoes with water. Generously salt water and bring to a boil over medium-high heat. Cook until you can place a skewer all the way through the potato. Make sure your potatoes are all the same size so they cook evenly or cut them to size accordingly. The boiling process should take about 15-20 minutes. Make sure not to boil for too long, or you will end up with mashed potatoes.
Pour potatoes into a colander and rinse with cold water until the potatoes feel cool to the touch. You may also place them in a bowl of ice water. Once potatoes are cool, drain and allow them to rest for about an hour. Slice into 1/4 inch rounds and crumble into a large serving bowl or leave in 1/4 rounds.
Heat your oven to 350 degrees. Place bacon on parchment lined rimmed baking sheets. Cook until crisp, about 18-21 minutes. Remove bacon and allow to drain on paper towels. Reserve bacon grease. You should have about 1/4 -1/2 cup of bacon grease.
Place grease into a large saute pan. Turn heat to medium. Toss in your chopped onions and cook until translucent, stirring occasionally. This should take about 10 minutes. Don't allow to brown as they will brown quickly during the next step.
While your onions are cooking, whisk vinegar, sugar, mustard, salt, pepper and cayenne in a small bowl and then pour into your pan. Cook while stirring until the sauce becomes thick. This should take another 6 minutes. Remove from heat.
Pour sauce over potatoes in the bowl and toss gently, making sure to evenly distribute sauce. Add your herbs, celery and crumbled bacon. Toss again.