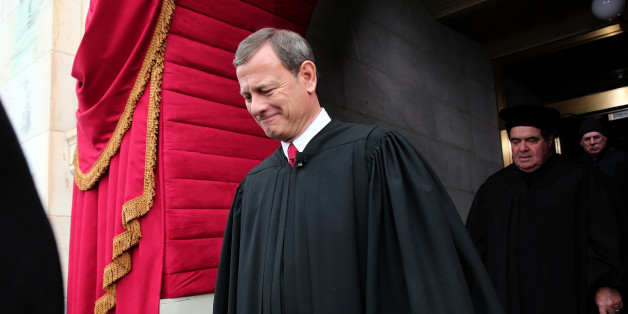 In the wake of today's Supreme Court ruling, which upheld a key pillar of Obamacare, the Republican Party has announced that it is firing Chief Justice John Roberts, who wrote the opinion for the majority. "This was a great gig -- the chance of a lifetime -- and he blew it," said former President George W. Bush, who nominated Roberts in 2005, and is widely thought to be the key figure behind the decision to kick the disappointing judge to the curb.
"We gave him a couple of chances," noted Senate Majority Leader Mitch McConnell, sighing. "Sorry, John: if you routinely bite the hand that feeds you, expect that hand to slap you upside the head. I wish you good luck with your next job."
McConnell was clearly making a point when he appeared at the press conference with a Republican employee widely considered a paragon of loyalty, Associate Justice Samuel Alito. "I can tell you this," said Justice Alito, smirking, "I certainly won't be writing the guy a recommendation."
The disgraced chief justice kept a brave face as he cleared his desk and packed his judging implements in a cardboard box. "You do your best," he said. "I think I wrote some really good decisions, and I'm sorry that my party has seen fit to overlook those, while focusing on a couple of relatively trivial errors."
As security escorted John Roberts to the exit -- a perp walk for a man who was, only hours ago, the most powerful judiciary figure in the nation -- Senior Associate Justice Antonin Scalia leaned from the bench and hooted: "Loser."
(Editor's note: We apologize for the satire. This used to be a dependably serious writer.)